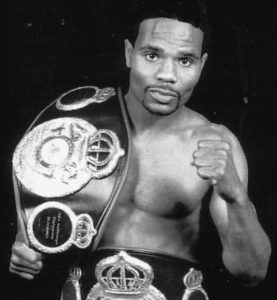 Exclusive Interview by Anthony "Zute" George
William Joppy is sort of an enigma. His style cannot be pinpointed to that of a slick boxer, but he certainly could box. Joppy is also not considered a slugger or a hard puncher, yet he indeed does have an impressive knockout percentage. William Joppy was a unique talent in the sense that he could adapt and be more than adequate fighting any kind of style. Such a fighter makes it hard for an opponent to prepare. When I asked William to assess his own talents, he replied, "You summed it up pretty much. I wasn't just a Joe Frazier. I could mix it up. I could move, I could dance. I was a versatile fighter."
William's roots could be traced back to a two-parent household, right outside of Washington D.C., in a place called Lincoln Park, in Rockville, Maryland. Joppy's stable family vessel soon became rocky, however, as William's parents broke up. It is never easy for a child to see their parents' divorce, but William gives credit to his father for shaping him into a productive member of society, "My father taught us (His sister and him) the do's and don'ts, recognize what is wrong, and do what is right. If it wasn't for my father, I don't know where I would be."
William's father was also responsible for bringing boxing into his life, "Boxing has always been on my radar. I remember watching the 1976 Olympics, with Sugar Ray Leonard, The Spinks Brothers, and Howard Davis, JR. My father said they were going to be some bad boys when they turned pro. I'll always remember that."
Even though William Joppy had an influential father figure for guidance, his upbringing was not free of strife. "When I was a kid, I was always curious. When my mother and father broke up, I dibbled and dabbled with certain things," Joppy offered. To explore the streets of Joppy's hood is to be introduced into a world of drugs. Growing up in the 80s, drugs ran rapid, and despite Nancy Reagan's plea of "just saying no to drugs", many people became hooked, bad choices were guaranteed to follow. "I had my fair share of trouble. I experimented with drugs as a kid coming up. And it was just like my father said, 'no good'. But there is a point in your life where you got to want to stop."
Despite Joppy's experiments with drugs, he was able to remain focused and graduated from high school in 1988. Thanks to his father's voice, William never lost focus on the value of education. When William Joppy received that coveted high school diploma, he had yet to lace up the boxing gloves in any serious manner. In 1989, William began to serve a 20-month prison sentence; the arrest was attributed to William's drug use. In prison, William had that moment of clarity that all substance abusers hope to obtain and need for survival. William decided that was enough and never looked back. Instead, William embraced the sweet science. "I did not start boxing until I was 20. At least that is when I started to take it seriously. My first amateur fight was in 1991," Joppy explained. The fact that William picked up boxing at such a late age, yet flourished into a well-rounded, seasoned world champion, can be attributed to his exceptional DNA.
William turned professional in 1993 and was extremely active in his first two years, as Joppy fought a total of seventeen times those first two years, "It was awesome. It kept me in shape. My managers Ollie Dunlap and JD Brown really kept me busy. Which is what I wanted. I always had something to look forward too, fighting like every month." Joppy's prolific pace saw him jolt up the middleweight ranks and secured him a fight with Rodney Toney for the NABF middleweight title, on September 16th, 1995. The results of that fight were not what Joppy was looking for, as it ended in a draw, "That was a good fight. He was awkward. I think I won. I remember he had Joe Frazier, Butch Lewis, in his corner." William says, despite not getting the result that he felt he earned, this fight was extraordinary because it was an undercard fight for Julio Cesar Chavez's fight with David Kamau, "It really motivated me. I knew I was doing something right to be on one of those cards. I still talk about it today, to be on the great Julio Cesar Chavez's card."
The sense of belonging for William carried over after the disappointment of the Toney fight, and Joppy fought his way into the WBA world middleweight title in June 1996. William had to go all the way to Japan to try and take away the title from the undefeated Shinji Takehara. Joppy dismantled the Japanese champion over nine rounds for his first world title. "I went all the way to Japan. It was a twenty-hour plane fight, and the whole country was against me. They were good people, but they were rooting on Shinji. There were posters all over telephone poles about the fight, Shinji's picture was big, and mine was very small. But that was all right. One thing that I noticed was that when we squared off in the middle of the ring, and the referee was giving us our instructions, I looked at him, and he was nervous. That really motivated me." William also explained that the grueling plane flight to Japan made him realize that returning back home without the championship was not going to be an option, "We were too far away for me not to come back a winner."
William went on to defend his title two times, against Ray McElroy and Peter Venancio, before losing his title to Julio Cesar Green. That fight took place in 1997 at Madison Square Garden in New York City. Joppy lost a close, but unanimous decision, "We took the fight on short notice. Green was supposed to fight Lonnie Bradley, but something happened, and Don King called me because they needed a champion for Green to fight. I think I won that fight too. They took that fight from me." Joppy called for an immediate rematch, and his wish was granted. In that rematch, Joppy showed the boxing world what he was made of. Beating Green in a lopsided unanimous decision to regain his WBA middleweight title, "The second fight I made sure I stood my ground more. I moved a lot in the first fight, I stood more toe to toe in the rematch. I did not want to knock him out. I just wanted to beat him for twelve rounds."
Joppy's next fight was against the legendary Roberto Duran, Joppy stopped Duran in the third round, "Duran is my idol. It was an honor to share the ring with him. But he was old. It was a bittersweet thing because I did not beat a young Duran." Joppy continued to be a fighting champion and seemed to be getting better on the job. During that time, Joppy faced Julio Cesar Green for the third time, and this time around he did stop his opponent in the seventh round, "I went into the ring with the mindset that I was getting tired of him, we shared the ring twice already, I said 'we are going to make it the last time'. I went at him relentlessly this last fight. We are good friends now" Joppy and Green's trilogy is an underrated one, and evidence of how good Joppy was in rematches, "I might get beat up once, but once I get adjusted, it's all over. But in a fight, you have to make those adjustments that night. Sometimes that does not happen." explained Joppy.
By 2001, William Joppy was a hot commodity, and he competed in a middleweight division that was generating some serious juice for the first since Marvelous Marvin Hagler sat on the throne. Joppy was set to compete in The Middleweight World Championship Series. This was a series that was promoted by Don King and televised by HBO. The winner of the series would be the unified middleweight champion and be the proud recipient of the Sugar Ray Robinson Trophy. Bernard Hopkins faced Keith Holmes, and William would square off against Felix Trinidad in the opening stanzas. Trinidad was showcased as a thunderous puncher but was moving up in weight. Many wondered if Trinidad's power would be there at middleweight, and against a solid champion like Joppy, "I was in great shape for that fight. I was stopped in the 5th round, and after the fight, I was like, 'man he could really hit.' The first time I got dropped by Trinidad in the first round, I don't even remember anything after that. I do not know how that fight went into the fifth round."
Joppy was all set to admit he was just beat by the better man that night, a man who could really crack, "But then I heard about lacing his gloves up. When he fought Bernard Hopkins next, they caught him. But that is what he had been doing. I can't give him no credit. He shouldn't even make it to the hall of fame. He was loading his gloves. You could really hurt somebody. I couldn't live with that." William said he has never spoken with Trinidad after the fight. When asked what he would say to Trinidad if he were given an opportunity to talk with him today, he replied, "I would say to him, we can rematch right today. We can get a catchweight. You cheated. I do not see how you can live with that. How could you walk with your chest up?"
William Joppy was never the same after the Trinidad loss. Mentally it always bothered him. But Joppy was a significant talent, and he was able to shine briefly after that loss, defeating Howard Eastman for the vacant WBA middleweight title; the WBA vacated the title won by Bernard Hopkins, who defeated Trinidad, and awarded Hopkins with the WBA 'Super Champion' status. Joppy also victoriously returned to Japan, as he stopped Naotaka Hozumi in ten rounds. Joppy explained that Shinji Takehara was in attendance for this fight and refused to shake hands with him.
William went on to face Bernard Hopkins in 2003, losing a unanimous decision, "I was going through a lot. My daughter had died right before that fight. I was prepared, but my mind wasn't really there. I could have done better against him." One aspect of this fight was Joppy did come out on top was when he won a side bet with Hopkins. $50,000 if he could go the distance with The Executioner. Joppy did indeed go the distance, and Bernard wrote him a personal check. According to Joppy, the bet was easy money for him, "Bernard don't hit hard at all, I knew he wasn't going to stop me." Hopkins was credited with landing a large abundance of punches on Joppy; therefore, it can be argued that Joppy is indeed an authority on Hopkins' punching power. Joppy stated that Hopkins landed quite a few shots with his head as well.
William Joppy fought until 2011. He won his very last fight against Cory Cummings, a fighter he previously had a draw with. Despite being successful in that fight, William decided it was time to hang up the gloves, "It was time. I was forty, and I wasn't motivated anymore. If you are not motivated, hey step away from it."
William states that while he was fighting, he had people around who helped him be the very best he could be. Adrian Davis, William's trainer, taught him a lot. "He had a real slick style. We had a great relationship. We had an awesome time together. He took from what I already was and added from there." Joppy often fought under the promotion of Don King, and his assessment of Don is not in keeping with what other fighters have reported, "Don King was great. A cool guy. One thing I could say about him is he was a man of his word. He did everything he said he was going to do when it came to my career. He got me my title shot." Joppy also credits JD Brown and Ollie Dunlap for his success, "They did a great job with my career. If it weren't for them, things probably wouldn't be the way they were. They guided my career correctly. The worst thing I did in my career was leave them."
What motivates William Joppy today is giving back. He is a personal trainer. Helping people stay in shape is a significant passion for William, "I want to guide people in the right direction. Exercise is not just keeping your body right; it keeps your mind right. Do it until you die." William is also active in the community, "I have an organization called Breakfast for Boxers, we go to homeless shelters and feed the homeless. I talk to the homeless about my ups and downs. I never look for anything in return. It is a satisfaction I get from within, to help people. The feeling I get is better than money."
William also has a book coming out about his career sometime in 2020, "Tom Clark is helping me with it, and it is going to be called, 'There's An Art To It."
William is still passionate about boxing and urges all inspiring young fighters to surround themselves with good people, and "Always stay focused, because comfort is the enemy of success."
As a fight fan, Joppy admires the usual suspects of the top talent today, the Crawford's, the Spence's etc. But one fighter stands out a smidgen more than the others for him, "I like Lomachenko. He is an awesome fighter."
William Joppy seems to be living an extraordinary life. Indeed, there have been bumps and tragedies along the way, but he is doing exactly what he wants to be doing today and gets great satisfaction from doing so. His boxing career is one he should be proud of, as he did it on the highest level. A level most boxers never get to. William has stated that he has never gotten over the Felix Trinidad fight. In his heart of hearts, he knows Trinidad "cheated" and is willing to revisit that fight, and this time competing with Felix fair and square. It is unlikely that will ever happen, but it is not as if all William Joppy is doing is sitting around waiting for that call.
Footnote: This article is William Joppy's voice and William Joppy's voice alone. Further research and investigations are needed for the author to comment on William's allegations against Felix Trinidad. This article serves as a platform for William to voice his opinion, and he has clearly done so. What can be said about the incident as of now is that to the best of the author's knowledge, the occurrence of the hand wraps connected to the Felix Trinidad fight with Bernard Hopkins is that the manner in which Trinidad wrapped his hands was against New York State regulations, but not in other areas where Trinidad competed. So much could be said about that, as it does indeed appear to be a very thin red line, but not until the incident is researched thoroughly. Due to the heavy workload of the author, plans to study this subject in the near future are not imminent. But, maybe one day…
Stay tuned…
Contact the Feature Writers