LaTavia Roberson: Being In Destiny's Child, Management of Boxers, Movies, Parenting, Life and More…
[AdSense-A]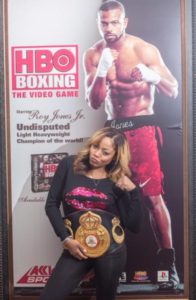 Exclusive Interview by "Bad" Brad Berkwitt
"We are a family first. And I will never make someone feel out of place. We work very hard to achieve the maximum the fighters get the best out of this company" LaTavia Roberson
LaTavia Roberson is known for being a part of the original line up Destiny's Child. She was in the band from 1999-2000, winning many awards amongst which are two Grammys and two Soul Train Music Awards. Since this time, she's parlayed what she learned in the group on stage, TV, and in the music industry. Currently, LaTavia and her business partner venture capitalist Alfred Adams have formed Roberson Sports Management. This venture has exploded and they are putting the car in drive at a high speed to make a big splash in the world of boxing.
BB: How did you and Alfred Adams your business partner first meet?
My Aunt Yvonne knew a guy that was in venture capital and said he knew some things about the music business, so I called him while still on tour in London. I wanted to see if I was getting my fair share.
BB: How did that meeting lead to you forming Roberson Sports Management?
We remained friends (20 years) and over the years we have continued to strengthen our relationship. While I was sitting at The Varsity in Atlanta getting ready to drive back home to visit my mom, Alfred called me and said "he had a business opportunity".
He never came right out and told me. He beat around the bush for 20 – 30 minutes and did not just come out and tell me that the new business venture would be boxing. I was so mad at him that it went from being mad to being pissed off at him. I was like "would you just fucking tell me what you want?" – He asked me if I would have an interest in being a boxing manager? – I was like "what the fuck for?" – Alfred felt with the contacts he had in boxing, and the heart for the fighters that don't always get their fair share (he knew I could relate) that we could really help the next generation of fighters. – I was like fuck yeah let's do it! I always loved boxing, I would sit on my dad's lap and yell at the television "kick his ass".
BB: What are the top two things in your personal mission statement that you want all boxers and the boxing world to know about your company?
We are a family first. And I will never make someone feel out of place. We work very hard to achieve the maximum the fighters get the best out of this company as I did not get the best out of my manager. And we are a praying family- Alfred and I pray every day, and we pray for our fighters.
BB: You had great success in the smash group Destiny's Child which is no secret. What do you bring from the highs and lows of your time in the group to boxing that will actually help you?
I know how it feels to be ill managed, at the end of the day I want to make sure the fighters we sign get the most out of this management company. I know how to build brands, build networks, my work speaks for its – as I have secured Roy Jones, JR. and James Leija as trainers to my company. We have launched a global magazine titled Slugfest and the magazine has been in the top category of boxing every time it has been released. Ranking #1 and #4.
BB: I see through press releases that you are hitting the ground running with signings of fighter's… Talk about your stable so far and your expectations?
I signed Fernando Bunch first from the recommendation of Roy. He is now 9-0.
My Cruiserweight Garreth Payton is a beast! He had a 38 -0 record as an amateur while in prison. While prison fighters might run off other management companies, I myself spent a 30- day stretch (DUI).
Divante Jones who I call D.J. comes from a family of fighters as he is a 4th generation of fighter. With a record of 9-2, 6 KO's we are seeking opportunities now for getting him back into the ring and him climbing the ranks.
BB: Do you feel any extra pressure being the first African American woman to venture into sports management that already had a high profile prior to taking the leap?
Absolutely not! I am actual honored to be this woman, to be able to say – "I am that bitch!"
(Note: There may be another, but not as well-known as you are, so that to me is a first…)
BB: Being a boxing fan for so many years, let me throw some questions at you about the sport.
BB: Who is your favorite fighter of all time and why?
Roy Jones, JR. I always loved how fast he would beat the shit out of someone.
BB: What is the greatest fight you have ever seen and why?
Holyfield Vs Tyson 2 – When Tyson took a bit into Holyfield's ear. I was like "what the fuck?"
BB: Who is your favorite boxing commentator of all time and why?
Emanuel Steward – loved his voice.
BB: If you had the power to change one thing in boxing, what would you choose to change?
Federally regulate the sport.
BB: Now let's give the RSR readers a 180 of you off the entertainment and boxing stuff.
Favorite football team?
Houston Texans
Favorite basketball team?
Houston Rockets
Favorite baseball team?
Houston Astros
Favorite Genre of movies?
Love them all – you have no idea.
Favorite movie?
"Can't Buy Me Love"
Favorite Actor?
Rob Dyrdek
Favorite Actress?
Halle Berry
Favorite musical band?
Be Be Rexha
Favorite concert you have seen to date?
Be Be Rexha
Favorite Male Singer?
Bruno Mars
Favorite Female Singer?
Be Be Rexha
Favorite song?
I love so much, hard to say.
Favorite car?
I use to love my Tahoe – being from Texas, I love big things.
Favorite noise or sound you like to hear?
My children.
Least favorite noise or sound you like to hear?
My children.
Favorite food?
Gumbo
If you hit the lottery tomorrow, what would be the first thing you would do?
Make sure that my children are Ok.
Favorite vacation destination?
Jamaica
BB: If you could meet one person from any time in history, who would it be and what would your first question be for them?
Steve Harvey because he is my uncle– Would you be my uncle. (Big Laugh)
BB: With everything we discussed, in a few thoughts, sum up who LaTavia Roberson is as a human being?
Who I am is myself and I am the person that God told me that I should be. I love who I am, regardless of who people think I should be,
BB: Finally, what is the saying you live your life by?
"I live my life by being the most wonderful mother that I should be."
Check out LaTavia's Company Roberson Sports Management by clicking HERE. 
[si-contact-form form='1′]