Andy Ruiz, JR's Preparation for the Anthony Joshua Fight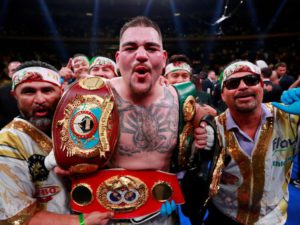 It would be fair to say that the rematch between Andy Ruiz, JR. and Anthony Joshua is one of the most anticipated of 2019. In June this year, the world witnessed a shock defeat when Ruiz overpowered Joshua in the ring. As little as five months ago, the pair met at Madison Square Garden in an attempt to leave with the unified WBA (Super), IBF, IBO and WBO heavyweight titles.
You can find the current odds for their rematch here: https://www.paddypower.com/boxing/boxing-matches/andy-ruiz-jr-v-anthony-joshua-29313124, with Joshua the favourite once again. Although if we have learnt anything from the previous fight, it is to expect the unexpected
Andy Ruiz, JR. Vs Anthony Joshua
Joshua was initially set to face Jarrell Miller in what would be his first US fight. But with the American failing multiple drugs tests, Joshua was on the lookout for a new opponent – ensuring the 10,000 British tickets sold for the event wouldn't go to waste. Less than a month before the bout, Ruiz became Miller's replacement for a $7 million fee.
At first, the fight was slow, with both boxers landing a minimal number of punches. It wasn't until round three that they sent each other to the canvas. Ruiz bounced back from his initial knock, whereas Joshua didn't. He received another blow, forcing him to take the mandatory eight seconds before he could continue.
It wasn't until round seven that the American finished off Joshua. After a few rounds of minor spats and a lot of defensive action from AJ, Ruiz dropped his opponent for the fourth and final time. The Destroyer had the Brit on his knees, scrambling to stay in the fight. But Joshua had underestimated Ruiz and left the ring with his first defeat.
Preparation for the rematch
Since their first meeting, the pair have been training for the rematch, but it seems as though Ruiz has made the biggest change. In June the American weighed-in at 19st 11lb but since then he has lost a lot of weight with the intention of becoming more mobile.
"I kind of wanted to be a little heavier because Anthony Joshua's big, I wanted to carry his weight, take the punches well but I think being 10lbs lighter, I'm going to be a better fighter," Ruiz said.
"I'm going to be more faster, let my hands go and be faster on my feet as well.
"Ten pounds isn't going to make any difference, if anything it's going to make me stronger, it's going to make me faster, especially because he's going to be running around."
Although not everyone agrees with Ruiz's opinion that his weight-loss will improve his fighting abilities. Joshua's promoter Eddie Hearn has announced his happiness with Ruiz's weight-loss, saying that "it's a dangerous move to start taking weight off, in my opinion. I love it. I hope he loses another two stone." It will be interesting to see what the scales read come the weigh-in.
Tyson Fury adds weight to the conversation
Tyson 'Gypsy King' Fury announced that he believes Ruiz will repeat his success in the rematch against Joshua, although he would like to see his fellow Brit win. With the winner of the bout sure to face Fury, the Gypsy King went on to say that he doesn't think Ruiz will be challenging enough for him: "I don't think there's anyone out there who thinks Andy Ruiz can beat me. So it's not even like, 'Oooh this is going to be a good fight, he might beat Tyson'. Na."
The 15,000-capacity custom-built arena in Saudi Arabia will host the fight, with the least expensive seats setting spectators back around £105. Will Andy 'The Destroyer' Ruiz keep his titles, or will AJ bounce back? One thing is for sure, the match on December 7th is sure to be one of the most anticipated this year.