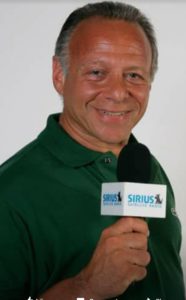 By Randy "The Commish" Gordon
As 2019 winds, down, I think of the number of world-class fighters who have moved up in weight during the year, or are about to move up: Canelo Alvarez. Oleksandr Usyk. Gervonta Davis. Gilberto Ramirez. Soon, Murat Gassiev will follow Usyk from the cruiserweight division into the land of the heavyweights. Of the names you just read, I think Gervonta Davis has the most intriguing opportunities.
For one, there is Vasyl Lomachenko, the WBO Lightweight Champion and the man viewed by many as boxing's top pound-for-pound fighter. There is also the winner of next month's Richard Commey-Teofimo Lopez fight. Let's not leave out fast-rising, budding superstar, Ryan Garcia. Then, there's the WBC Lightweight Champ, a guy named Devin Haney. While we're at it, let's not leave off former lightweight kingpin, Mikey Garcia. Just a few of those fights would fill up Davis' calendar well into 2021.
The most lucrative one at the moment is a fight against Lomachenko. It's a fight the Davis camp is clamoring for.
Funny, but at this time last year, the Davis camp were steadfast in rejecting any notion of "Tank" facing "The Matrix." Since that time, after seeing him floored by Jorge Linares and tagged by Luke Campbell, they've changed their tune and have called him out. Repeatedly.
Both Lomachenko and his promoter, Top Rank, are open to facing Davis in 2020. However, it's beginning to look like Lomachenko—who has to consume a high volume of calories to make 135 pounds—is more comfortable at the super featherweight/jr. lightweight limit of 130 pounds. While Lomachenko wants to go down in weight, Davis is looking upwards. He walks around at over 160 pounds, and has been feeling the strain of making 130 pounds for years. So, Davis is through at jr. lightweight. From here on in, Davis' future will be north of 130 pounds. His next fight, scheduled for December 28 in Atlanta, will be as a lightweight. His opponent is perfect for him: the shopworn Yuriorkis Gamboa. The fight will be seen on Showtime.
Gamboa is 37, and riding a four-fight winning streak. However, his best days came as a featherweight, capturing the 126-pound title (WBA) in 2010. His worst performance as a pro came on June 28, 2014, when he faced newly-crowned WBO Lightweight Champion Terence Crawford for Crawford's title. Crawford toyed with Gamboa, dropping him four times on the way to a ninth-round stoppage. Although he has won seven out of eight fights since losing to Crawford, he hasn't shown the same flash he had prior to the Crawford fight.
Two of his wins (vs Jason Sosa and Alexis Reyes) came on Majority Decision, with many in attendance feeling as if Gamboa was lucky to win. Against Davis, who will probably carry well over 140 pounds into the ring after a day of rehydration following the Friday weigh-in, Gamboa will be outgunned at every turn…Another guy who has made a move up in weight is former WBA 168-pound kingpin Gilberto Ramirez. After narrowly retaining his title for the fifth time last December with a Majority Decision against Jesse Hart, Ramirez—nearly 6'3"—stopped fighting with the scales and decided to move up to light heavyweight. He looked terrific in stopping former contender Tommy Karpency in the fourth round. Injuries have kept him sidelined, but he's back in the gym and ready to go…
Former WBA & IBF Cruiserweight Champion Murat Gassiev is another top name set to move up. Inactive since losing to Oleksandr Usyk in the WBSS Cruiserweight Finals in July 2018, Gassiev nursed some injuries, then went to work in building himself into a heavyweight. At nearly 6'4," he already has heavyweight height. He already has explosive power, now has added 20 pounds of muscle onto his frame. He believes a rematch against Usyk is one of the big fights in his future. He is set to make his heavyweight debut in early 2020.
WBC Featherweight Champion Gary Russell, JR. is, arguably, the best featherweight in the world. His record is 30-1, with 18 knockouts. His one loss was on June 14, 2014, when he lost a majority decision to Vasyl Lomachenko. However, he is the least-known of any American champion. You can blame it on his promoter—the PBC—or on Russell, JR. himself, whose personality and charisma are a shade above that of a wart hog. His last fight took place in May of this year, when he stopped Kiki Martinez at the Barclays Center in Brooklyn, as the co-feature to Deontay Wilder's first-round blowout of Dominic Breazeale. At the post-fight press conference, Russell, JR. was asked about his activity—or lack of it. He responded, "I intend to stay busy from here on in. I plan to have two, maybe three more fights this year." Since then, he has had none, nor is anything on the immediate calendar. In 2014, the year he lost to Lomachenko, he was 2-1. He ends 2019 with a record of 30-1, 18 KO's.
In each of the next five years, he has had but one fight. And yet, he continues to call out guys like Lomachenko and Leo Santa Cruz. He even put out a creepy video a few months ago where he called out Santa Cruz while appearing to threaten Santa Cruz' ill father. Gary, as I once heard Don King say to heavyweight Greg Page, "Go out and get yourself a personality." Speak to Al Haymon. Fighting once a year will not get you Lomachenko. Fighting once a year will not get you Leo Santa Cruz. Fighting once a year will get you Kiko Martinez. And Oscar Escandon. And Jhonny Gonzalez. Wake up, Gary! You're 31 with a skill set second to nobody. You can beat these guys you're calling out. Only, nobody outside your circle in Capital Heights, Maryland, knows who you are. Get to work! It's not too late to make your dreams come true. Otherwise, you're destined to be known as Gary "Once a Year" Russell, JR., the champ nobody knows.
When Floyd Mayweather, JR. and Conor McGregor faced each other in a "crossover" fight—a boxer against an MMA fighter—it opened the doors for so many of these "Pet Rocks" to be sold to the public, which has shown it will buy just about anything unique and different, no matter how ridiculous. There's boxer Vs MMA fighter. There's bareknuckle boxing (Artem Lobov Vs Paulie Malignaggi). There's Youtube stars (KSI Vs Logan Paul) facing each other. A few weeks ago, it was undefeated heavyweight boxer Tyson Fury performing in the WWE. Now, it's back to MMA fighters challenging boxers. The MMA fighters are boxer are Jorge Masvidal and Stipe Miocic. Masvidal, coming off an impressive win over Nate Diaz at UFC 244, has gotten on the growing line of those who have thrown challenges at newly-crowned light heavyweight champion Canelo Alvarez. "I can fight and I can punch," said Masvidal, adding, "and I can punch very hard."
Miocic, the UFC Heavyweight Champion, has called out Tyson Fury. While Alvarez hasn't responded to Masvidal's challenge, Fury has said, "As soon as I beat [Deontay] Wilder in the rematch (expected to take place in the first quarter of 2020), I'll take care of Miocic, too!" While I am not a proponent of these kind of matches, it's an opportunity for each guy to make a lot more money. To that, I say "Hallelujah!" More power to them!
If I had to guess, who Canelo Alvarez will face—most likely in May—here are the top five men I believe have the best chance of facing Alvarez.
1. Gennady Golovkin— The former Middleweight Champ is 0-1-1 against Alvarez, but time is not on his side. He will be 38 in April, and is not going to get any better. Alvarez liked what he saw in "GGG's" last fight, a tough decision win against Sergei Derevyanchenko. GGG is 40-1-1, 35 KO's. Alvarez believes their rubber match will be more decisive, and that, after their fight, "GGG" will leave the ring with his second loss. Oh, this fight will happen at 168 pounds, not 160.
2. B.J. Saunders—The WBO Super Middleweight Champion is a southpaw with a 29-0 record, 14 knockouts and a difficult style. However, Alvarez feels, a rightfully so, that Saunders has never faced a fighter with as many tools as Alvarez. That's why we think, if Alvarez doesn't choose "GGG" to face him in May, it'll be Saunders.
3. Demetrius Andrade—Like Saunders, Andrade is a southpaw. However, he is a very fast southpaw and especially fast for a 6'1" middleweight. Andrade will bring with him the WBO Middleweight Title, but that's only if they fight at 160 pounds, which we don't see happening. Look for this one at 168 pounds.
4. Callum Smith—Tall and motivated, the WBA/WBO Super Middleweight Titlist is 26-0 with 19 knockouts. He can box, punch with power, brawl and put on relentless pressure. He is also 6'3." Don't look for Alvarez to face Smith until he's out of other options.
5. Dmitri Bivol—The 17-0, 11 KO's WBA Light Heavyweight Champ is an exceptional in and out boxer, with the best jab in the division. He says he feels strong at 175, but also says he can make 168 pounds with ease. He is a dangerous fight, and like Smith, an opponent the Alvarez camp will most likely stay away from as long as they can.
Our column next week will focus on the upcoming WBC Heavyweight Title rematch between champion Deontay Wilder and Luis Ortiz. I will be on the scene in Las Vegas, doing my show on SiriusXM Radio on Friday from Radio Row at the MGM Grand Hotel.
It should be a very interesting rematch!
Randy "The Commish" Gordon is the Author of the hit book, "Glove Affair". Order your copy by clicking HERE.
Contact the Feature Writers