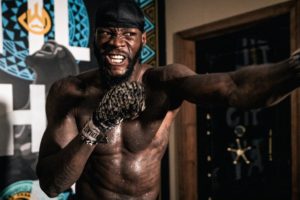 By Roy "The Body Snatcher" Skillen
Deontay Wilder is a monster in the ring. His power is unquestionable, his desire to improve his fundamentals is obvious and his 41-0-1, 40 KO's record speaks for its self. Ask anybody that has stepped foot in the ring how hard it is to find the knockout punch and they will tell you it's damn hard. You may stand there and question the quality of his opponents, and yes, his record isn't a list of all time greats, but the majority of them are full time boxers. They spend their lives training, sparring and taking punches. They all set foot in the ring with Wilder knowing how he fights, knowing his weaknesses and with a plan to avoid his power, but he has still knocked down every fighter he has faced and he currently holds the prestigious WBC World Heavyweight title.
So, is he unbeatable?
There is definitely a fear factor that Wilder brings to the ring. Although his smack talk is obviously weak and seems very forced, he does put on a great show in regards to the ring walk. Entering wearing masks and crowns before cocking his arms like rifles is sure to remind his waiting opponent exactly what he is all about. But, I have seen enough unbeatable fighters get picked apart and knocked out and I will say now that Wilder is very very beatable.
For all of the good that he has brought to the ring there is no doubting that he is pretty one dimensional. He isn't Ali, he isn't going to jab and move and out box his opponents. He is also no Mike Tyson. He simply isn't blessed with ability to move and create angles like "Iron" Mike or the ability to throw the same devastating combinations. Wilder has one plan and one plan only. Line people up with a tentative jab and follow it with a straight right that comes from the depths of hell.
"When you feel the left hand. When you even smell the jab, MOVE YOUR FRICKIN HEAD. Because you know the right is gonna follow," says hall of fame boxing analyst Teddy Atlas.
And he's right. You know it's coming so move, but which way?
There are those that will say keep moving to your right, don't give him the chance to get anywhere near you with his power punch and then simply use your superior boxing skills to wear him down. But for me his greatest strength is also his greatest weakness. All too often Wilder is caught overreaching. He throws his big right from too far away. His chin comes up, his feet cross and he loses balance. It's this flaw that fighters need to exploit, but it means tempting him in to throwing that potentially killer punch.
Get close enough. Let him line you up with the jab and as he cocks his right slide back out of range. He will follow through with his punch and as he misses his balance will go, his feet will flip flop and his chin will rise. It's now that you jump on him. Jump on him with speed and aggression. It's the same tactic that Ali used to destroy Sonny Liston in their first meeting and if you don't have the speed of the great man it's a big risk. If he does catch you flush it could be lights out, but the fact you are moving away will negate some of his power. His frustration will build and the more reckless he may get giving you more opportunities to get in on him.
It's a plan that will take balls and skill. So, who out there will be willing to take that risk?
Luis Ortiz is too old and slow and Anthony Joshua will come straight at him trying to prove a point and I don't think that Tyson Fury has the power to worry him. Wilder showed in their first bout he could keep his cool and take his time, eventually landing his combination in the last round despite being out boxed. Yes, Fury got up, but can he do it again?
For me it's Andy Ruiz, JR. that is the man to beat Wilder. He is short, fast and can punch with both hands. He also has an excellent ring IQ and I can clearly see him swarming Wilder and forcing him to make the mistakes that will open him up to his first loss.
Will the fight happen though? Surely it has to.
Contact the Feature Writers