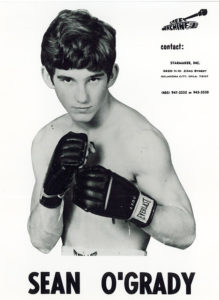 Exclusive interview by Anthony "Zute" George
Nature or nurture? Which determines human behavior? For Sean O' Grady, his environment played a significant part in making him The Champ. Pat O' Grady, Sean's father, had such a predilection for boxing, he became a very well-respected boxing trainer. Pat knew what it was to go to battle, "My dad was a World War II veteran, he was part of the Marine Corps Raiders, he saw forty-four months of combat. He was wounded twice." Upon Pat's return home from his courageous service, the O'Grady's moved to Austin, Texas (where Sean was born), and eventually settled in at Oklahoma City, and boxing was prominent in their lives. His mother, Jean O'Grady, also made coin in boxing as a promoter.
Wherever young Sean turned, boxing was there, "I grew up with boxing really pervasive in our household, I think it really guided me," Sean explains.
For Sean, having boxing in his life meant much more than gathering around the television set, or going to watch the fights in person, although he did plenty of that; "Carlos Monzon was the greatest in my eyes, I watched him on TV every time he fought. When I was young, most of what we saw on TV were heavyweights. So, I became a fan of Ali, Frazier, Foreman, all these heavyweights."
Of course, Sean himself was no heavyweight. He always had a small frame. In fact, Sean walks around weighing one-hundred forty pounds today. Where were the lighter weight fighters for Sean to look up to? "When I was an adolescent, my father would check us out of school early on Thursday, we would drive to Los Angeles to watch the big Mexican fighters, Ruben Olivares, Bobby Chacon, Lupe Pintor, all of these outstanding Mexican fighters that happened to be around my weight category. That is how I got my introduction to boxers who were like me. They were never going to be huge in size, but they certainly were in stature," Sean offered.
Given Pat O'Grady's love for boxing, as well as his constant exposure to the sweet science, it would leave one to believe that Sean never had a choice in the manner. Was it the boxing highway, or nothing else for Sean? "Because of my upbringing, I was guided towards boxing. Yes. It was there for me. It was easy for me to go and find a gym. It was easy for to go work out. It was easy for me to learn about boxing," Sean answered. With that said, Sean's first love, where he saw a future in, was in the sport of football.
However, as already mentioned, Sean's body never fleshed out to the size needed to perform on the gridiron, "Can you imagine me on a football field, even forty years ago?" Indeed, a rhetorical question if there ever was one. Also, football did not provide the kinds of treasured connections Sean made because of boxing, "It was a very special time in my life. I was still a kid. I saw and got to meet some great fighters. I got to meet Joe Frazier; he was such a cool guy. George Foreman lived in our home when I was a young man; he taught me so many things about training."
Of course, merely rubbing elbows with, and getting sound counsel from great boxers, would never be enough to compete on the sports highest level. To reach that mountain, you have to have many other ingredients, both tangible and intangible. None less important than having the ability to fight. Sean's quest to try and answer that question began in 1975 when he had his first professional fight. "I was fifteen years old in my first pro fight. I knocked my opponent (David Tymes) out in the first round. This idea that I was becoming a professional fighter at the age of fifteen was a bit of a struggle for me. What business did I have becoming a professional fighter? I often faced people who were twice my age." Indeed, the idea of a fifteen-year-old from Oklahoma City fighting grown men in the professional ranks seems closer to the Twilight Zone than to reality. But the decision to throw Sean to the wolves, when most young men are trying to figure out their hormones, was a pragmatic one for Team O'Grady, "There was no amateur program in my home state back then. But there was a professional program, and that was my parents. So, we decided to turn pro."
This decision dwarfed Sean's dream to compete in the Olympics. With that said, when the United States decided to boycott the 1980 Olympics, Sean realized that dream would have been crushed anyway, and without the prolific boxing career Sean was relishing in circa 1980, "By the time I was eighteen, I had like forty fights," Sean explained.
In 1979 Sean really broke through as a big star. He had a significant victory over Arturo Leon to help propel his recognition. At the tender ag of 20, Sean defeated the well-seasoned Leon in a fifteen round decision to capture the USBA lightweight title. Leon had twenty-six victories when Sean faced him, including wins over Jimmy Heair and Bobby Chacon. Leon also fought fifteen hard rounds with the legendary Alexis Arguello. Sean spoke about having to train for a fifteen-round fight against a man with a solid pedigree, "I had to run farther, jump higher, workout harder. Fifteen rounds, there is a big difference."
With the extra grueling nine minutes, came a much higher reward for Sean, "It was a very special time. I wanted to be a champion of some sort." Having to go fifteen rounds against the hard-nosed Leon meant that Sean would have indeed earned his championship status, regardless of the lineage of the USBA title. "Arturo Leon was an outstanding fighter. I got head-butted in the first round, so I had a nine-stitch cut on my right eye. Then I got head-butted in the second round and had an eight-stitch cut on my left eye. So, I am bleeding all the way across the top of my head," Sean said of the fight, making his performance even more worthy of being called The Champ.
Sean had to make adjustments to his typically aggressive style to compensate for the pouring plasma from his eyes "My father told me I had to change my strategy…I had to move, box, jab. I could not stay on the inside with Leon. So, I had to box on the outside for most of the fight. Arturo Leon was such a bull. He was a roughhouse type of fighter, and you could not hurt him with anything. He would hit you with arms, elbows, butts. He wanted to muscle you on the inside.
Had I continued to fight the way I was in the first two rounds, he would have destroyed me." Sean admitted that he wished he would have used his boxing ability in more of his fights. At the time, The Champ also confessed that his performance against Leon did not quench his insatiable thirst for carnage, "It was fun to win the USBA title. But, the fight itself was kind of boring to me. When you are in there fighting, you get excited like everybody else watching. Because I was fighting from the outside, and taking my time, picking my shots, it was a different kind of style for me," Sean admitted.
Sean carried the luster of that performance into 1980, winning a critical majority decision over the undefeated Gonzalo Montellano. In November of 1980, Sean went all the way to Glasgow, Scotland, in an attempt to capture the WBC lightweight championship over Jim Watt. A fight that is probably not talked about enough. It was a fight that exposed Sean directly to the vicious underbelly of boxing. It was an outcome that his father saw coming, "My dad was in boxing before I was even born. He told what was going to happen long before we ever left Oklahoma City, he said, 'you are going to beat him. You are going to crush him. But they are going to cheat. I can guarantee it. They are going to rip you off.'"
Before Pat O'Grady proved to be a clairvoyant, Jim Watt and his son fought a pitched battle that was more in keeping with Sean's thirst for blood and guts, "The fight went pretty much how I hoped it would go. We knew he would start strong, and I would have to give him some reasons to back off. He did. When he backed off, I started opening up with my attack, and I hit him in the ninth round, and his eye just exploded. There was blood all over me. I broke his rib in one round. His hand was broken. When I busted his eye like that. I thought that was it." The fight was not stopped because of the horrendous cut on Jim's eye, the way Sean thought it would.
"In the next round, he came out, and I noticed he was trying to head butt me, hit me low. When we got inside, he was trying to rub my face with his elbow. I tried to tell the referee. But he was from France and did not speak any English. I don't speak French very well (laughing)." Sean jokes about it today, but referee Raymond Baldeyrou's eyes should have spoken the same language as everyone in the ring. Without any harsh warnings from the referee, Jim Watt stepped up the extra-curricular activities a notch, "Jim head-butted me right in the middle of my head. And the blood started coming down." The lousy judgment continued in the fight, as they did not rule a head butt as the cause of Sean's cut, so he officially lost the fight via a technical knockout. Team O'Grady tried to put forth an official protest to the WBC, but Sean said, "they turned a blind eye."
Going to Glasgow was a visceral learning experience for Sean. Even before the Watt fight, Sean was exposed to death threats from Protestants of Scotland, "The day before the fight. I got a letter from the Protestant Army, saying they were going to kill me on national television. There was still a lot of animosity between the Irish Catholics and the Protestants. But I grew up in America," Sean explained. Sean opted to go on with the fight, and, despite the disappointments, Sean said the Jim Watt fight was, "One of the greatest experiences of my life."
While nothing was officially changed in the Watt decision., everyone in boxing knew Sean O'Grady was shafted. And when you are shafted in boxing, you are often compensated for it in another way. Something else Pat O'Grady told his son about before leaving for Glasgow, "My father told me because the fight was going to be on television for all to see, you will get another championship fight to quiet down the publicity from the fight."
Sean's consolation prize was a WBA title fight for Hilmer Kenty's championship in 1981. Kenty was an undefeated star from the Kronk Gym. Many people in boxing felt that Hilmer was the best fighter from the Kronk Gym, not named Thomas Hearns. Sean would be given zero favors against such a top talent. But he would be given a fair shake, the backlash from Glasgow ensured as much. All O'Grady had to do was perform. And perform he did. Sean won a wide unanimous decision in a great fight. Sean's best of his career, "Hilmer was an outstanding fighter. He never quit. He never stopped, even in the late rounds. He threw up in his corner between the 11th and 12th rounds. I gave him a pretty good beating in the midsection. He was an amazing guy. He was the best fighter I ever faced. Fighting him, I learned how to be a champion and how to carry myself as a champion."
Sean did not get to experience what being a champion was for very long, however. The WBA stripped Sean for failure to fight number one contender Claude Noel, "As I understand it, there was a contract for Kenty to fight Claude Noel. But there was never a contract for me to fight Claude Noel," Sean said in his defense. Readers might ask why a contract could not indeed be made since Noel was the number one contender. But Pat O'Grady tried to break free from boxing's alphabet soup, which only consisted of the WBA and the WBC at that time; nevertheless, the sanctioning bodies were not looked upon with great admiration or integrity circa 1981.
Sean was stopped by Andy Ganigan on Halloween in 1981, putting an end to any attempt to have his son be recognized as a champion through another entity. Sean went on to fight until 1983. But a split decision loss to the formidable Pete Ranzany in October of 1982 put a halt to any chance for Sean to fight for the title again. His last fight was a stoppage loss to John Verderosa in 1983. How did Sean know his fighting days were over, "When I got hit in the nose in the fourth round I knew it," Sean joked. "My father was in my corner that night, and we knew it was time. The pieces fit. It was time to move on. I stopped being afraid, and I stopped not caring about getting hit. For those reasons, I knew it was time to move on."
Sean was just twenty-four years old when he retired. He explained that the urge to return was part of him, "every day." Rather than make an ill-advised comeback, Sean explains that he kept himself busy with going to school and his broadcasting career; Sean enjoyed a very successful stint as the color analyst on USA Tuesday Night Fights from 1982-1998, "Don't get me wrong I would have loved to come back. I missed the attachment with the crowd. When you throw a good punch, and the crowd responds, that immediate response, I miss that, especially when I was a broadcaster. But I am thankful I never did come back. But I sure thought about it."
Sean's decision to leave boxing behind him allowed him to keep his health and pursue a successful career in real estate. With that said, The Champ will always be remembered as a young neophyte, who was a boy among men, but a tenacious fighter who thrilled the crowd when he was at his best. Sean is now a member of the National Boxing Hall of Fame in West Hills, California. The 2019 Class also included Julio Cesar Chavez, Michael Carbajal, Montell Griffin, Humberto Gonzalez, Raul Perez, Lucia Rijker, Mike Weaver, and Jack Johnson. "It was fantastic. I saw all my contemporaries. The guys I sparred. It was the flat-nose club. I have never seen so many flat noses in my life," Indeed, Sean will never lose his penchant to crack wise.
At the National Boxing Hall of Fame, Sean was honored with the Howie Steindler Award. "I was so proud to receive the Howie Steindler Award. Howie was the owner of the Main Street Gym, which is where they filmed Rocky. Howie was murdered in 1977, and they still haven't found his assailant. If anybody knows anything, please say something. Howie was a neat, neat guy. Howie was the character that Burgess Meredith used in the Rocky movies." It was at the Main Street Gym where Sean got to meet many boxing greats. Including the man, many considered the greatest of the greats, Sugar Ray Robinson, "He was sixty-eight years old when I met him. He was working out.
He was making that light-bag sing. Then he was jumping rope for an hour, in a rubber suit. Such an incredible guy. I had pictures of him on my bedroom wall when I was a kid, that is how goofy I was. He gave me some great advice, he told me, 'I want you to walk everywhere. When you go to the gym, don't take the car. Walk. When you need to go to school, I want you to walk. Fighters today do not have the balance anymore. I want you to walk everywhere. One-foot right in front of the other.' That was great advice. Remember, Ray Robinson was also a great dancer. I still walk and run to many places today."
Much of Sean's life today is soaked up in commercial real estate. Sean explained that he has a lot of fun doing it, "It is a lot of fun making money," Sean continued to joke. But boxing is something that will never be out of The Champ's system, "I still occasionally do some broadcasting work, and work with some fighters on their career, consulting them. You have to keep yourself busy and keep yourself active." Indeed, Sean O'Grady has followed that motto ever since he was a little boy who had boxing readily available to him. While his life was not without bumps and bruises, he said that he still fights depression every day, it has been a life many people can admire and learn from. Keeping active and trying to help people is what drives Sean's engine today, helping deal with the depression he says hangs over him and many former fighters.
How great would it be to be treated to Sean's boxing knowledge on one of the many boxing streaming apps and/or networks? Will the younger audience who might not know about his work on television get that treat?
Stay tuned…
Contact the Feature Writers