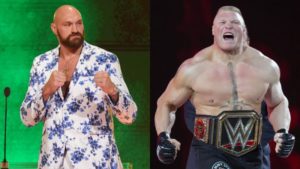 Tyson Fury reckons he could turn over Brock Lesnar in a fight, and he was not necessarily talking about in the WWE. According to the boxer, he could beat Lesnar away from the scripted fights of the WWE and win in a "proper fight".
Not many fight fans would back Fury in a bout against Lesnar unless that fight was in the boxing ring. However, if the two ever fought it would be big news and draw plenty of attention. Still, most people making bets using a Betrivers Promo Code would favor a win by Lesnar over Fury. Simply put, Lesnar's history in the UFC, sheer size, and power would cause problems for Tyson Fury.
That's not to say Fury would be completely useless against Lesnar. He would have his huge reach and the punching power of a boxer. If he could catch Lesnar he would likely knock him out. However, in the Octagon Lesnar would be able to tie Fury up and wrestle him on the ground.
Fury has recently made his debut in the WWE, where the lineal world champion fought and beat Braun Strowman in Saudi Arabia.
He has now turned his attention back to boxing, where he is awaiting a rematch against Deontay Wilder in February. Still, Fury continues to flirt with WWE and a future in the squared circles seems likely. But what about a move into the UFC?
Whether its WWE or for real, Fury has set his sights on Lesnar.
'I fancy a fight with Brock, for sure. I watched a few of his fights,' he told the True Geordie podcast.
Despite acknowledging Lesnar's fighting abilities, The Gypsy King believes he could get the job done quickly.
'(He's) pretty handy, but I can flatten him. In a WWE match or a proper fight, I can flatten Brock Lesnar in 30 seconds.'
Fury has tested the waters in the UFC by training with middleweight Darren Till earlier this month. He says a venture into the Octagon is appealing.
"It wouldn't take a lot,' he said. 'I've got three fights left on my contract (with ESPN), when they're up I'm coming for every UFC heavyweight there is.'
Lesnar is the current WWE Champion but has frequently flirted with the idea of returning to UFC. He originally left WWE for the Octagon in 2006 and became a top tier UFC heavyweight. Despite losing his UFC debut to Frank Mir, Lesnar quickly gained experience and eventually toppled Randy Couture to become UFC Heavyweight Champion in 2008.
He later because undisputed heavyweight champion by defeating Shane Carwin, before injuries took their toll and his fight form declined. A return to the WWE has seen Lesnar dominate the organization, although in 2016 he returned to the Octagon at UFC 200.
While he defeated Mark Hunt, Lesnar later tested positive for clomiphene, one of the UFC's anti-doping banned substances. A fine and suspension from the UFC followed, as well as the victory over Hunt being deemed a no-contest. It's worth noting Fury was also banned for boxing under anti-doping charges.