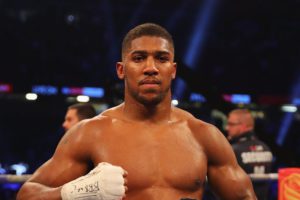 According to Great Britain Boxing Performance Director Rob McCracken, Anthony Joshua could be in the last chance saloon in his rematch with Andy Ruiz, JR. He has warned the former heavyweight champ there is "no room for error" during the anticipated bout. The caution comes after Tyson Fury suggested Joshua should retire if he loses.
Joshua lost his heavyweight belts to Ruiz, JR. in June and the rematch will either be a story of redemption or will remove the Brit from the title picture. As Joshua readies himself for Saturday's fight, interest from fans has been sky high. Sportsbooks like NJ sports betting apps are filled with people betting on the contest, with a winner hard to predict.
McCracken says Joshua's ability to overcome Ruiz, JR. would mean he knows how to handle small and mobile boxers with a difficult style. These types of fighters have challenged Joshua throughout his career.
At New York's Madison Square Garden in June, Ruiz,, JR.'s style hurt Joshua and put an L on his record for the first time. Since then, Joshua has changed his training to reflect the unique challenge Ruiz poses. However, McCracken points out Joshua has struggled with small mobile guys through his amateur and pro career.
'He's beaten numerous small, mobile heavyweights and he's lost to a couple of them,' McCracken said during a recent interview with the Guardian.
McCracken is well placed to discuss Joshua. The 51-year old was the fighter's trainer for nine years and know him as well as anyone in the boxing industry.
'Sometimes fighters are just good. Ruiz, JR. has good technical ability. He can measure the distance. Knows how to defend. Got a half-decent jab, good timing and speed.
'Ruiz is an underrated world-class fighter but if you've got the height and reach, like Josh, you must use it.
'The minute you don't, you're open to quick powerful hooks off these heavyweights. And Ruiz is one of the best,'
'He's motivated. He's been in the best mood in camp for a while. He's laughing and joking. He also knows that if he does everything right, he'll win but there's no room for error,' McCracken said.
Ruiz, JR. has continued his rhetoric leading up to the rematch in Saudi Arabia. He insists his New York win over Joshua was no fluke and fans will see much the same this weekend. Ruiz, JR. says he can see Joshua has slimmed down but is unsure if that would be an advantage to the Watford-born boxer.
'I don't know if he will take the punches as well as he did when he weighed more.'
Ruiz, JR. now holds the WBA, IBF, WBO, and IBO title belts that he took from Joshua in June. The winner in Saudi Arabia is likely to gain a unification bout with WBC champion Deontay Wilder in 2020. In the meantime, Wilder has his own nemesis to overcome when he has a rematch with Tyson Fury in February.
Wilder and Fury fought out an entertaining draw a year ago and a rematch has been much anticipated in the fight community.