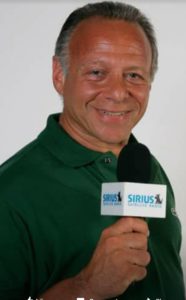 By Randy "The Commish" Gordon
One week before Thanksgiving, I headed to Las Vegas, Nevada, to cover the WBC Heavyweight Championship between unbeaten titleholder Deontay Wilder and once-beaten contender Luis "King Kong" Ortiz. Ortiz's lone loss came against Wilder 21 months earlier, when, in an exciting fight, which saw Wilder hurt and wobbled in the seventh round, Wilder came back to stop an exhausted Ortiz in the 10th. Now, it was time for the rematch.
THURSDAY, NOVEMBER 21, 2019–I am on a 5:45p.m. Delta flight to Las Vegas, NV. Sitting in an aisle seat, I had all intentions of getting a lot of writing done. But, that didn't happen! For one, the guy in the middle seat on my right continually got up to go to the bathroom. During the flight, which, from JFK in NY to McCarron Airport in Las Vegas is around 5 1/2 hours, the guy got up no less than 10 times! Each time he arose, I had to close my laptop, return my tray to, as flight attendants say, "to its upright and locked position," stand up, allow "Mr. Bladder Problem" to get up, then wait for him to return to his seat.
There was also a boxing fan sitting in the seat across the aisle from me. My "Thrilla' in Manila" sweatshirt got him going. He introduced himself. He was Bo from Brooklyn. He was in his mid-50's. I introduced myself, but just as an announcement was coming over the P.A.system.
"You a boxing fan?" he inquired.
I nodded.
He said "I know every fighter from Brooklyn. He threw out names, beginning with Mike Tyson. He added Riddick Bowe. And Shannon Briggs. And Junior Jones. And Mark Breland.
"I know Eddie Mustafa Muhammad," too, he added.
"Did you know Eddie before he was Eddie Mustafa Muhammad?" I asked.
He shook his head.
"Didn't know him then," he replied.
"Eddie Gregory," I said. "We boxed in the Golden Gloves together 50 years ago."
"Damn! You been around forever!" Then he asked, "Sorry, I didn't catch your name.
"It's Randy. Randy Gordon," I said.
He stared at me for a moment. His eyes opened wide.
"Hey, you the Commissioner, right?"
I smiled.
"Was,". I said. "I now host boxing shows with Gerry Cooney on SiriusXM Radio."
"I love Gerry Cooney!" he exclaimed.
"Everyone loves Gerry Cooney!" I replied.
Bo introduced me to his best friend, Willie, who was sitting next to him. They were going to Vegas for the same reason I was—for the Deontay Wilder-Luis Ortiz fight. They were going because, as Bo said, "We are avid boxing fans." I was going because it's how I make my living.
For over five hours I tried to do some writing. But "Mr. Bladder Problem" was up and down the entire flight, and Bo and Willie wanted to talk boxing, boxing and more boxing. At 8:45pm (PT) we landed.
Gerry Cooney's flight from Newark, NJ, landed a few minutes before mine. We called each other, and met by baggage claim a little after 9:00. A cab got us to the MGM Grand within 15 minutes.
We texted our SiriusXM producer, "Rumblin' Mike" Russo, who arrived in Las Vegas seven hours earlier after taking a very early flight from Newark. Russo met us at the front desk, and stood with us on the check-in line for 20 minutes, talking about the fight on Saturday night and our show from Radio Row the following night.
"Throw your bags in your rooms and I'll meet you guys by the elevators in 20 minutes," said our producer.
We were across the hall from one another, Gerry in 10-308, me in 10-311. We met in the hallway and headed to the elevator. When the door opened, there were perhaps eight people on it. One of them recognized Gerry immediately.
"Hey, Gerry Cooney!" he blurted. The others, picking up on the recognition, immediately began using their phones to take pictures.
"Come on, get into the shot," said Gerry to all of them. But, as several of them were by themselves, they requested "selfies" and one-on-one shots with the former heavyweight contender. Gerry obliged each of them with a smile.
When the elevator doors opened, the small crowd was still busy taking photos of Cooney. Our producer, Mike Russo was waiting near the elevators when we stepped off.
"What's going on?" he asked me.
"It's just Gerry being Gerry," I replied, proud of my SiriusXM sidekick. "Get used to it!"
We walked through the smokey casino (my least favorite thing about Vegas, as smoking in most public places is still allowed), toward a hallway filled with restaurants. Russo pointed to a restaurant named Mosimoto.
"Want sushi?" he asked.
"Sounds good to me," said Gerry.
"Let's eat!" I replied.
As it was a few minutes before 11:00pm, we were told we'd have to eat at the bar, as the restaurant's kitchen would be shutting down at the top of the hour. We made it easy. Both Gerry and Mike had sushi. I had sashimi
We talked as we ate.
"You guys excited?" Mike asked.
"You know it?" I replied.
"Oh yeh!" Cooney mumbled, his mouth filled with sushi.
We talked about the intense, busy schedule on our calendar in the next two days.
That schedule included:
>Setting up our broadcast area on Radio Row
>Doing taped, pre-show interviews
>Hosting my "RANDY'S RINGSIDE" show on Facebook Live
>Going live from Radio Row at 3:00pm (PT) on our SiriusXM show, "At the Fights"
>A post-show dinner in Sumerlin, Nevada, at Chef Marc's Trattoria
Following dinner, we headed off to our rooms. It was close to midnight. For us East Coasters, our bodies said it was 3:00a.m. Regardless of what time it was, Gerry and I, both early risers, decided to meet for breakfast at 6:45. It was time for sleep.
FRIDAY, NOVEMBER 22—I was up a few minutes after 6:00, beating both the Las Vegas sunrise and my alarm, which was set for 6:10. As I awoke, the current date popped into my head: November 22. To me, it signified two significant events. One was boxing-related, the other, much more significant. The boxing-related event took place 33 years earlier, right there in Nevada. On that night in 1986, Mike Tyson became the youngest heavyweight champion in history, knocking out defending champ Trevor Berbick in the second round. The non-boxing-related, much more significant and important event which occurred on November 22 took place in 1963–the assassination of President John F. Kennedy in Dallas, Texas. So, as I awoke, those dates immediately popped into my head.
As I was about to head into the show, my cell phone rang. The caller was Gerry Cooney.
"You up? he inquired.
"Yep," I answered. "Jumping in the shower. What time for breakfast?"
"See you by the snack shop near the elevators at 6:45." Gerry said.
"See you in a few."
6:45a.m.—When I saw Gerry standing by the snack shop, he was taking photos with fans who had either been up all night or were early risers like us. On we walked to the coffee shop in the MGM Grand, you must walk through the heart of the casino…past games of Roulette, Craps, automated horse racing and slot machines. Never one to pass up a photo-op, I said, "Gerry, let's take a selfie in front of a slot machine." As we were about to take the selfie, Gerry saw an MGM Housekeeper wiping down one of the slot machines.
"Excuse me, could I bother you to take a shot of me and my colleague?"
"Oh, it's no bother," she exclaimed. I handed her my camera and she took a few photos. As she handed my camera back to me, I handed her a few dollars, thanking her for taking the photos. To Las Vegas' ladies of the evening or, in this case, of the morning, money must smell like blood smells to hungry sharks. No sooner had I handed the housekeeper the money, two alluringly-dressed, attractive women appeared out of nowhere. Both were wearing heels, similar leather skirts and low cut tops. Very low! One stood around 5'6." Her partner stood several inches taller.
"Hi baby, want some company in that photo?" the taller one asked Cooney.
"We can do a group shot," the other said to me, moving as close to me as a person can get without touching me." They were two young pros. We were two old veterans.
"We have a business breakfast to get to," I replied.
"Want some company at the breakfast?" asked the taller one.
"We'd love to," said Gerry, "but we're working."
"So are we!" replied the taller one, adding, "Maybe later."
They blew us a kiss and continued their casino walk, looking for their next customers.
"No place like Vegas," said Cooney.
"Ah, what do you know about Vegas?" I asked, jokingly. In 1982, Cooney had fought Larry Holmes in a packed, makeshift arena up the road in Caesars Palace. Prior to the fight, he had hung out with such international stars as Frank Sinatra, Bob Hope and Dean Martin. Today, almost 37 1/2 years later, the Holmes-Cooney fight remains as one of history's most-exciting and discussed heavyweight title fights.
For breakfast, I had a Breakfast Burrito, which was scrambled eggs, diced tomatoes & onions in a flour-based burrito wrap. It was covered in salsa. Gerry had a heavyweight stack of Blueberry Pancakes, topped with a few fried eggs and topped with bacon. He is lucky he is a heavyweight!
We took our time at breakfast, discussing the show that night from Radio Row, and talked with friends from the boxing world who walked over to our table to say hello. Among them was Christy Salters Martin, the former female world champion and now a successful boxing promoter in Florida.
Following the breakfast, we took a walk through the casino and towards the large banquet room the fights' promoters were using as the media center and where Radio Row was set up. Radio Row contained dozens of tables where radio stations from all over the world were set up to do their pre-fight shows. Included was our SiriusXM table, where, in another six hours, Gerry and I would be doing "At the Fights, Pre-Fight Live." On the way to the media center, we received a text from producer Mike Russo, who told us he'd meet us there in a few minutes.
The 10-minute walk took closer to a half hour, as Gerry was continually stopped by fight fans who wanted to shake his hand…to get an autograph…to have a photo taken or to get a selfie. It's been almost 30 years since Cooney's last fight, and he remains as popular as ever. Even the security guards at the doors to the media center wanted photos with my hard-hitting radio partner.
When we walked in, the room already had a few dozen journalists walking around. The next hour would bring in several dozen more. We saw Producer Mike, who was setting up our announce position. He was putting up SiriusXM banners and positioning them right behind where Gerry and I would be sitting. He worked with two engineers, who assisted him in setting up our headsets and microphones. As Mike worked, Gerry and I worked the room. We said hello to just about every journalist on the floor. Both of us were invited to sit in as guests on many programs to give our picks on the Deontay Wilder-Luis Ortiz fight. As a former heavyweight contender, Gerry was asked by what seemed to be every station there to give them a few minutes. As Gerry did interview after interview, I gathered my notes for our 3:00 show. I also needed to get ready for my Facebook Live show, "RANDY'S RINGSIDE," which I do every Monday and Friday at 4:00p.m. (ET) and every Wednesday at 9:00p.m. (ET).
1:00pm (PT)—"RANDY'S RINGSIDE" was live from Radio Row. For 30 minutes, I discussed the Wilder-Ortiz rematch. I predicted a Wilder victory. I predicted a Wilder knockout victory. I said it may be a different fight than their first one (in March 2018), and it certainly was. I liked the fight. I liked that Wilder was giving Ortiz, who other contenders want nothing to do with, a second shot at his title. What I didn't like was the price tag: $74.99 on FOX PPV. I predicted it would bomb on PPV. It did.
1:30p.m. (ET)—I signed off "RANDY'S RINGSIDE." It was time for lunch. A buffet was brought out for the media. There were hot dishes, salads and cold cuts. I had a Quinoa Salad and a bottle of the energy drink Deontay Wilder is backing: Recover 180, a fruit punch/energy drink.
I walked around Radio Row, did a few more interviews and talked to a few boxing friends, including WBC President Mauricio Sulaiman, broadcast journalist Marcos Villegas, WBC executive Chuck Williams and former Jr. Middleweight Champ Jarrett Hurd. Then I headed to my SiriusXM table on Radio Row to go over some last minute notes and do a mic check and talk to the crew back in our New York City studios (Sugar Shane and Andre the Giant) who would be playing our pre-taped interviews (with Zab Judah and air personality Jason Ellis) and adjusting our voice levels throughout the show, as well as counting me down in and out of breaks and interviews.
2:55p.m.—Gerry finished with his interviews and sat down in a chair on my left. It was time to switch gears from being a guest to being a show host. He makes the transition look easy. Producer Mike had already checked my voice levels, and now did the same with Gerry. He couldn't hear himself. Mike used another headset to talk to the NYC control room to tell them of Cooney's voice level issue. They had him count from one to 10. Nothing. He counted again. Nothing. We were one minute from air. Gerry counted again. JACKPOT! A winner!
"Stand by, guys, 20 seconds to you," said Russo. We both stared at him. He held up both hands. Then, showing us on his fingers, it was: 10-9-8-7-6-5-4-3-2-1. Russo pointed to me.
"WE ARE LIVE FROM RADIO ROW AT THE MGM GRAND HOTEL & CASINO HERE IN LAS VEGAS, NEVADA…". We were on SiriusXM with our "At the Fights, Pre-Fight" special.
As we talked about the big title fight, which was around 30 hours away, the weigh-in had just ended. Russo held up cards inscribed:
WILDER 219 1/2
ORTIZ 236 ½
I read the weights to our audience and we discussed what it meant. As we talked, Russo scanned the room, looking for guests to bring over. He did a great job. He got us Abner Mares, Kevin Iole, Marc Ratner, air personalities Scott Ferrall and Jason Ellis, Joe Goossen, Zab Judah, Richard Schaefer and Freddie Roach. If I must say so myself, the show was a knockout, one of the best Radio Row shows we've ever done.
5:00pm (PT)—After a high-energy show like that, both Gerry and I leave the air wired, energetic and hungry.
"Chef Marc's?" I asked Cooney.
"Chef Marc's" he replied.
"I'm gonna' go shower," I said. "I'll knock on your door at 6:30." We told Russo to meet us by the ring in the MGM lobby at 6:45. We wanted him to join us in going to a special place.
6:30p.m.—I showed up at Cooney's door and he was ready immediately. Getting him out of the building is another story, as the autograph-seekers and selfie-takers were all over him. When we got to our producer, who was waiting patiently in the lobby, near the makeshift ring with the MGM Lion in the middle. He watched in amazement as Gerry played the Pied Piper to dozens of boxing fans. After 10 minutes, we made it outside and into a cab. We were off to dinner in the nearby town of Sumerlin, around 10 miles up the Strip.
The restaurant is called "Chef Marc's Trattoria." It is owned by Marc Sgrizzi, a chef renowned for his creative Italian cuisine. Gerry and I met Chef Marc in October, when we called the boxing action for UFC Fight Pass in Peterborough, Canada. Marc was put onto the show with us because he is a close personal friend of the talented Cody Crowley, he fought—and won—in the night's main event. Chef Marc brought a knowledge of the game and an insight into what Crowley was trying to do with an opponent who came to survive, but now win.
Following the card, Chef Marc told Gerry and I "When you next come to Las Vegas, look me up. I'd like you to come to my restaurant." Now, we were on our way.
7:30p.m.—With traffic getting out of Vegas, the 10 mile trip took us 30 minutes. When we walked into the restaurant, all the tables were packed. Heads turned, towards the three guys walking in, but not to look at the two short guys (Russo and me). It was Gerry who stood out. At 63, he stands 6'6" and weighs a well-conditioned 250 pounds. Chef Marc came out to greet us and had hugs for Gerry and me. We introduced him to Russo. He then showed us to a large round table near the kitchen. It had a "RESERVED" sign on it.
Chef Marc told us he would be doing the ordering for us and hoped we were hungry. With that, dish after scrumptious dish of tapas items (smaller samples) were put before us. My favorite was the White Truffle Saffron Ravioli. We also had Veal Chop in Italian Herbs, Duck Polento and a "Old World" Caesars Salad made with chopped anchovies and egg yolk. Following the many dishes Chef Marc prepared just for us, he put down a plate of homemade dessert: Cheesecake, Cannolis, Butter Pound Cake and Tiramisu. We left nothing over! You MUST try Chef Marc's Trattoria the next time you are in "Sin City."
10:00pm—It was into an Uber and back to the MGM for three two stuffed boxing announcers and their just-as-stuffed producer. At the hotel, Russo bid us goodnight. He was there for our show, and was scheduled to make a 6:30a.m. flight back to Newark. Gerry and I walked around for an hour, talking to boxing enthusiasts, who had now filled the MGM's lobby area and casino. Knowing a big day awaited us on Saturday, we headed up around 11:00p.m.
7:30a.m. SATURDAY—Unlike the previous day, breakfast for Gerry and I was a whole 45 minutes later! We ate in the same restaurant at the MGM and Gerry had his usual stack of Blueberry Pancakes, an egg and bacon. I had Eggs Benedict. In the middle of our breakfast, we were joined by Beth Finkel and her son, Will, the wife and son of Hall-of-Fame manager Shelly Finkel (who is also the co-manager of Deontay Wilder). Beth told us she was nervous. Knowing her for years, I said, "You always get nervous before your guys fight." I added, "Don't be nervous!"
When Mrs. Finkel and Will left to go join their group, Gerry and I talked about our show from the previous day and the response we were already getting from it was very positive. It was a good way to start the day. We chatted until 9:00, then headed to the Media Center to get our press credentials. It was then back to the room to do some writing. Gerry went back to his room to rest. In one hour, we'd be meeting Marc Ratner, who had promised us months ago to take the two of us on a very special trip the next time we were in Vegas. Well, this was "next time."
10:00–Gerry and I met Ratner outside the MGM. Ratner is the former Executive Director of the Nevada State Athletic Commission. He was the man in charge when Mike Tyson took a munch of Evander Holyfield's ears and when "Fan Man" flew into the ring during the Holyfield-Riddick Bowe fight. He is now the Vice President of Regulatory Affairs for the UFC, a position he has held since 2006.
Ratner has been promising Cooney and me a private trip into what is called the UFC Campus and he was now delivering.
It took no more than 10 minutes to get there from the MGM, and the first sight of the facility is breathtaking. Several connected modern buildings sit on 15 acres of pristine ground. We saw the offices, where close to 200 people are employed by the UFC, the TV facility, the Performance Institute and Dana White's personal gym. At the Performance Institute, a UFC fighter can train with the most modern equipment, including hot tubs, a Therapeutic Cryogenic machine and licensed masseuses. I used to think the WWE offices in Connecticut had the nicest offices I have ever seen. The UFC facility moved the WWE's palace to #2!
Ratner took us up a long flight of stairs, which I delighted running up, to the MMA/boxing area, complete with heavy bags, speed bags, treadmills, elliptical machines, an Octagon and a boxing ring.
We stayed at the UFC Campus for a few hours, then Ratner drove us back to the MGM.
"See you at the fights later," he said, leaving us off at around 1:00pm. Upon arrival at the MGM, I headed to my room to rest, shower and change. I wanted to get to the MGM Grand Garden by 4:00pm. Gerry headed off to the media center.
4:00p.m.—I left for the MGM Grand Garden Arena. Gerry said he'd meet me there at 6:00pm. They were good seats, though we have certainly had better. For many of these big fights, the writers who are filing their stories that night get seats up close. Us TV and radio guys sit a bit further back. No big deal, because the seats were still terrific. During the undercard, Ratner came to join me for awhile, as did longtime NSAC member Colleen Patchin, whom I have known since 1988.
The main event didn't begin until around 9:00p.m. That's midnight back on the East Coast. Know what? That's just too late!
When Wilder threw the right which KO'd Luis Ortiz at the end of round seven, Cooney was the first one out of the building. He had to be in a cab to McCarron Airport at 4:00am. for the first flight to Newark.
After Cooney left, I headed to the Media Center to await both fighters for the post-fight press conference. It took Ortiz perhaps 15 minutes to show up. He raised eyebrows when he said, "I thought the referee (Kenny Bayless) stopped the fight too fast. I could have continued." That shows how hard he was hit. He did NOT beat Bayless' count, and looked dazed and glazed for at least a minute after Bayless waved it off.
As for Wilder, he showed up an hour later. He enjoyed the microphone and stayed at the podium for over a half hour. I got a private audience with him when he finished.
I headed back to the room around midnight and quickly packed. I had to be in a cab at 7:00a.m. for my flight back to New York's JFK.
I was tired when I got home at 5:30pm, but not that tired where I didn't feel like taking my wife and her mom out to dinner.
I pushed myself to stay up until 11:00pm. To reset my body clock, and felt wonderful when I awoke at 7:00a.m. the next morning. It was then off to NYC and the SiriusXM studios, for another edition of "At the Fights" with Gerry Cooney.
Our topic, naturally, was Deontay Wilder and his big right hand. We asked, "Is it the hardest right cross in boxing history?"
Is it?
We'll examine that in future columns right here.
Randy "The Commish" Gordon is the Author of the hit book, "Glove Affair". Order your copy by clicking HERE.
Contact the Feature Writers