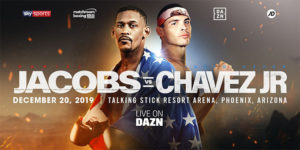 By Vinny "Glory Days" Lucci
A glorious vintage bottle of Dom Perignon Champagne from 1975 stock isn't worth squashed grapes if it hasn't been stored properly. Same can be said of countless boxing matches that either dies on the vine in anticipation or has soured to vinegar by the time it finally gets presented to the fans.
Mayweather, JR. Vs Manny Pacquiao is the premiere example followed by Alvarez finally manning up against Golovkin were classic examples of huge marquee names that held flickering lights by the time they saw the light of day. Inherently many boxers avoid serious competition while in their prime trying to keep their market value fresh for promoter consumption and only put their necks out on chopping block when they start thinking about bank rolling their retirement pension.
The Event:
On December 20 former middleweight champions Daniel Jacobs and Julio Cesar Chavez, JR. will fight a 12 round non-title bout at the Talking Stick Resort Arena in Phoenix Arizona. The bout will be contested at a comfortable super middleweight limit of 168 pounds. The event to be promoted by Eddie Hearn of Matchroom Boxing and presented here on DAZN live stream boxing with Sky Sports handling the broadcast in the United Kingdom.
Stats:
Daniel Jacobs billed as "Miracle Man" for his extraordinary skill set and coming back from osteosarcoma in 2012 has been an elite boxer his entire career with a ledger of 35-3, 29 KO's. Danny stands 6' with a 73" wingspan and boxes from orthodox stance. He is a Brooklyn native and at 32 still calls the borough home. Jacobs has held the WBA and IBF belts separately going 6-2, 5 KO's in title fights. His lone stoppage came at the hands of Dmitry Pirog back in 2010 by KO in the fifth. At the time it is quite plausible that Daniel was already suffering the effects of yet undiagnosed cancer but he was hit with a wicked right hand while Pirog was disguising it by switching from orthodox to southpaw to orthodox within the blink of an eye.
Julio Cesar Chavez, JR. had huge foot prints to fill in the wake of his father's shadow who cast a legacy as the greatest Mexican boxer to ever strap on leather. Julio at 33 years of age owns a 51-3-1-1, 33 KO'S resume. Standing 6'1" with a 73" reach the orthodox boxer has had a disappointing career without a significant win since 2012 over Andy Lee in Texas by seventh round TKO in third defense of WBC title. In his next bout he lost title to Sergio Martinez by UD the same year and for all that logic can comprehend, lost his focus and drive also.
Previous bout:
Last May Jacobs fought a unification bout with an uninspired Canelo Alvarez losing by UD at T Mobile Arena in Paradise, Nevada. This reporter had it a draw as Canelo seemed to coast and was being awarded points for simply showing up. Rarely was the savagery that the world witnessed against Gennady Golovkin on display. Jacobs lost IBF title that he won in October 2018 against Sergiy Derevyanchenko for vacated belt.
In August Chavez, JR. knocked out one Evert Bravo in less than a minute and a half in Mexico bringing Bravo's record to 25-11-1, 10 KO's and having been knocked out in ten of those losses. Nuff Said.
What to look for fight night:
In a bout that may have garnished interest five years ago now holds sheer boredom. Scour the internet for insight from boxing brethren and trainers who are always polite but will not offer true insight and barely discuss the intangibles. Translation, the style matchup is boring as hell and Julio has done nothing to deserve the payday or possible shot at redemption. Jacobs has the tools to damn near shut Chavez, JR. out but what his resume needs is a fresh knockout sending a final statement to the 2019 boxing calendar. The longer the fight wears on becoming sloppy with clinches Danny should employ two fisted uppercuts setting proper distance to letting his hands go.
The Vinny Factor:
The gents share many similarities in height, reach, age and both having lost three times, once by stoppage. They share one common opponent in Canelo Alvarez having fought him almost two years to the day in between. Julio lost every single round on all judges' scorecards while Daniel lost a close decision that press row had a draw.
Jacobs regardless of slim losses and inability to bring forth a knockout in recent memory is still an entry at bottom of pound for pound list. Chavez, JR. has been his own worst enemy with living off the family name, luxury and his spoiled brat training habits that have become folklore in the Wild Card gym in Los Angeles. Julio has suffered several commission suspensions that have totaled nearly a million dollars as well as nine months out of the ring for cannabis use and traces of Furosemide diuretic that is often used to mask traces of steroids. All fighters who promise "this time will be different" should be overlooked by promoters subsequently doing the fans a huge favor.
This thank God brings us to Jacobs who will invest his heart and soul into every training camp. As of late he has been on unsteady ground with six year mentor Andre Dozier who works sans traditional 10% contract as Danny's paydays have soared in recent memory. Dozier has proven his loyalty by choosing to work Danny's corner against his protégé' Serhiy Derevianchenko last year but was looking for an upscale monetary commitment which was not to be. The duo parted ways with Andre trenchant that the split left bad blood in its wake reminiscent of Abel Sanchez's bitter departure with Gennady Golovkin back in March. Daniel has named Fareed Samad as his new trainer and was congenial in wishing Dozier and his stable a fruitful future ahead.
At the post fight press conference in November '17 against Luis Arias I asked both Danny and Andre why he was unable to stop his opponent that he clearly beat 10 rounds to two. Both trainer and boxer said that it is hard to knockout a guy trying to survive who just won't commit to fighting. Keeping that in mind Jacobs has a spoiler in front of him this night that will use every square inch of ring as well as every clinch possible in order to preserve family name and hear the scorecards read.
Noteworthy:
On October 31 Chavez, JR. was temporarily suspended by the Nevada Athletic Commission for failing to allow VADA (voluntary anti-doping association) to draw blood for testing. Julio raised protest that he was not alerted in advance which is the entire purpose and wanting to know that Jacobs was being tested also. Eddie Hearn lined up 33 year old traveling war dog Gabriel Rosado, 24-12-1-1, 14 KO's in the event the suspension held. The rugged contender who is a fan favorite and possesses a much better fan friendly style that is better suited for Jacobs was vocally annoyed he wasn't considered as "the" opponent from the get go.
Julio has been reunited with one of his former trainers Freddie Roach who passed on a bag full of money to train him. The hall of fame trainer insisted he wasn't after a monster payday but just needed full commitment. After watching Chavez JR. enter gym light making back to back appearances two days in a row he agreed to work with him. Roach was quoted as saying that both feats were a plus for his usually lackadaisical pupil.
Odds:
Vegas has installed Jacobs the favorite at – 2500 with Chavez, JR. at +850
RSR Prediction:
Daniel Jacobs by UD. Recent history has shown that Jacobs last five fights over three years have gone to final bell. Throw out Chavez, JR.'s recent sparring session with a fighter who was brought in to fall down and he hasn't stopped a fighter in a dog's age. The one thing that Julio did inherit from his Father is a good set of whiskers that should see him through final bell once he turns on automatic survival mode.
Aftermath:
Jacobs can use the momentum to demand another unification match with WBA (regular) Champion Canelo Alvarez at 168 pounds or call out the ghost of Billy Joe Saunders while he still has a belt.
Chavez, JR. needs to come to grips with the fact that his whimsical devil may care attitude towards training and his career has done irreparable damage and that he peaked years ago.
Stay Tuned…
Contact the Feature Writers