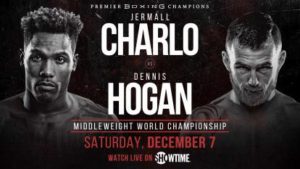 By Anthony "Zute" George
One thing you can count on is that there is always fabulous boxing during the holiday season. When that boxing takes place in New York, well, it is exponentially better. Jermall Charlo, the WBC world middleweight champion, kicks off that holiday tradition when he defends his title against Dennis Hogan on December 7th, at the Barclays Center in Brooklyn, New York. Charlo is undefeated, and many people think he is the most dangerous fighter in the division. While that point can be debated, there should be no qualms that he will have his hands full against a determined adversary in Hogan.
Hogan is a rough customer who gave Jaime Munguia all that he could handle back in April. Many observers felt that Hogan should have had his hand raised in victory against the 154-pound champion; losing a majority decision in Mexico is enough to raise some red flags. Many people used the word robbery to describe the decision. At the very least, Hogan showed a broad audience that he could fight a little bit. Jamie is a gigantic 154-pounder who can deliver some hard leather, and Hogan stood up to that attack and gave as good as he received. Such a performance has earned him this shot at Charlo's title. Hogan will be moving up in weight one weight class and does give away a lot to Charlo on the tale of the tape; he is about four inches shorter than Charlo and has a clear disadvantage in reach. If Hogan is going to pull off the upset, he will have to bang Charlo on the inside.
For Charlo, there should be no questioning his skills. Yet, many do. For these people, Charlo presents as a villain, and sometimes we play the apples and oranges game, you know, just because you do not like his attitude; or perhaps color, you go out of your way to find flaws in his game. Charlo was certainly flawless against Cornelius Bundrage, Julian Williams, and Hugo Centeno. In those fights, Charlo showcased devastating punches behind an educated jab. However, Charlo has failed to have a stoppage win in his last two fights, making his stock go down in a bit. Only in boxing can you go to being the guy that "GGG" is afraid to fight, to the guy who has little chance of beating that same GGG, without even losing a fight. In fact, despite going the twelve round distance the last two times out, Charlo, at best, lost a handful of the allotted twenty-four rounds he competed in. Yet, many people are down on Charlo. Go figure.
Whether or not the recent criticism of Charlo is indeed justified is for another argument. The existential piece of the puzzle is that Charlo can put all the negative thoughts attached to him with a spectacular showing against Hogan. Well, at least most of it, you will never be able to satisfy all the critics. They will always find something if they do not like you. But that is not Charlo's fight. His fight is with Dennis Hogan, and it should be a good one for him. As far as tangibles go, Hogan does not bring anything into the ring that Jermall has not seen and flourished against. The big question is, will Charlo be able to handle the rugged intangibles we all expect Hogan to bring to the fight? He better, because as proven last December with his twin brother Jermell in his battle with Tony Harrison, The Charlo Brothers are not going to get much protection from the judges.
That is good news for Charlo because he will not be able to fake it. That is good news for Hogan, as he should be given credit for whatever work he does in the fight. And that is great news for the fans, as this main event promises to produce a test of wills that will result in holiday fireworks.
The PBC has also provided a star-studded undercard that is chock full of potential action fights. Marlon Tapales and Ryosuke Iwasa are set to battle for the interim IBF world super bantamweight title. Chris Eubank, JR. and Matvey Korobov are slated to sling leather for the interim WBA world middleweight title. Louisa Hawton and Lorraine Villalobos lock horns for the interim WBC female world minimum title. Yes, there is an interim thing going on here. And Immanuwel Aleem faces off against the Ronald Ellis in a promising middleweight contest.
If you cannot get out to Brooklyn to see the action live, the main fights can be seen on Showtime Champions Boxing. There is plenty of solid matchmaking for boxing fans to sink their holiday teeth into. Plenty of opportunities for great fights What contest will be the fight of the night?
Stay tuned…
Contact the Feature Writers