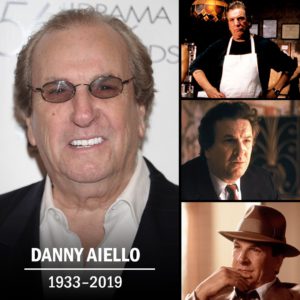 By Geoffrey Huchel
Veteran film and TV Actor Danny Aiello, star of movies DO THE RIGHT THING (1989) and MOONSTRUCK (1987), died on December 12, 2019 at the age of 86.
Daniel Louis Aiello was born on June 20, 1933 in Manhattan, New York. Before becoming an actor, Aiello served in the U.S. Army for three years. After serving and returning to New York, he took various jobs to support himself, including serving as a union representative for Greyhound Bus workers, and was a nightclub bouncer at the legendary New York City comedy club The Improv.
Aiello broke into films in the early 1970s. One of his earliest roles was as a baseball player in the baseball drama BANG THE DRUM SLOWLY (1973), with Robert DeNiro. Following his appearance that film, Aiello worked steadily in film for the past 40+ years. His film credits include THE GODFATHER II (1974), THE FRONT (1976), BLOOD BROTHERS (1978), DEFIANCE (1980), HIDE IN PLAIN SIGHT (1980), ONCE UPON A TIME IN AMERICA (1984), THE PICK-UP ARTIST (1987), RADIO DAYS (1987), HARLEM NIGHTS (1989), THE CLOSER (1990), JACOB'S LADDER (1990), 2 DAYS IN THE VALLEY (1996), LUCKY NUMBER SLEVIN (2006), and THE NEIGHBORHOOD (2017).
Aiello's numerous television appearances include KOJAK (1973), A QUESTION OF HONOR (1982), TALES FROM THE DARKSIDE (1983), LADY BLUE (1985), NIGHT HEAT (1985), THE PREPPIE MURDER (1989), THE LAST DON (1997), THE LAST DON II (1998) and DELLAVENTURA (1997). Fans may remember him as the father in Madonna's Papa Don't Preach music video in 1986.
Aiello received an Academy Award nomination for Best Actor in a Supporting Role and a Golden Globe nomination for Best Performance by an Actor in a Supporting Role in a Motion Picture for his work in DO THE RIGHT THING.
In addition to TV and film, Aiello worked in theatre, appearing in Broadway productions Gemini, The Floating Light Bulb, The House of Blue Leaves and Wheelbarrow Closers.
Aiello also dabbled in the music industry releasing several big-band albums.
Contact the Feature Writers