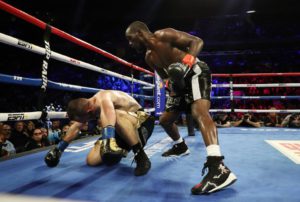 By Anthony "Zute" George (At Ringside)
Terence Crawford stops Mean Machine at :44 of round nine and retains his WBO Welterweight title in a very entertaining fight. The first two rounds were fought at a cautious pace, and Mean Machine landed a decent right hand in round two, that Crawford appeared to take well. Mean Machine won round three with harder shots and appeared to score a knockdown with a flurry that was set up with a big right hand, but it was ruled a slip. Crawford got back to work in round four as he stepped up the aggression, but Mean Machine still had solid moments where he landed with both hands. Not enough to win the round, but he was indeed in the fight. Round five was very much the same. The pace slowed in round six, as Crawford fought more from distance and landed good right hooks as a southpaw.
Round seven was a fight of the year candidate as the fighters went toe to toe and both landed big shots. Crawford turned righty for the first time in the fight and dropped Mean Machine with consecutive straight rights. Round eight was a more lopsided round for Crawford, Mean Machine made it interesting by landed some good left hooks, but Crawford was brilliant, landing with great accuracy from both sides, at all angles and ranges. In round nine, Crawford dropped Mean Machine with a blistering right uppercut.
Mean Machine beat the count, but Crawford landed another power shot that dropped Mean Machine and ended the fight. It was a great performance, as Crawford was in prime shape shifting mode, being able to fight and any range and from either side. Mean Machine's stock only goes up with this showing. Crawford improves to 36-0, 27 KO's, while Egis Mean Machine Kavaliauskas falls to 21-1-1, 17 KO's.
In the Co-feature Teofimo Lopez blew out Richard Commey with a second round TKO to capture the IBF Lightweight Championship. The first round was close, with Commey trying to establish his jab, while Teofimo was countering well with his right hand. In round two, Lopez found Commey's chin with a crunching right hand that stopped Commey in his tracks and sent him to one knee. Commey tried to get up, but fell forward, technically scoring two knockdowns for Teofimo with one punch.
To his credit, Commey got up from that tremendous punch, but Teofimo is a surgeon when he has a man hurt and put together beautiful combinations that Commey had no answer for. The time of the stoppage was 1:13 of round two. This sets up a dream fight between Lopez and Vasyl Lomachenko in 2020. Teofimo Lopez improves to 15-0, 12 KO's, while Richard Commey falls to 29-3, 26 KO's. This was the first time Richard Commey was stopped in a professional fight.
In a battle for the WBO Intercontinental Featherweight title, Irish Michael Conlan took on Vladimir Nikitin in a ten-round match. The fight was being billed as a payback fight, as Nikitin defeated Conlan with a controversial decision in the 2016 Olympics, and on one other occasion in the amateurs. Conlan's payback came packaged with a dull, but lopsided, unanimous decision. Scorecards read 98-92, 99-91, and 100-90 in favor of Conlan, Ringside Report scored the bout 97-93 for Conlan. The early rounds were uneventful as Conlan fought mostly as a southpaw, but could not throw an educated jab, or land that important right hook from the southpaw position. Conlan tried to switch to the orthodox style during the fight, but whenever he did, Vladimir landed some of his best power shots. Had Nikitin had any kind of power, it might have been a much different fight. The end of round seven saw some of the best exchanges, and things opened up in round eight when they went toe to toe. This transition woke up the crowd, but there were very few big shots landed. Round nine was another situation were both men invested in more punches thrown, but neither man could get an advantage with landing clean power shots. Conlan suffered a cut on his right eye when the action opened up. Round ten saw a slight drop-in work rate from both men. Conlan improves to 13-0, 7 KO's, while Nikitin falls to 3-1.
Josue Vargas from the Bronx battled Noel Murphy for the vacant IBF North American Super Lightweight title. With Vargas winning a unanimous decision in front of a crowd that was split between passionate Puerto Rican and Irish fans. The scorecards read 98-92 unanimously, Ringside Report scored the bout 99-92 for Vargas. The two southpaws tried to establish their jabs in round one, with neither really doing great work. Round two saw Vargas get home with looping right hooks, and these punches gave Vargas the edge in the first six rounds. Vargas hurt Murphy in the seventh with a crisp straight left hand, followed by a series of hard punches with both hands. By the end of the round, Murphy was bruised up on his right eye, and bloodied around his nose and mouth. Round eight saw Vargas let his hands go better than Murphy did. He was first and diverse throughout the round, and Murphy appeared to be approaching empty going into the ninth round. Murphy managed to finish the fight, but Vargas, despite having cuts on both sides of his face, dominated the late action with a very accurate right hand. Vargas improves to 16-1, 9 KO's, while Murphy falls to 14-2-1, 3 KO's.
Edgar Berlanga, the supermiddleweight known as The Chosen One, continued his first-round knockout streak with a destructive performance over Cesar Nunez. A big crowd came out to watch the Puerto Rican prospect, who fights out of Brooklyn, continue his impressive streak. Edgar got off to a fast start as he landed a left hook that dropped Nunez early in round one. Nunez got up and tried to fight back but was dropped a second time, once again, he beat the count to fight on. Nunez hit the canvas a third time, but referee Mike Ortega correctly ruled it a slip. With time running out in round one, The Chosen One delivered a pummeling attack that dropped Nunez for a third time officially. The accumulation of punches convinced the referee to stop the fight at 2:45 of the first round. It was the thirteenth straight first-round stoppage victory for Berlanga, 13-0, 13 KO's. Nunez falls to 16-2-1, 8 KO's.
In an eight-round super lightweight bout, Julian Rodriguez scored a unanimous decision victory over Manuel Mendez. Scorecards read 80-71, 80-71, and 79-72. "Hammer Hands" Rodriguez is a New Jersey product who had solid representation in the seats. He dropped Mendez with a chopping left hook in round one, when Mendez got up, Rodriguez went to work on the body and piled on a two-fisted attack that almost secured him a first round stoppage, but Mendez was able to finish the round and the fight. Julian did not sustain the kind of body attack throughout the fight like he did in round one. That tactical decision possibly costed him a stoppage in the first round. Round five was especially entertaining as there were solid exchanges throughout the round. "Hammer Hands" improves to 19-0, 12 KO's, while Mendez falls to 16-7-3, 11 KO's.
The first fight of the night saw a solid matchup between lightweights George Kambosos and Mickey Bey. Kambosos is climbing up the rankings, while Bey is a solid veteran looking to fight his way back to a title shot. Both fighters had decent moments throughout the ten-round bout. But Kambosos scored a huge knockdown at around the 1:33 of round 10. Bey got up to continue fighting, but George buzzed him with big power shots with both hands to secure a big final round. The judges were split, with judge Bernard Bruni scoring it 95-94 for Bey, that scorecard was overruled by judges Mark Cosentino 97-92, and Pasquale Procopio, 96-93, Ringside Report scored the bout 96-93 for Kambosos. George Kambosos improves to 18-0, 10 KO's, while Mickey Bey falls to 23-3-1, 11 KO's.
Contact the Feature Writers