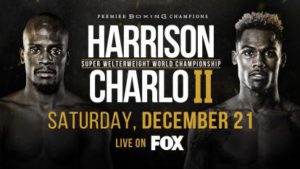 By Vinny "Glory Days" Lucci
With the holiday season upon us as the end of the boxing year spirals into its last showcases both fans and boxers be forewarned about toasting too early at the "Karma Café." Last week we witnessed once again three heavyweight titles inexplicably changing hands when you least expect it with sentiments of "The king is dead; long live the king" resonating throughout the United Kingdom and echoing in the abyss.
Rematches can be as funny as tricky depending on if it was a barnburner to begin with or one of the pathetic unnecessary compilations because inept judges got it wrong the first time. What's a gent to do but watch it again with wishful divination?
The Event:
On Saturday December 21 Lions Only Promotions presents JR. middleweight champion Tony Harrison verses Jermell Charlo for WBC title in a rematch of their first encounter one day short of a year. This will be Harrison's first defense which was originally scheduled for June 23 but was postponed when the champion suffered torn ligaments after spraining his ankle in training. In the first encounter held at Barclay's in Brooklyn New York most ringsiders, fans and media had then champion Charlo cruising on scorecards. Event to be held at Toyota Arena, Ontario Canada and televised on FOX.
The Stats:
The champion Tony Harrison goes by moniker "Superbad" and hails from Detroit Michigan. Harrison fights from orthodox stance and at 29 years of age sports a record of 28-2, 21 KO's. Standing 6'1" with a 76" wingspan Tony likens the matchups to Shane Mosley and Vernon Forrest with himself filling the shoes of the Viper, Forrest. While every boxer must truly believe in himself this equation is as delusional as the original scorecards.
The challenger Jermell Charlo was making his fourth defense of title when he was relieved of belt on nationally televised co main event that also featured his twin brother Jamall headlining. Billed as "Iron Man" both he and his brother have become featured names on boxing landscape where their last name carries clout. Fighting out of Houston Texas the orthodox boxer sports a ledger of 32-1, 16 KO's. At 29 years of age is poised to start round "13" and continue where he left off.
Last Fight:
The champion last fought on December 22nd winning the WBC Belt 154-pound title from Charlo at Barclay's Center. It was "the" second worst and controversial decision of year being runner up to only Canelo Alvarez over Gennady Golovkin.
The challenger last fought on June 23rd stopping Jorge Cota by knockout in the third round rebounding nicely from mental anguish of losing of losing title on scorecards. Bout was held at Mandalay Bay in Paradise Nevada.
Styles:
The champion is a heavy-handed boxer from fabled Kronk gym who shines against lesser competition. His one glaring flaw is he leads with his chin and depends on his speed and reach to keep his whiskers out of harms way rather than tuck it to his chest. In the past stamina was an issue but not against Charlo.
The challenger is a finely tuned boxer who carries power in either hand and a menacing demeanor into the ring. He has been known to be the more patient than his brother Jermall, but with same abundance of talent. He fares best with come forward fighters and has shown frustration in the past with boxers who make use of entire ring.
What to Look for fight night:
Focused both combatants will once again look to bring their "A" game into the ring with singular purpose of redefining their first encounter and make a statement with a stoppage if it can present itself. Harrison has deluded himself into thinking he is the true puncher in this matchup based on his padded resume which could be his undoing. The last place he wants to be is trading inside the pocket with Jermell who will have to set traps and cut ring to ensure the victory this time around.
The Vinny Factor:
Some interesting variables to ponder. Ringside Report scored first bout 117-111 as did most in press that covered the first bout. The official score cards were 116-112 Robin Taylor, and 115-113 Julie Lederman and Ron McNair. For some time now Lederman has been handing in cards that leave me puzzled as to her eye sight and acumen. That being said Teddy Atlas who had no affiliation with card went bat-shit crazy publicly defending the outcome of bout and admonishing the naysayers.
Boxing has enough dirty politics but when judges can't get it right the event turns into calculated chaos. With Harrison fighting for first time after ankle injury it will be interesting to see if it factors into the rounds. It's one thing to come back from torn ligaments and walk normally again. It's an entirely different matter defending a boxing title against a determined adversary hell bent on beating you.
Handicappers for this bout on East coast as well as Vegas didn't buy into those score cards either.
Fight Significance:
"B+" Usually a rematch with title involved is good drama but both gent's records lack the wow factor. Since the boys went the distance the first time around it's easy to envision another high-stake chess match rather than a Normandy invasion on canvass.
Odds:
Vegas has installed the challenger Jermell Charlo the favorite to regain his belt at -250 with the champion Tony Harrison listed at +207.
RSR Prediction:
This time the judges get it right it and Charlo wins decision. Both men have good beards and tight enough defenses to hear score cards read.
Aftermath:
Don't be surprised if Harrison doesn't come across acerbic screaming robbery and demand a trilogy. As for Charlo back in the driver's seat he can either accommodate the request or look for a unification with Julian Williams who dethroned hard hitting Jarrett Hurd in May, or perhaps give Hurd or talented ex-champion Erislandy Lara a shot at title since both have clout at box office.
Harrison was stopped by Hurd in 2017 by ninth round TKO. A rematch victory would go far in keeping him elevated in rankings.
Stay tuned…
Contact the Feature Writers