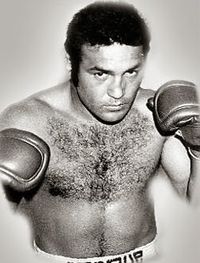 By Donald "Braveheart" Stewart
Memories can be tough things to shift and anyone who lived through the 1980's in the United Kingdom with a forces background or know people who "served" through that time are aware of why it is that Argentinians cause issue.
In the early 1980's in a bid to stave off unpopularity at home, the military junta in Buenos Aires came up with a jolly wheeze and decided to invade some very neglected and little known islands off their coast – the Falklands. They claimed sovereignty, the British Government were in charge, though had largely forgot about them and the British people were hardly aware of their existence.
Since then, and following the Falkland's War that was brief and found our troops, hardened on the streets of Belfast and Northern Ireland a superior force to the miscast misfitting conscripted Argentinian military any Argentinian name or national can cause a bit of a start in the UK's conscience.
It was hardly helped when Argentina's little footballing maestro, Diego Maradona, cheated in a soccer World Cup and punched a ball into the back of the net on the way to beating England or the Scottish team imploding in their 1978 World Cup campaign in Argentina when some thought we could win the damn thing or when England's national treasure, David Beckham was sent off against them in another World Cup. Enmity runs deep for some.
So, when asked to look into the Argentinian sensation that was middleweight and three time world titlist, Juan Domingo Roldan 67-5-2, 47 KO's, I found strangely that the same feelings began to wash over me; rather than put me off, it made me more fascinated.
Roldan was active throughout the period of conflict with a debut in 1978 and a final fight, against Michael Nunn in 1988. In between he fought some classic fighters and has left a legacy not just for the Argentines but for the boxing fraternity in general.
He was born in Cordoba in 1957, and by 1978 his reputation as a "Martillo" or "Hammer" was ready for his professional debut when he entered the ring and won by knockout – as he did for the next three fights – all in his native Argentina.
He suffered a first defeat in 1979, against Juan Carlos Borgado but in common with many fighters of the time and perhaps a few less in this era, he took that loss and used it to his advantage. The next 18 fights saw him draw once and not lose again – he clearly was a pupil that could learn…
In 1981 he took on Jacinto Fernandez for the Argentinian title at middleweight, winning on points. The South American title and his fame beyond his native shores was to come on the 12th February in 1982 when he stopped Carlos Flores Burlon in the second round. The secret was out, and the world could catch up with Roldan.
In 1983, the 27th May he arrived in Rhode Island, USA and got a 10 round points win against Teddy Mann. His reputation was growing more and by 1983, November he found himself on the undercard of the Marvin Hagler/Roberto Duran world title fight in Las Vegas.
His opponent, was Frank "The Animal" Fletcher. The animal was tamed by the 6th round with a knockout that promised bigger and better things.
Roldan was now way up the rankings, numbered at 1 by most boxing authorities, and Hagler was now on his radar, not for an undercard fight but for a main event; fans were clamoring for it.
On 30th March 1984 fans did not have to wonder any more as Roldan met Hagler in the ring with Hagler winning a brutal contest for the unified WBC, WBA and IBF crowns.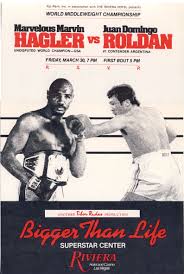 Roldan went into the fight as the underdog so imagine the gasps when in the first round, Roldan sent Hagler to the floor. Hagler was ducking a Roldan punch when Roldan caught Hagler on the back of the head.
Ruled a knockdown by referee Tony Perez, it may have been highly controversial but it remains, officially the first time Hagler had been dropped.
Despite the fact that Hagler slipped, ringside could see he slipped, television replays can tell he slipped, guide dogs could see he slipped, it is recorded as the first AND ONLY time Hagler was dropped. It did Roldan little by way of gaining an advantage as Hagler stopped him in the 10th. It was Roldan's first world title fight.
Incidentally going into that fight the two fighters had fought no fewer than 120 times between them and with 4 losses and 4 draws… Times when the best fought off promoters to fight the best…
He retired in October 1984, a few months later.
He stayed out the ring until in 1986 he made a return and got his second world title shot – against Thomas Hearns! Having got back in the ring and won his warm up fights, the Las Vegas fight with Hearns saw history again as Hearns became the first boxer ever to win titles in four different weight categories; Roldan was beaten in four rounds but not before he gave Hearns a ton of trouble.
Roldan was still not done, and he got his third and final world title shot in 1988 – 11th April – up against another giant of the middleweight division – Michael Nunn, for the IBF belt. As with the previous two world title fights, Roldan was not to win, being knocked out in round eight but what a record.
Fought 75 times, winning 67.
He fought the best – Hagler, Hearns and Nunn in world title fights.
Of course, now Argentinians are more than forgiven in the UK (At least in Scotland…) but every time our memories want to build enmity up – those pesky South Americans work a treat. However, this is one fighter who, even during a time of conflict deserved our respect and he has it in bucket loads.
Contact the Feature Writers