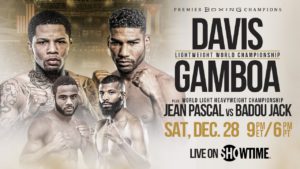 By Vinny "Glory Days" Lucci
Warning: Objects in rear view mirror may be closer than they appear. The very reason some people refuse to check them for fear of what might be gaining on them. Enter Gervonta "Tank" Davis who is on the cusp of long predicted super stardom staring down the barrel for the light at the end of the tunnel. Only the name "Lomachenko" prevents him usurping last hurdle of rounding pack and taking the lead. Fair warning; as current icons are showing the wear and tear of celebrated wins and losses the Tank is ready to steamroll his way into next decade.
The Event:
On December 28 Mayweather Promotions will be showcasing his crown jewel of stable Gervonta Davis versing Yuriokis Gamboa for vacant WBA Lightweight title from the State Farm Arena in Atlanta Georgia. The event hosted by Premier Boxing Champions will be broadcast on SHOWTIME Championship Boxing with blistering co-feature of WBA light heavyweight Jean Pascal defending his title against Badou Jack.
The Stats:
Gervonta Davis is the current WBA super featherweight champion and has held the IBF version in past. Now seeking his third world title in next division as his natural maturation at 25 years of age has him on collision course with the matrix known as Vasyl Lomachenko. The wunderkind southpaw from Baltimore Maryland was cautioned about not taking the career defining bout too abruptly but now the cross current of popularity is putting them on a collision course for 2020. Owning a stellar resume of 22-0, 21 KO's Davis has developed an extraordinary skill set compacted into his 5'5 ½" frame. His wingspan of 67 ½" beguiles his adversaries as he never wastes a single punch inside his wheelhouse. If you enter the pocket with longer reach the expectation is that you will get nailed from bizarre angles you can't defend against.
Yuriorkis Gamboa is a former WBA featherweight champion who won a handful of fractured titles with prefixes like Silver, NABF, NABO, Intercontinental and Interim which this publication does not recognize. The multi-talented orthodox boxer hails from Guantanamo Cuba sporting a still impressive ledger of 30-2, 18 KO's. At 37 years of age having turned pro twelve years ago it is safe to say he is past his peak but put on a stunning performance his last time out of the corner. He will see eye to eye with Davis standing 5' 5 ½" tall but surrenders a slight reach advantage with a 65" wingspan of his own.
Last Bout:
Davis defended his WBA super featherweight title for second time against Ricardo Nunez at the Royal Farms Arena in Baltimore Maryland last July stopping the challenger by TKO 2.
The Co-feature on undercard showcased Gamboa making short work of Ramon Martinez by KO in round 2 of 10.
Styles:
To the casual fan both gents will be letting their hands go looking to win each and every round until a stoppage presents itself. Some of the carnage will resemble high stakes shadow boxing in a mirror. To the rabid fan with a more complete acumen and trained eye will look for the lead foot of both boxers when a southpaw faces off against an orthodox stance. For better power and leverage without opening up to counters the boxer who has his lead foot inside his opponents has that distinct advantage. While the mayhem lasts during his duration of each combination Davis has the better defense and will calibrate what he throws with more precision. If the fight doesn't come to an abrupt early ending don't be fooled by punch count numbers but concern yourself with the quality if you're scoring at home.
What to look for fight night:
Think of this one as a celebrated throwback to the glory days of the 80's where two talented men who have paid their dues still seek out the best to solidify their status. Both men will let their hands go in dazzling displays of leathered crossfire. The pace will set purists hearts ablaze as the "feel out" process won't last long as both will lead and counter in tandem.
The Vinny Factor:
Any handicapper can advocate the age difference leaning with the odds of betting on Davis who will need more than a birth certificate to pull it off the victory.
Gamboa often shoots his combinations from his hips in six and eight punch combinations which are reminiscent of the immortal Sugar Ray Robinson. Unfortunately he does so while leading with his chin exposed without pivoting or transferring his weight often squaring up in the pocket "one Mississippi" too long.
Once Gervonta translates the timing he will expose that flaw by countering low and inside before the last few punches are thrown tagging Yuriorkis squarely on the chin and temple. The repeated overtures will change the course of bout and turn the dichotomy into a singular sensation.
Odds:
As of this writing Vegas has not posted yet. East Coast opened with Davis the favorite at -150 to Gamboa at + 110.
RSR Prediction:
Gervonta Davis by knockout. The better the competition the more this young man wants to show off his firebrand and excel to the next level.
Aftermath:
Davis will look to make a defense of title early in 2020 then hit the sounding boards to make a unification match with Lomachenko by summer.
Stay tuned…
Contact the Feature Writers