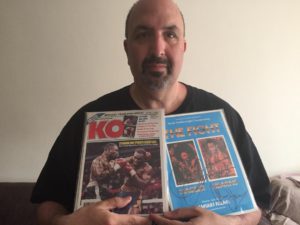 By Anthony "Zute" George
There have been a lot of comparisons between Buster Douglas's demise after he won the world heavyweight title in a major upset and Andy Ruiz, JR., when he did the same. Indeed, both came into their fights in horrific shape and lost. However, Buster Douglas was knocked out in his loss. Courtesy of a well-timed right hand from Evander Holyfield, while Ruiz, JR. failed to catch Anthony Joshua for twelve uneventful rounds. Big difference.
Despite being overweight due to partying and food gouging, Andy went the distance. Not easy to do. That is not a compliment, just a reality. The fact that Andy was able to go the distance against one of the top heavyweights in the world in such poor shape speaks volumes on how good he could really be. With that said, considering he could not knock out or even drop, what some people have described as a, 'fat tub of lard,' what is being said about Anthony Joshua?
What is the message here? When we latch on to a narrative, can we at least peel the onion one layer?
Speaking of well-timed right hands, Teofimo Lopez's stoppage over Richard Commey was something to behold. True, it did put the lights out on a perceived to be even match up, a fight of the year candidate was how some people were billing it, but when a fight does not turn out as expected in that sort of fashion, should we not all just marvel and applaud? Perhaps we will all get it right the next time.
Speaking of Teofimo Lopez, if Top Rank Boxing does not give us the Vasyl Lomachenko fight next, then what? Other than Lomachenko, the only other fights for Lopez that are worth are time is against Devin Haney, Gervonta Davis, and Ryan Garcia. Given what organizations they fight for, the prospects of any of those matchups are slim.
That would leave George Kambosos, JR., who won a split decision over Lee Selby on the same night Teofimo's victory. Kambosos, JR. is promoted by Lou DiBella, so that means the fight can get made. Also, Top Rank is good enough at what they do to sell the fight. But, does anybody think Kambosos, JR. is a real challenge for Lopez? Hopefully, we do not have to find out. I want to officially launch the Lomachencko against Lopez or bust campaign for 2020.
Speaking of Lou DiBella, congratulations on your induction to the International Boxing Hall of Fame in 2020. Lou will be part of a large, star-studded class that will no doubt make Hall of Fame Weekend a memorable one.
Speaking of memorable, what stood out for you in the world of boxing for 2019.? Well, for me, it was another year that we did not get to see Wilder fight Joshua, Crawford fight Spence, JR., Santa Cruz fight Gary Russell, JR., or Gervonta Davis fight someone worth our time. We also got to see Andy Ruiz, JR. shock the world, Josh Taylor and Regis Prograis fight, Nonito Donaire drink from the fountain of youth against one of the best fighters in the world, Julian Williams upset Jarrett Hurd, Errol Spence JR. defeat Shawn Porter in a crowd-pleasing fight. So, there you go.
Speaking of Shawn Porter, he appears to have the inside track on being Terence Crawford's next opponent. Given Mean Machine's better than expected performance against Crawford, Porter is also considered to be very much a live guy against The Shape Shifter Crawford. Before we speculate even further, we should wait and see if the fight indeed gets made first.
Stay Tuned…
Check out "Zutes Boxing Talk", which airs every Wednesday live from 7PM to 9PM ET. The show is dedicated to discussing the sweet science straight up with no twists. "Zute" has interviewed boxing legends such as Carlos Palomino, Mike McCallum, Pernell Whitaker, Jeff Fenech, Buddy McGirt, Mark "Too Sharp" Johnson, Marvin Camel and Eddie Mustafa Muhammad. As well as today's stars like Danny Garcia, Sergey Kovalev, Regis Prograis, Teofimo Lopez and Gary Russell, JR.
Follow the link to listen live or catch archived shows