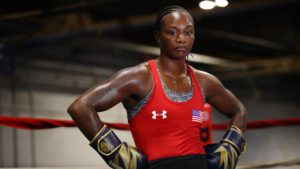 By Donald "Braveheart" Stewart
In the United Kingdom we have the recently retired Nicola Adams who was the first woman to win an Olympic Gold, Ireland has the woman that they claim is the first woman of boxing in Katie Taylor. In Norway a woman who has not had the riches in her career she may deserve, Cecilia Braekhaus holds the type of records that others in the women's boxing world would give their eye teeth for but in the good ole US of A, there is one name that stands supreme in women's boxing and that is Claressa Shields, 9-0, 2 KO's.
"T-Rex" has operated in the middleweight and super middleweight divisions and holds an impressive amateur pedigree – 2 Olympic Golds Medals and 2 World championships with 64 contests and only one defeat. As a professional she is now the undisputed female middleweight champion having previously been the unified WBC and IBF super middleweight champion. You have to remember that she has only fought professionally nine times…
Along with Taylor and Braekhaus that puts her in exalted company with the likes of Crawford, Usyk and Hopkins who also held the major four belts.
From Flint, Michigan, her father Bo, no straight and narrow, upstanding citizen, held Claressa out a boxing gym until she was 11 but had already talked to her about the sport. Family is clearly important to her as Shields credits her own grandmother encouraging her to break boundaries where men had placed them – including her own father.
A meteoric rise in the amateurs seemed to suggest that none could stop her; and then along came Savannah Marshall. In the 2012 AIBA World Championships in China, in her 27th amateur fight, Marshall beat her – the first and only person to so do. It put her Olympic future in doubt for the 2012 London Olympics but Marshall's appearance in the final meant that Shields qualified; In London Olympics she won her first Gold.
That defeat hurt then; it rankles more now.
In 2016 she went to Rio and became the USA's first double Olympic boxing women's champion.
In 2017 she was the co main event on ShoBox, becoming the first woman to co-main event on a USA premium network.
In 2018 she, in just her 6th fight, overtook Vasyl Lomachenko's record to become a two weight world champion in the fastest time.
In 2019 in against Christina Hammer she managed a shut-out points win to take all 4 major belts at middleweight.
In the same year she appeared on the last HBO card broadcast in the States – a record but not really an enviable one.
It's a fascinating and impressive list of achievements but it has not been all smooth talking, sharp fighting and winning awards. Perhaps due to that rise and what arrogance may come with it, Shields has found herself on the end of some criticism and indeed some debate. Recently she made the claim that she could crossover to MMA.
Now I have no idea why any boxer thinks that their ability at a single discipline equips them to become master of several in a short pace of time. Floyd Mayweather, JR. prancing in the octagon, Tyson Fury doing some light training with an MMA champion may feel impressive and may gather a few new fans but MMA is out the league of professional boxing for one simple reason – it's a different sport.
UFC champion Amanda Nunes, who Shields claims she wants to fight, is a fearsome prospect and said recently of the Shields view that it is she, Shields wants to fight in UFC, "We can get a girl from low rank right now in 135 and put her to fight. [Shields] wouldn't pass the 1st round." A brutal assessment or just honesty?
The problem is that, quite rightly, Dana White though is interested. He could make a fortune and fleece a new market.
As for a crossover match, Nunes proved herself the more sensible of the two when she said "I'm not a boxer, I'm an MMA fighter. If I wanted to be a boxer, I would be."; thus, quashing any thought of a Mayweather, JR./MacGregor style match up instead.
I get the desire to be the best and to prove yourself in the most awesome of all sports – not that I think MMA is – but moving from one discipline to another as if it is as simple as choosing barbecue sauce or tomato ketchup on your burger is nuts.
Perhaps though it takes away from the publicity around your last fight.
It was a fight that never happened because the trainer of her opponent, Ivana Habazin was assaulted and floored ahead of the weight in. Bashir Ali, Habazin's trainer was left to have facial reconstruction surgery whilst Shields was adamant the fight should still go ahead and give Shields the homecoming to Flint, Michigan she craved.
She did not get what she wanted and her attempt to win a third world title in a third weight category was off – though not permanently.
At the time she was quoted as saying, "Her name is Ivana 'No Excuses.' Hopefully we don't have none. I'm quite sure she has another coach who she can fly in. Nothing happened to her. Something happened to her coach, sadly," Shields said. "It's so crazy how the rules work, but she don't even need to make weight now."
What is crazy is, no matter what the provocation may be, that fighters are taught to use their hands for sport and not as weapons in a dispute. No matter who threw the punch, Shields showed an inability to comprehend how upsetting the incident was and how she would be seen.
The problem was that it showed, perhaps Shields was willing to make a fortune and fleece her current market.
The move to MMA shows she may have delusions that go with that inability to see how special the relationship is between coach and fighter.
Now that she has the unified middleweight title, she wants to avenge the only loss on her record – professional and amateur; against Savannah Marshall.
Now that is the right way forward. She says that she is prepared to come to the UK to do it and Marshall would fancy it. I would fancy it. We all would love it and given the politics in male boxing being skewed by too many choices, this is one fight that could be made without the usual alphabet spaghetti…
There is no problem with that – no market would be fleeced in that fight.
Before that though she will face Habazin in January of next year. The WBC and WBA super welterweight titles are on the line and that would make more history for her but we would love to see Marshall take her on and prove just whether the fluke was in the amateurs…
There is no problem with that as it builds up the market for the Marshall showdown proving there is plenty of the market to go round without anyone fleecing anyone.
We also have precedent for revenge from the amateurs to the professionals making a fight more sellable as Anthony Joshua got revenge over Dillian Whyte and Michael Conlan, seeks in Madison Square Garden, to show Vladimir Nikitin and the world he did win in the Olympics.
The real problem though is with the desire of fighters, promoters, managers and the coterie of hangers on in the boxing world agreeing which market works best for the fans as well as the fighters. January is set. Marshall should be next. Thereafter, just stay in the ring and give respect by hitting and not getting hit. See, most problems are simple…
Contact the Feature Writers