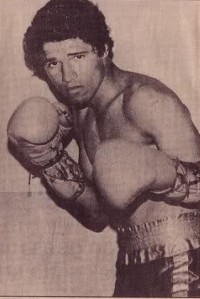 By Donald "Braveheart" Stewart
He is a man who, like many, has his career shrouded by a couple of notable fights – one for a world title and the other with a legendary boxer.
As always it is only part of a story but an important aspect of it. Fighters often do the 5am runs and the hours in the gym, hopeful of how they may be ready, tough as Titans and able to withstand what is thrown at them before getting in front of the big lights and… well some freeze, others thrive.
Those that freeze may never be heard of again in the same way as their big opportunity but these guys keep going – they fight again and again, the adore their sport, love their living but never force themselves back into our consciousness in quite the same way again – but they are always there punching, fighting and showing those who are interested enough that they still got the skills!
In 1983, the world was on their tippy toes for the fight between the highly fancied Hector "Macho" Camacho and Irleis "El Cubanito" Perez. 36-4, 24 KO's. It was in Phoenix Arizona, the date was April 3rd and both were undefeated – Macho in 20 encounters and "El Cubanito" in 25. "El Cubanito" was the more experienced man – but we all know what records on paper can do for you…
"El Cubanito" put up a fight but lost on points as the quick hands and feet of "Macho" were too much for his more experienced opponent. Camacho was to go on and win no fewer than 9 world titles in 6 divisions so this was no clubbing embarrassment for "El Cubanito". Perez never hit the deck but was stunned in the 6th round by a hard right, his former sparring partner, Camacho also showed how good he was from the opening bell as he dominated with better hand speed, managing to land his right jab from his southpaw crouch with following overhand rights that jarred him on his way to winning on points by very wide margins.
Camacho was on the trajectory of going to take on Bobby Chacon for the WBC junior lightweight belt whilst Perez was to find himself in lesser shows to begin his recovery, however it was not over long before he got his world title chance.
From that defeat in 1983, he boxed twice in 1984, 4 times in 1985 and twice in 1986. Seven fights to redeem his reputation and build back up. In that 7 fight sequence, he had 3 stoppages and 5 fights in Las Vegas – always good to keep in the spotlight if you are to remain in the focus of commissions and governing bodies.
His best fights in that time were perhaps his April 1985 fight against Pat Jefferson in Caesar's Palace where he won on points and his August fight of the same year against Paul Barton where he won by stoppage in the 6th round, though this was at the Marriott Hotel in Irvine. Both Jefferson and Barton came into their contests with "El Cubanito" with decent records and at least on paper looked good enough to push him.
On the 4th June, 1986 "El Cubanito" was in the frame for the IBF lightweight crown in a fight against Jimmy Paul in Paul's second defense of his title.
Paul began the contest slowly, building momentum which allowed him to wear down Perez. By the middle rounds, Perez had been hitting him with big shots though Perez was just waving him on in! The final 4 rounds of a punishing 15 were an all out war. Perez just would not lay down and standing in front of each other no quarter was given. Paul was cut on his lip in the 13th and Perez suffered around the eyes.
It was a majority verdict for Paul where one judge had it a draw, one had it to Paul by one point and the third judge gave it to Paul by 3. The final round, 15, was where Perez lost it with Paul taking it and with that final effort retaining the belt. Very disappointed at the time Perez reflected, "I thought I deserved that decision. It's hard to get a fair shake in the boxing world, what can I do?"
What he did next was to have a further 6 fights, losing 2 and winning 4. Over the next three years he still had the majority of his fights in Las Vegas but world title fights were now beyond him.
On the 22nd November 1988 he brought the curtain down on his career in a fight where he retired in the 6th round against Anthony Jones. Jones went on to fight for the world title straight afterwards whilst Perez went into retirement. The two big fights that he had – against Camacho and Paul may well have been the most noteworthy but like many boxers before and afterwards, his run in the game was much more than a couple of fights the casual boxing fan would recognize. For the true boxing fan out there his big two fights came because the other 38 were worthy of his status.
Contact the Feature Writers