Loading ...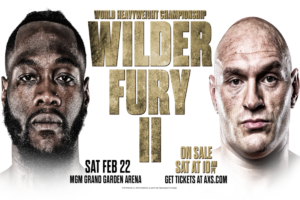 By Anthony "Zute" George
Sometimes things pan out the way they are supposed to. In boxing, I realize that is not always the case. Or perhaps perceived to be the case. Especially circa 2019, where the Old Man Card is fueled by the crotchety, and their fuel burns strong. Yes, we played in the dirt as a kid, and you cannot take your eyes off your phone. We are so much better than you! And you, the boxer, can never be as good as what happened in my day because you want to check out your opponent on boxrec. Oh my, how far we have gone astray.
A popular narrative absorbing social media now is boxing will never be the same because all these separate islands, we will never see the best fighters play in the same sandbox again. That narrative just took a big blow as the much anticipated Deontay Wilder and Tyson Fury rematch has just been announced for February 22nd. Since Tyson Fury is locked up with Top Rank Boxing, and Wilder is a mainstay with the PBC, there was some concern or whether or not this fight can get made. Now that it is made, it proves that crossing the streams can be done, and it is not detrimental. After all, that tactic saved New York City thirty-five years ago.
Having this fight secured early in 2020 is great for boxing. Now, all the Anti-Haymon and/or Pro-Top Rank people can cut each other to smithereens, with the winner being able to serve the ultimate crow afterward. Those will no real rooting interest will have the opportunity to babble about how neither Wilder nor Fury measures up to the heavyweights of yesteryear. Indeed, life can be rough for the level-headed individual who wants to enjoy the here and now. All we could do is wait and enjoy.
The here and now just got a little bit better with the announcement of this fight. The first fight was a classic that caused real debate. Even some sensible debate. Who actually won? Well, according to the scorecards, nobody won. But that does not stop boxing fans from anointing their winner. In reality, a draw was probably the fairest outcome.
In that first fight, we saw Deontay Wilder utilize what he does best, and become more patient in waiting for his pitch. He hit the sweet spot twice, but a Jack Reiss sobriety test prevented the Bomb Squad fruit from bearing fully. Did Reiss overstep? The loudest voices do not seem to think so. While others cannot see how it could be looked at any other way.
We also found out that Tyson Fury is a tricky customer to pin down. His antics in the ring may not equate to landing blistering combinations upon making his opponent miss; however, he can disrupt anyone's rhythm and game plan and shown the ability to fight back when he did find himself in the deep end of the pool. Fury proved his Jackie Gleason antics would indeed be a match for Harvey.
Going into fight two, both fighters know what the other does best. Therefore, a little tweaking and/or slight adjustments might be the difference in the contest. Personally, I think whoever does the best job of putting the first fight in the back of their mind will be the victorious boxer. Fury can talk about how he outboxed Wilder except for those two knockdowns all he wants, but in no way will that win him any rounds come February 22nd. Conversely, Wilder can claim that he had Fury knocked out, and would have stopped him if Jack Reiss did not overstep his duties as a referee all he wants, but none of that will help him catch Fury in the rematch; especially since Fury believes the only way he could lose to Wilder is by getting caught.
Indeed, we will hear these talking points quite a bit. Both men are excellent promoters, and they will do a great job of selling this fight to the public. Translation, the trash-talking will be epic.
Everything about this fight announcement is epic. Simply because it got made. There was no oppression because one fighter is black. There was no arguing over where the fight should take place. No manager overpricing their fighter. There were no belts thrown in the trash. It proved that fights can be made when it makes sense. Or should it be cents? As there will be plenty of that to be made.
Will the fight itself be epic?
Stay tuned…
Check out "Zutes Boxing Talk", which airs every Wednesday live from 7PM to 9PM ET. The show is dedicated to discussing the sweet science straight up with no twists. "Zute" has interviewed boxing legends such as Carlos Palomino, Mike McCallum, Pernell Whitaker, Jeff Fenech, Buddy McGirt, Mark "Too Sharp" Johnson, Marvin Camel and Eddie Mustafa Muhammad. As well as today's stars like Danny Garcia, Sergey Kovalev, Regis Prograis, Teofimo Lopez and Gary Russell, JR.
Follow the link to listen live or catch archived shows
Contact the Feature Writers