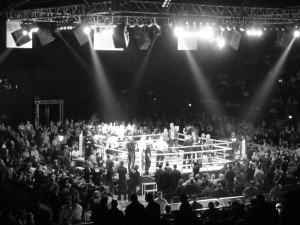 By Vinny "Glory Days" Lucci
All aficionados of the canvas dance floor can fondly remember the fight that instantly turned them into a rabid boxing addict. Back in 1965 on a black and white television set I witnessed a 44-year-old living legend named Sugar Ray Robinson give his farewell performance against light hitting contender Joey Archer. Robinson dropped a ten round UD at the Civic Arena in Pittsburgh amid several standing ovations. Ray still had some moves and was coming off a 3rd round KO of Randolph Bent. Watching with my father, I realized by the commentary that I was witnessing history in the making as an era was coming to an end and my Dad regaling me in charismatic stories that produced Robinson's incredible 175-19-6-2, 108 KO's ledger.
Watching him take those final bows in a plain white terry cloth robe cut at mid-thigh without a single mark on his face from all those ring wars was like beholding to witnessing a monarch step down from ruling a country amid the peak of his popularity. The glory lavished upon him would be forever known as the greatest "pound for pound" fighter who ever lived. I was 8 years old at the time.
Fast forward 28 years later and defensive wizard Pernell "Sweet Pea" Whitaker made a public self-proclamation that he indeed was the "pound for pound" king to distinguish himself from Mexican icon Julio Cesar Chavez who he made his first defense of WBC welterweight title against. On that night Pernell boxed on a dime inside the pocket and inexplicably traded with Chavez controlling the entire bout only to be disappointed with a majority draw!
At the time there were at least a half dozen boxing publications that ran with the notion that Whitaker regardless of division was the best of his era. The general consensus among media and fans was that the inferior judging was to keep Julio's perfect record of 87-0 intact and up for speculation as to who held the mythical crown of P4P.
Whitaker would end his career 8 years later with a resume of 40-4-1-1, 17 KO's. Around the time of Whitaker's departure at the top there was already somebody to take his place. There usually is. Roy Jones, JR. who was perhaps the most God gifted natural athlete to ever box was putting the time in and ready for undivided glory. Like all fighters before him he proved to be mortal also which made it abundantly clear to me that being best of an era, any era; is a far cry from being mentioned in the same breath with the most brilliant pugilist who ever laced up leather.
With the proliferation of the internet where news spreads by the minute brought about the extinction of most of the monthly boxing magazines. The ruination of magazines making their own hypothetical pound for pound lists gave rise to internet web sites where every fan could voice their own opinion and even publicly challenge the alphabet ratings.
With literally dozens of topics crossing my desk daily over the years I have directed my attention to handicapping upcoming bouts with inside acumen and clarity for fans to see beyond the horseshit that fighters and commentators sling with every broadcast. In an attempt to clarify the hierarchy of the boxing landscape there must not be a dichotomy of who reigns supreme but rather a solidarity of consensus where hard core fans regardless of who their favorite stylist is recognize the achievements of "the" face in boxing.
In the startling wake of novice fans making nonsensical declarations of hero immortality juxtaposed to hardcore students of the sweet science making their best rationalizations I find it necessary to decode the controversy and dethrone all contenders to the glorious throne where one name reigns supreme in the shadows of the few immortals who sat there before him. While it would appear Floyd Mayweather took this distinction with a win over many Pacquiao and undefeated record he no longer is an active fighter having retired four years ago. Having owned the late nineties until he called it quits, he was best of his era and pound for pound best boxer extent. Before the notion that Andre Ward was "the" man to step into those shoes he abruptly retired after handing Sergey Kovalev two back to back controversial losses.
With the two self-imposed retirements the void to find the planets undisputed pound for pound specimen has come under considerable scrutiny with three champions boldly making declarations that they indeed are the finest fighter among the world's champions and deserving of its highest accolades.
Rather than assemble Ringside Reports Top Ten adding fuel to fire the speculation it's time to pull the covers and expose the unbiased truth; no belt holder at this time deserves the top slot and the glorious draping's that go with moniker. If you please, Vasyl Lomachenko has taken the pundits by storm while only possessing a ledger of 14-1, 10 KO's. He is automatically forgiven for meager numbers having turned pro late after an extensive amateur career where he won two Olympic medals. His naysayers will distract with criticism that he hasn't faced a superstar foe completely overlooking several matches where handicappers thought he would be exposed. Instead Lomachenko made them quit on their stools rather than face the humiliation of being counted out. Nicholas Walters, Guillermo Rigondeaux, Jorge Linares and Jose' Pedraza were all outstanding fighters in their own right but were no match for Vasyl as he has become a belt holder in three divisions.
Yet he should be denied that number one P4P slot for two reasons. He looked more human than supernatural last August winning a unification by UD over Luke Campbell in England. Loma's matrix defense was reached more than we are accustomed to witnessing and the year ahead promises two huge challenges in the form of Teofimo Lopez and Gervonta "Tank" Davis. Lopez just acquired the vacant IBF lightweight title a few weeks ago at MSG stopping Richard Commey by second round TKO and possesses the size, reach and power to make an argument. The final arrangements to ink this event for April are being worked on as we went to print. With Davis having just won the vacant WBA (regular) belt over Yuriorkis Gamboa by 12th round TKO amid mixed reviews has left fans in a frenzy handicapping at home. Should the multi belted Loma beat both in convincing fashion then quite possibly he secures the mantle ahead of all others. His frame simply is not made to carry him to welterweight.
Next on the list is none other than Canelo Alvarez who quite frankly may never earn universal recognition as he has learned to command the boxing universe like a space bender under the watchful protected guidance of promoter Oscar De La Hoya of Golden Boy Promotions. In fact, he has been heavily criticized for admitted steroid use, catchweights, and cherry-picking opponents waiting for iconic opposition to age past their peaks. Recently the WBC has anointed him their egregious "Franchise Champion" where he is not forced to make a mandatory defense but can challenge any WBC champion whenever he likes. After recently dropping the WBO Light heavyweight title he lifted off a weary battle worn Sergey Kovalev, the WBO decided to invent and award Alvarez their "Super" champion who has identical privileges of WBC. While his skillset and boxing acumen are undeniably superior his haters will point out they don't believe he ever outpointed Gennady Golovkin and rue the fact he has publicly declared he doesn't want to give fans a trilogy. His recent cold shoulder to Oscar De La Hoya will be an interesting subtext this year.
If you are taking notes and foaming at the mouth to get unbridled WBO welterweight champion Terence Crawford anointed the pound for pound king don't hold your breath for a while, as the last week of the year he has shot himself in the proverbial foot ala both barrels with a 12 gage. After running his own social media forum where he called out the "Premiere Boxing Champions" stable claiming he wanted to fight everybody and could beat all their champions, suddenly has a change of heart when tough as nails unbelted Shawn Porter stepped to the plate and was pathetically dismissed by Crawford. Terence gave the lame reasoning, "I don't need to fight Porter now. " News flash Bud, yes you do. The fans don't want to see another WBO mandatory who doesn't exist in the other alphabet ratings.
Porter who just gave unified champion Errol Spence, JR. a hell of a fight would be perfect yard stick to determine where Crawford truly belongs among the welterweights and the pantheon of the greats. For now, its sour grapes turned into whine as the world hopes Errol is fully recovered from recent horrific auto accident last October and the welterweight division gets one unified champion by year's end possibly leap frogging the winner to the front of the line not just the division.
Rapidly losing favor on the pound for pound list both media and fans have been brutal towards Gennady Golovkin's swift fall from grace. While his draw and loss to Canelo Alvarez was arguable, he looked like he took several steps backwards defensively at age 37 in his last title winning effort against rugged Sergiy Derevyanchenko. If his nemesis Alvarez refuses to accept the trilogy there is little hope Gennady can prove he belongs in top five and will slowly continue to slide down rankings as younger boxers align themselves for P4P supremacy.
Chances are excellent that many fans won't agree with what they are reading as they hold any one of these boxers in highest regard and could make a case for their top slot.
That is the point entirely. Since no one particular champion stands heads and shoulders above other icons the entire reasoning for such a list is mute.
What makes it even worse is the need to add unnecessary names who only cloud the judgement of rational thinking. For example, Naoya Inoue is a sensational unified super bantamweight champion who is coming off a recent UD over Nonito Donaire. Only trouble is casual fans never heard of him or his 19-0, 16 KO's record. Cruiserweight champion Oleksandr Usyk is sporting a ledger of 17-0, 13 KO's but is being rushed into heavyweight waters prematurely. Former lightweight champion Mikey Garcia may have eaten his way off this list with ill-advised foray into the welterweight division where last year he was soundly beaten every round by Errol Spence JR. Should he win his next match on February 29 against Jessie Vargas at welterweight, it will do little to enhance his credibility on this list but rather get the attention of future hall of famer Manny Pacquiao for a possible meeting this summer.
Speaking of Manny who makes everybody's top ten, just turned 41 years of age weeks ago and is under the microscope every bout more than any other active fighter for telltale signs of slippage. His legion of loyal and ardent fans will enthusiastically endorse him as number one for that very reason of self-preservation while being the only boxer to ever claim a title in eight separate weight divisions. This spiral upwards makes the pound for pound list a perpetual circular vortex bringing us back to Lomachenko like the never-ending beams of light that circle Saturn.
For rational minds the current race for boxing supremacy is akin to the Kentucky Derby with a handful of thoroughbreds jockeying for position at 8 furlongs with a quarter mile to go.
Stay tuned…
Contact the Feature Writers