[AdSense-A]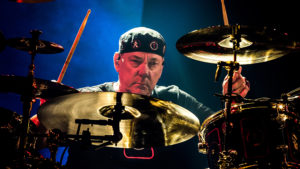 By Geoffrey Huchel
The music world has lost a legend. Neil Peart, the legendary drummer of the rock band Rush died of brain cancer on January 7, 2020 at the age of 67 after a three-year battle with brain cancer. Peart was a Canadian musician and writer and the primary lyricist for Rush. Peart's drumming skill and technique are well-regarded by fans and fellow musicians, who often considered him "Rock's Greatest Drummer". He was known for his specialties in Progressive rock, hard rock, jazz, and heavy metal.
In 1974, after chasing success as drummer in London, Peart returned to Canada and auditioned for the Ontario based band Rush when the band was looking for a replacement drummer. His audition was a success and he officially joined Rush on July 29, 1974, just two weeks before the band's U.S. tour. Rush released its eponymous debut album in March 1974.
Peart procured a silver Slingerland kit which he played at his first gig with the band, in front of 11,000 people at the Civic Arena in Pittsburgh. Rush produced 19 studio albums, 11 live albums, 11 compilation albums, and released 38 singles. Rush's total worldwide album sales total over 40 million units.
Peart was inducted into the Canadian Songwriters Hall of Fame. On April 18, 2013, Rush was inducted into the Rock and Roll Hall of Fame. After decades of success with the band, Peart announced his retirement from music on December 7, 2015. During his last years, Peart lived in Santa Monica, California, with his wife and daughter.
Contact the Feature Writers