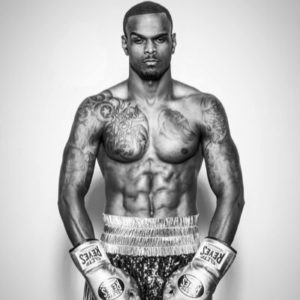 By Anthony "Zute" George
Since the calendar year turned 2020, the boxing action has heated up. Many outstanding action fights have already happened, and plenty more are anticipated during January. One fight that everyone should circle on their calendar is the January 18th match between Michael Seals and Eleider Alvarez at the Turning Stone Resort and Casino in Verona, New York. It is one of those fights that is simmering with potential action. To think that the winner will be the fighter whose power holds true in this fight would not be an erroneous assumption.
For Michael Seals, his heavy hands are his calling card, and they were well documented long before he boxed, "Ever since I was a kid, we used to horseplay in the yards, and play in the neighborhood. People would never want to play with me," Michael told Ringside Report. Before Michael utilized this power in the boxing ring, he was a very good athlete and played college football. "I first started boxing when I was twenty-three, and I thought I was doing it at first to just stay in shape. But my competitive nature just took over, and I fell in love with boxing."
Michael has competed in two brutal sports that are indeed not for the faint of heart, but according to Michael, one sport has a leg up in the brutality "football is a very physical sport, but it cannot compare to the physicality of boxing. The mental and spiritual preparation you need for boxing, it's a completely different animal. Nothing can prepare you for boxing." As a latecomer to boxing, Michael's scary power came in handy during his rise. He won fourteen of his first nineteen fights by stoppage, eleven of those stoppages occurring in the first round. Not bad for a guy who was mostly learning on the job.
Michael's finishes were showstoppers. The type that gets the attention of the right people. Michael described an interesting dynamic that happens when he lands the bomb that ends his job for the night, "It's a feeling of nothingness. When I land the perfect one, it feels like I didn't hit anything."
To land that feeling of nothingness against a guy the caliber of Alvarez will be a tall order. At age thirty-seven, Seals does not have the luxury of being matched up soft. If he wants the big money fights, he must get passed this capable former champion. It was not that long ago when Alvarez sent shockwaves through the boxing world by landing his own debilitating power punches on Sergey Kovalev. At age thirty-five, Alvarez still has a story to tell and feels that Seals is his opponent. Knowing he is in what is perhaps his last chapter makes him a dangerous opponent for anyone. Seals has the utmost respect for Eleider, "He is an amazing fighter. I have been watching him for a long time. Very seasoned."
With that said, Seals realizes what he has to do to get to the next level, "On January 18th, it's my night. It is my time to be a world champion. He already had his shot."
Shot is the operative word. Both men need to land their big shots to do well in this match. The consensus thinking is that Eleider Alvarez has more paths to victory. But it is unlikely he can win a fight against a banger such as Michael with lateral movement and a jab. If Alvarez cannot get Seals' respect with his own power, his options to win dissipate. The winner of this fight captures the WBC Continental Americas Light Heavyweight Title and is put in an excellent position for a world title shot.
Whose power will prevail?
Stay tuned…
Check out "Zutes Boxing Talk", which airs every Wednesday live from 7PM to 9PM ET. The show is dedicated to discussing the sweet science straight up with no twists. "Zute" has interviewed boxing legends such as Carlos Palomino, Mike McCallum, Pernell Whitaker, Jeff Fenech, Buddy McGirt, Mark "Too Sharp" Johnson, Marvin Camel and Eddie Mustafa Muhammad. As well as today's stars like Danny Garcia, Sergey Kovalev, Regis Prograis, Teofimo Lopez and Gary Russell, JR.
Follow the link to listen live or catch archived shows