Loading ...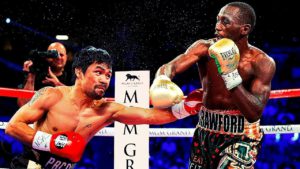 By Roy "The Body Snatcher Skillen
Will it happen? But more importantly, do we want it to happen? Manny Pacquiao Vs Terence Crawford has been a much talked about potential fight for years. A fight that both guys have seemingly wanted to make happen but one that has been pushed to the back burners by promoters with Bob Arum admitting to twice steering away from the super fight. But have both men finally reached a point where they will dictate when and where they will meet? With talk hotting up that deal is about to be struck after Crawford recently tweeted "I'm ready, let's go," directly to Pacquiao. The move had fans drooling with YouTube Boxing pundit, Showbiz The Adult, stating that he thinks Manny is definitely after the Crawford smoke.
But what really happened to bring about this current hype? Did Pacquiao call out Crawford and insult his family? Well actually no. All Manny did was add Terence on Twitter, that's it, but fans saw it as sign that a fight will soon happen, but the real question is do we want it?
Manny is a freak of nature. Add that to his undoubted love of the sport and an ability to stay super focused and look after himself and you can see why he his career has lasted so long at such a high level. But surely, surely father time has to catch up with him sooner rather than later and I for one don't want to see it happen. I am sure that most boxing fans don't, but there is a sense that a lot of the interest in Pacquiao now is from those wanting to see him finally fall. To finally prove that he is human. To finally take that one challenge that is just a little too much for his ageing body. We all thought it had happened when he lost on points to Aussie Jeff Horn. Although the decision was a dubious one, with many people believing that Manny had done enough to win, you only have to look at Horn's career since the fight to realise that a top form Pacquiao should have dispatched of him early, very early.
Manny has since proved that haters wrong with three very good wins since the Horn defeat with an against all odds split decision victory against Keith Thurman last time out. But, you just feel that if he keeps pushing the limits like he has all of his career that the heavy defeat will come and I would prefer to remember him as The Champ, with his hands high in the air and not flat on his back with Crawford standing over him.
Contact the Feature Writers