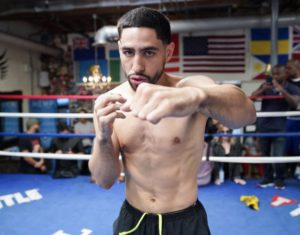 By Anthony "Zute" George
Danny Garcia has been fighting as a professional since 2007, and he is only thirty-one years old. He has never taken anything close to a beating in the ring. Also, he performed better in his two official losses than in some of his close wins. With the Mauricio Herrera fight being a victory that most people question. Lately, Danny has looked outstanding. After his split decision loss to Keith Thurman, he enjoyed a knockout of the year type victory over Brandon Rios, and easily defeated Adrian Granados. Sandwiched in between those two stoppage victories is a close decision loss to Shawn Porter.
And there lies the problem with Danny Garcia. He has not been able to capture a world title since 2016 because he has not been able to edge out world-class competition. At the same time, he has performed well enough in these fights to stay relevant. Which brings us to 2020. A year that Garcia has a chance to shine brighter than he ever has.
When Danny lets his fists fly, he is one of the best pugilists in the sport. His left hook may be the second-best one punch equalizer in boxing today: taking a back seat only to Deontay Wilder's howitzer right hand. When Danny tries to box, however, he is not utilizing his best assets.
In Danny's first loss against Keith Thurman, he got hurt early and did not fight his fight. While he did get some good bodywork done in that fight, his left hook was all but invisible. Against Porter, he lost a very close battle where he was being outworked until the championship rounds.
See the formula? When Garcia is busy, he is the boss.
Garcia gets to test his fistic prowess by having a potentially busy year. First up is Ivan Redkach on January 25th at the Barclays Center in Brooklyn, New York.
It is the kind of fight that virtually everyone sees Danny winning. With that said, Redkach is a capable enough guy to take complete advantage of a Danny Garcia who might have an off night. An off night can happen to any fighter, especially if they are looking past their opponent. In the welterweight division, Garcia is the number one challenger for Terence Crawford's title, the number two challenger for Errol Spence, JR.'s title, and the number two challenger for Manny Pacquiao's title. Save for the world ending, Danny Garcia will no doubt get a big money fight in 2020 if he beats Redkach. It is very easy for anyone to focus on those gigantic names and dollar signs and lose focus on Redkach.
If Ivan pulls off the upset, it is he who can fantasize about the kind of impulse spending that can come from a huge payday. Redkach has a nice three-fight win streak, and always comes to fight. It is easy to shun on the matchup, but if one peels the onion, they can see this kind of fight is what boxing is all about. One guy getting a chance against a world-class fighter based on nothing but his own hard work. Indeed, Redkach is there as an opponent, the next step for Danny, however, even that kind of position is earned through hard work, when it is done right.
In such a scenario, when one guy does not follow the script and pulls off the upset, it is boxing gold.
Will Danny Garcia show up and fight the way he is supposed to? Will Ivan Redkach rewrite the script?
Stay tuned…
Check out "Zutes Boxing Talk", which airs every Wednesday live from 7PM to 9PM ET. The show is dedicated to discussing the sweet science straight up with no twists. "Zute" has interviewed boxing legends such as Carlos Palomino, Mike McCallum, Pernell Whitaker, Jeff Fenech, Buddy McGirt, Mark "Too Sharp" Johnson, Marvin Camel and Eddie Mustafa Muhammad. As well as today's stars like Danny Garcia, Sergey Kovalev, Regis Prograis, Teofimo Lopez and Gary Russell, JR.
Follow the link to listen live or catch archived shows
Contact the Feature Writers