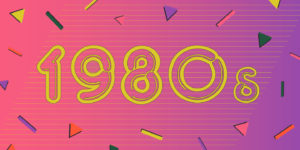 By Anthony "Zute" George
The eighties. The decade of excess. The decade of decadence. The first decade I was breathing air in its entirety. In pop culture, the 80s saw Michael Jackson, Prince, Madonna and Bruce Springsteen reach epic levels of popularity. We found out who shot JR, the Carrington's glorify big oil and Bill Cosby take black sitcoms out of the ghetto. The 80s also introduced us to a hip late night television host named Letterman. Indeed, there was plenty of timeless entertainment mixed in with some flat-out guilty pleasures.
When making my list of the ten best films in this decade, I had a hard time and left off movies I thought were sure to make the list. As I am sure would be the case with any individual who tries to squeeze ten year's worth of cinema so narrowly. Here are my "just missed list," in no particular order:
• The Verdict
• Colors
• Stranger Than Paradise
• Blade Runner
• Reds
• A Soldier's Story
• Down By Law
• Full Metal Jacket
• Once Upon A Time In America
• After Hours
I also did not include popular turns such as Gremlins, Ghostbuster, Coming To America, Back to the Future and The Karate Kid. Movies I enjoyed, and certainly defined the decade. But they were never in real consideration for the top ten like the films above. So, here is goes from 10 to 1. Have fun with it. Feel free to comment on it. But understand it is just my list.
10. Broadway Danny Rose: Woody Allen had an amazing decade and this film is a black and white gem. It includes the greatest song to ever introduce the credits of a film, Agita, and is perhaps Mia Farrow's best role. I get why some people have denounced Woody Allen over the years, and if you want to boycott him, I am fine with that too. But when Sandy Baron said he had the greatest Danny Rose story, Woody unleashed one of the greatest comedy adventures, of not just the decade, but of all time.
9. Blood Simple: Joel and Ethan Cohen's gritty tale of jealousy and deceit is right up there with Singleton's Boyz n the Hood and Tarantino's Reservoir Dogs, as the greatest directorial debuts of all time. M. Emmet Walsh anchors a fabulous cast. If you are looking for a feel-good movie, look the other way.
8. The Killing Fields: A film such as this makes me wonder if others should be held accountable for wasting film on such insignificant reasons. Like The Cannon Ball Run. I have no idea why this film has appeared to have been forgotten, as it rarely comes up in all-time great discussions. Perhaps it is just to visceral. But Roland Joffe clearly directed the best film of 1984 as far as I am concerned. Sydney and Nith should be remembered the same way we remember Butch and Sundance, George and Lenny, and Thelma and Louise. But we do not. That is as sad as this film is at times.
7. Crimes and Misdemeanors: Woody gets two in the top ten. As both of these films show the range he has, and I do not think gets enough credit for. This film is indeed Woody Allen at his absolute best, and that is saying a mouthful. It is probably the best film that features infidelity. Martin Landau shines in an incredible cast. Other Allen films like Radio Days, Hannah and Her Sisters, and Zelig were under consideration for this list. But I feel Broadway Danny Rose and this movie really carve out Allen's niche, and define his underrated diversity.
6. The Shining: The fact that this is not even Stanley Kubrick's best film says it all. But is his best of the 80s. A masterful tale that brings a creepy hotel to life, without the use of over the top special effects and gore. This film did more for big wheels than E.T. did for Reese's Pieces. Then there is Jack. What can you say? While I am not a huge Nicholson fan, this film could not have been as memorable without his performance. Without a doubt his best.
5. The Color Purple: Another shame of cinema is this film is hardly ever mentioned as one of Steven Spielberg's best. One of the most respected directors shows us how he can roll without the use of sharks, aliens, or the events of history. He does have the unbelievable source material of the Alice Walker book and a great cast. The Academy Awards made it a point to give this film a ton of nominations, eleven, but not to the director. In true Oscar fashion, especially at that time, a film with a predominantly black cast failed to secure even one win. But it is in our hearts forever.
4. Brazil: Considering that both The Color Purple and Brazil came out in 1985, and Out of Africa won best picture that year, does not speak well for the Oscars. Brazil did not even get nominated for best picture. Terry Gilliam's finest work. It is a film that has gotten better with age simply because our own governments and law enforcement are resembling what we see in this bizarre film. When an over the top fantasy adventure is close to home with how the world is now being shaped is alarming. Which is probably the point of the film.
3. Raging Bull: Scorsese's masterpiece. DeNiro's tour de force. Joe Pesci's coming out party. Boxing shown in a brutal way. Somehow, we find sympathy for a devilish man. What is not to love? The choice to go black and white was a brilliant one. The brief time color is shown in this film carries the story along in an important way. Epic.
2. The Empire Strikes Back: I realize how daunting it can be to constantly watch films with heavy subject matter. And sometimes we just want to have a great time at the movies. Empire is the best example of such a film. You have to give credit to this film for following the epic Star Wars in such an effective and different way. We see character development and plot twists as good an any drama. The decision to separate Luke from the pack was brilliant and worked so well. Its dark tone and cliffhanger ending make it a unique masterpiece for all time.
1. Do the Right Thing: Just a perfect film. The craft of Spike Lee has never been better. Racial tension, as well as inner city struggle and recreation, told over the course of a squelching Summer afternoon in Brooklyn. Memorable characters like Radio Raheem, Sal, Da Mayor, Buggin Out, Mother Sister, Jane, Pino, Vito and Smiley drive Mookie's story and the audience to the brutal finally. Not many films are as well-crafted and courageous as this one. Another disgusting snub from the Oscars as this epic failed to secure a Best Picture or Best Director nomination.
Contact the Feature Writers