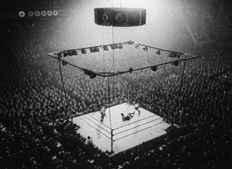 By Roy "The Body Snatcher" Skillen
It's not long until Tyson Fury and Deontay Wilder set foot in the ring for the second time and if you weren't already excited after their controversial first bout then surely you are after the two faced off in one of the best press conferences I have ever seen.
Wilder refused to break from his Bomb Squad character while Fury threw out some great one liners with one in particular getting me thinking, 'what are the greatest ever quotes ever in boxing?' Here is a list of my top five, please let me know how wrong I am and which ones I missed that should be in here.
TYSON FURY
One thing you could never say about Tyson Fury is that he is boring. From his entertaining style in the ring to his antics out of it you always know that there's going to a show when The Gypsy King is in town. So out there is he that many have compared him to the late great Muhammad Ali thanks to out is outspoken, loud and brash style.
But how similar are they really? Ali once said that he, "handcuffed lightening and threw thunder in jail," in preparation for a fight. But I reckon Fury trumped that in his recent press conference by telling the world that, "I am eating five or six meals a day, drinking eight litres of water. If it's going to give me an edge, I'm willing to try it. I'm masturbation seven times a day to keep my testosterone pumping."
If that isn't enough to scare Wilder, I am not sure what is.
INGEMAR JOHANSSON
Well, to say that this quote came from Ingemar Johansson isn't exactly true because when these particular pearls of wisdom were spoken the big Swede was unconscious on the canvas having just eaten a massive right hand from Floyd Patterson. So good was the punch that it still makes viewers wince with pain as they watch Johansson crumple to the floor. It was also a punch that left him out cold for five minutes with his left leg twitching uncontrollably. So brutal was the KO that everybody at ringside had serious concerns for his health, well everybody except his trainer that is.
With medic and journalists rushing around to attend to the well being of the prone fighter someone turned to his trainer and asked, "Oh my god, is he dead?" To which Johansson's caring trainer calmly replied, "he should be, I told him to watch out for that right hand."
BERT SUGAR
I loved Bert Sugar. The wily old boxing writer was best known for his silly hat, big cigar, an infectious enthusiasm for the fight game and a sharp wit that would often come out in classic quotes. During a boxing documentary about The Raging Bull himself, Jake LaMotta, Sugar was talking about the legendary fight that became known as The St Valentines Day Massacre, between LaMotta and The GOAT Sugar Ray Robinson. Robinson destroyed his opponent on that day with a classic display of speed, power and accuracy that showed exactly why he is considered the best pound for pound fighter of all time. Although he did fail to knock LaMotta off his feet the fight was so one sided that Bert was able to sum it up with this beautiful description, "LaMotta's best punch was a left jaw to Robinson's right hand."
TONY THOMPSON
Heavyweight boxer Tony Thompson is known for three things, twice challenging and losing to Wladimir Klitschko, failing a drugs test and getting so excited after a win that he gave the interviewer a little more than he bargained for at ringside.
"I'm going to go home and break my wife's hip. I ain't had sex with her in a while. She's going to feel the pain. There's going be some pleasure mixed in there, but she might be crippled when it's over, so if anyone wants to donate a wheelchair to the 'Save Mrs Thompson Fund…"
MIKE TYSON
Ok so we've heard all Tyson's quotes a million times but I don't care, I am a true Tyson fan boy and I am never going to do a best of boxing list without throwing him in somewhere. Even though this piece of wisdom came on the downside of his career it still gives me goosebumps. He played his part so well, everyone believed him, everyone was scared of him, which something that Deontay Wilder just can't seem to do despite his undoubted power. Anyway, take it away Mike.
"I am gonna rip his heart out. I'm the best ever. I'm the most brutal and vicious, the most ruthless champion there has ever been. No one can stop me. Lennox is a conqueror? No! He's no Alexander! I'm Alexander! I'm the best ever. I'm Sonny Liston. I'm Jack Dempsey. There's never been anyone like me. I'm from their cloth. There is no one who can match me. My style is impetuous, my defense is impregnable, and I'm the ferocious. I want his heart! I want to eat his children! Praise be to Allah!"
Contact the Feature Writers