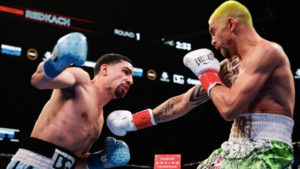 By Anthony "Zute" George (At Ringside)
Danny Swift Garcia outworked and out skilled Ivan Redkach during most of the twelve round main event at the Barclays Center in Brooklyn, New York, and won a unanimous decision. Scorecards read 118-110 and 17-111(twice). Ringside Report scored the bout 118-110 in favor of Danny Garcia. Danny was bold enough to start the fight by circling to the southpaw Redkach's left. Throughout the fight, Danny depended on his power right hand and stiff body shots. A looping right hand hurt Redkach at the end of round five. But Redkach fought back and held Danny off from doing further damage. Garcia hurt and busted up Redkach at the end of round seven. The fight started to resemble more of a mismatch in round eight. As the only thing that was keeping Ivan in the fight was his fighting heart. Redkach also worked up an appetite and bit Garcia in the fight.
The crowd implored Danny to finish his business in round nine. Chanting, DAN-EEE, DAN-EEE. But the game Redkach was still firing non-jabs at the end of the round. Redkach's persistence bore a little fruit in round ten. As he actually had one of his better rounds. Landing good body shots with his left. It appeared as though Danny made the decision to be content to go the distance in round ten. The crowd was not happy with this decision and grew disinterested in the last two rounds of the fight. Garcia improved to 36-2, 21 KO's and Redkach falls to 23-5-1, 18 KO's.
Indeed, Danny Garcia is a world class fighter. He has the skill set to beat any of the top welterweights. What is even more certain in that Danny will be fighting a much better fighter the next time out. We think. It is worth mentioning Errol Spence, JR. was supposed to be Danny's first fight of 2020.
In the co-feature, Jarrett "Swift" Hurd got back on the winning track with a ten-round unanimous decision over Francisco Santana in a super welterweight fight. Scorecards read 97-92, 99-90 two times. Ringside Report scored the bout 98-91 in favor of Hurd. The crowd did not like Hurd's effort, and booed him throughout the fight and during his post-fight interview.
Hurd began by sticking out a big jab and circling to Santana's left in round one. He scored with his jab, but it was not exciting. Santana cut the ring off well enough, but he did little when he got close. In round two, Santana landed more non-jabs, but they had little juice on them. Hurd fought the whole round retreating behind a long jab. The bout changed in round five, as Hurd abandoned his jab and traded power shots with Santana in close quarters. Hurd's tremendous size advantage was apparent in these exchanges. As it was a handgun against a bazooka. Hurd went back to retreat mode behind a jab for most of round six. Santana' aggression could have fooled some judges to give him the round.
The telephone booth returned in round seven. But Hurd did little to slow Santana's aggression. Neither fighter was overly effective, and it was a rare time in boxing where two fighters where exchanging at close range, and the crowd was booing. The boo birds persisted in round eight as Hurd's stubbornness to fight in a way that was not in keeping in his style or build persisted. It was a round that Santana actually won.
Hurd started throwing punches with more conviction and did his best work early in round nine. But Santana's pressure did not waver. He kept coming and he kept throwing. It was alarming to see the much smaller Santana push his opponent into the ropes multiple time during round nine. It also appeared as though Hurd might have injured his right hand. Santana appeared to be outworking a one-handed Hurd for most of round ten. Then, in the closing seconds, Hurd let loose with blistering left hooks that found its mark and staggered Santana. A short little right uppercut dropped Santana with less than ten seconds in the round. Santana beat the count, but Hurd ran out of time. With the victory, Hurd improves to 24-1, 16 KO's, while Santana falls to 25-9-1, 12 KO's.
The booing that was thrown at Hurd was probably a little harsh because it was clear he was trying to find a new wrinkle to his style and he never stopped throwing punches. But he also has to realize that new tricks are not always the best remedy for success.
Stephen Fulton defeated Arnold Khegai via unanimous decision in a twelve-round junior featherweight fight. Scorecards read 116-112 and 117-111 (twice). Ringside Report scored the bout 115-113 in favor of Stephen Fulton. Both fighters did their best work when they led with the action. In the rounds Fulton lost, he was not effective as a counter puncher. Fulton's best round was in the eighth round, he was first and diverse, and much more aggressive in this round. Khegai had a very good eleventh round, landing effective power shots throughout the round. On Ringside Reports card, Fulton had to win the twelfth round to avoid a draw. The official scorecards saw it much wider in favor of Fulton. Khegai implemented questionable tactics throughout the fight. Including a judo throw in round three and hitting on the break on more than one occasion. No points were taken from Khegai for his extra-curricular activity. Fulton captures the WBO intercontinental junior featherweight championship and improves to 18-0, 8 KO's. Khegai falls to 16-1-1, 10 KO's. A large crowd came out for Fulton and they saw him prevail against a rough customer.
In an eight-round welterweight bout, Keeshawn Williams defeated Gaku Takahashi by unanimous decision. The scorecards read 79-73, 78 74, and 80-72. Despite winning by a wide margin, The Next Big Thing had his hands full against a herky jerky southpaw in a very entertaining bout.
Gaku won round one by tagging Williams with the better power shots. Williams had a better second round as he managed to find a home with his power shots, a left hook and a straight right, despite not being able to establish his jab. In round three, both fighters took turns being the aggressor but with little success. Williams did the better work with his power shots and edged out the round.
The Jeannie came out of the bottle in round four, as the fight turned into a slugfest. It started when Gaku caught Williams with a hard shot as Williams was pawing a lazy jab. Gaku was more the worst for wear at the end of the round as his left eye was swollen from a steady diet of hard right hands. Gaku kept the fight at distance in round five, as Williams curiously fought most of the round backing up. He lost the round, but Gaku's eye was getting worse. The doctors took a long look at Gaku in-between rounds.
Williams went back to being the aggressor in round six and it paid off. He kept catching Gaku with hard, crisp, right hands that were doing damage. One blow knocked the Vaseline right off Gaku's face. Gaku landed a good power right at the end of the round, but it was not nearly enough to negate the power punches Williams landed throughout the round. In round seven, Williams went back to fighting backing up, but this time he was much more effective as a counter puncher and landed very good power right hands that shook Gaku up.
Williams tried to end the fight in round eight as he was his most aggressive at the start of the round. While he was effective in this position, he went back to the role of counter puncher when he realized Gaku was not going anywhere. Williams continued to tee off on Gaku while backing up, but Gaku was all heart and kept coming. Both fighters landed big power shots in the final seconds of the fight, but Williams had the clear advantage. It is always impressive when a fighter can utilize his boxing skills and put punches together, even though his opponent took his jab away from him, and that is exactly what Keeshawn Williams did. Williams improves to 7-0-1, 2 KO's, while Gaku falls to 16-11-1, 8 KO's.
In a six round middleweight fight, Lorenzo Simpson scored a unanimous decision over Antonio Hernandez. Scorecards read 59-55 three times. It was an entertaining fight that held the interest of the crowd. In round one, Simpson was accurate from the southpaw stance and had a knack for digging a good left to the body. He did try an ill-advised uppercut from the outside, but Hernandez was in no position to counter. Simpson did get caught with a good counter right at the end of the round. Truck continued to be accurate with his power punches in round two, and even sprinkled in some hard-right hooks to the body. Hernandez was more aggressive to start the third round. He tried to catch Simpson with head and shoulder feints, but Simpson did not take the bait and was soon the boss again. Truck featured a powerful right hook upstairs for the first time in the fight. He caught Hernandez three times solid with this punch.
Simpson controlled round four, but he was not as busy, and his accuracy fell off. Hernandez was just as inactive and did not take advantage of Truck's reduced work rate. Both fighters benefited from the off round in round four, as they both threw heavy leather to start round five. Hernandez had his best round of the fight as he caught Simpson with heavy shots, in particular his right uppercut was very effective. Simpson hurt Hernandez when he dug a hard right to the body, but he did not throw that punch as much as should have. Round six saw more toe to toe action with Tank securing the round with power hooks with both hands upstairs. Lorenzo Simpson improves to 7-0, 4 KO's, while Antonio Hernandez falls to 2-11-1. There is a lot of attention on Simpson, who fights out of Baltimore, he bypassed the option to go to the Olympics and turned pro. Most ringside observers felt he should have performed better against a guy with a putrid record and zero knockouts. But Simpson is a good offensive fighter who can only learn from a fight where his opponent showed resistance.
The first fight of the night was an entertaining heavyweight battle between Steven Torres and Dakota Witkopf. Witkopf took the fight to Torres early and was feeding him a steady diet of left hooks. Torres landed some powerful straight right hands and hard right hooks to Witkopf's generous midsection to make the first round a tough one to score. In round two, Dakota again managed to get inside, but his work rate was much slower when he closed the distance. Torres was patient with establishing distance and caught Witkopf with a long right hand while his opponent was crouching low. The powerful punch put Wittkopf out for good. The time of the stoppage was 1:28 of round two. With the victory, Steven Torres improves to 2-0, 2 KO's, while Dakota Witkopf falls to 1-2, 1 KO.
Check out "Zutes Boxing Talk", which airs every Wednesday live from 7PM to 9PM ET. The show is dedicated to discussing the sweet science straight up with no twists. "Zute" has interviewed boxing legends such as Carlos Palomino, Mike McCallum, Pernell Whitaker, Jeff Fenech, Buddy McGirt, Mark "Too Sharp" Johnson, Marvin Camel and Eddie Mustafa Muhammad. As well as today's stars like Danny Garcia, Sergey Kovalev, Regis Prograis, Teofimo Lopez and Gary Russell, JR.
Contact the Feature Writers