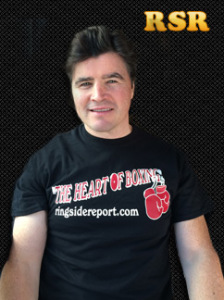 Exclusive Interview by Anthony "Zute" George
When Seamus McDonagh fought Evander Holyfield in 1990, he was center stage in the most grueling sport. He was also misrepresented. The Showtime crew falsely stated that Seamus was born and raised in Ireland. When he indeed was born in Birmingham, England. There, Seamus describes a "beautiful house" that he and his six siblings lived in. During this time, Seamus' dad, Jim, boxed. It was Jim's sparring chronicles that led to his next move. While sparring, father Jim realized that he wanted to raise his family in Ireland, and that is where Seamus ended up at ten years old.
Why did Showtime package Seamus as being born in Ireland? Perhaps it was just lazy journalism. Perhaps they felt it was a better story for the television. Why does it matter? Because these changes in scenery provided young Seamus with a taste of what class warfare looks like. "We went from living very comfortably in England to poverty in Ireland. The economy in Ireland was terrible. There wasn't much work. My dad was a construction worker, and there was not much work in his field. Things were rough," Seamus offered.
Indeed, Ireland was an oppressed country. The McDonagh's were stuck right in the middle of the strife. Trying to figure out how to put a family to bed with full bellies. Which now consisted of eight children including Seamus. With that said, Seamus tells us that father Jim put his trade to use, "My dad built a house about a half-hour from Dublin." As is the case with many boxers, poverty did not deter the desire to pursue pugilism. In fact, being destitute just fed the belly of the beast more, "My dad started a boxing club in our town." For Jim McDonagh, the sweet science was not only a recreational activity. "My dad was obsessed with boxing. Obsessed. His father (Seamus' grandpa) was actually at the long-count fight between Gene Tunney and Jack Dempsey."
The tradition of seeing legendary boxers in the flesh did not stop there for the McDonagh family. When Muhammad Ali fought Alvin "Blue" Lewis in 1972, the McDonagh's had a special treat. "My dad brought my brother and me to see Muhammad Ali training." Put the fiery McDonagh's in the same vicinity as The Greatest, and you are bound to get a get story, "We were sitting in the bleachers watching Muhammad Ali train. Ali sparred with a bunch of guys. He sparred with Joe Bugner. When he was done, he went to the dressing room. Ali came out of the dressing room and saw Al "Blue" Lewis training. Ali proceeded to put on a show. Carrying on, asking why Lewis was training there. Ali then starting throwing chairs around. He was joking, of course. But a chair fell right in front of us. So, my dad, joking around, threw a chair in their (Ali's) direction. The whole place went dead silent. Ali marched all the way over to us, and he and my dad both put their hands up. I was only ten years old, so I was like, 'Oh my God, what is going to happen?' But then my dad and Ali shared a laugh and hugged each other. That was my dad for you" Seamus' early exposure to such tongue in cheek drama probably shaped his niche for the stage.
It was not too long after that Seamus and his brother John were the central students at their father's boxing gym. St. Patrick's Boxing Gym was where the foundation began for what would become a successful run at the New York Golden Gloves in the United States of America, followed by twenty-three professional fights. Where Seamus was on the winning end nineteen times. John was also a very successful amateur boxer. Given the success of St. Patrick's, the accomplishments of the McDonagh brothers should not have come as a major surprise. "We soon became one of the best boxing gyms in the country," Seamus explained. The national titles in Ireland soon followed for Seamus. This success led to a trip to Chicago in the early 80s. Seamus tangled with Tom Scott in Chicago. According to Seamus, they had the best fight of the night.
When a boxer makes that transition in boxing to the United States, there is nowhere to hide. Fighting in America provides pugilists with the ultimate exposure. And although boxing is a worldwide sport, you are often measured by how well you perform in front of Uncle Sam.
It was not that long after Chicago that the entire McDonagh family relocated to Brooklyn, New York. A young man now, Seamus, had to work. He drove a horse and carriage in Manhattan. Seamus' penchant for the drink led him to many scuffles while driving a horse and carriage. The bad behavior bought on by drinking led to severe depression for Seamus. In 1984, his depression came to the point that you never want to see. But Seamus got to that point and tried to end his life with a bottle of pills. Making it through the next day, Seamus realized that he rather be on the right side of the grass and swore off drinking.
Soon after, Seamus pursued a college education at St. John's University. That endeavor led to Seamus deciding that he wanted to give a try at the New York City Golden Gloves. When an individual works towards their sobriety, the best remedy is to try and become a person that your substance abuse would not recognize. Literacy and pugilism are ingredients that would shape such a person for Seamus.
On two occasions, Seamus reached the quarterfinals at the Golden Gloves. He competed in the light heavyweight division. Not being able to get past the quarterfinals did not discourage Seamus. "I thought I won both times." Seamus went on to compete in the heavyweight division and won in the novice competition.
By now, Seamus realized he was going to fight as a professional. An important decision in any amateur's career. Seamus made another decision that some might find as surprising. He turned down a chance to train at Cus D'Amato's famed Catskills Gym. It was an offer than came directly from D'Amato. "At the time, I did not know who Cus D'Amato was at the time. But I knew Floyd Patterson. I met Floyd in Ireland. So, when I heard Cus trained Floyd, I went up to see him. I met Cus. I met Mike (Tyson), and Cus made me an offer to train there." Seamus turned the offer down because of one very tangible attachment, "Cus told me his fighters do not wear heard gear when they spar. I thought, 'I don't like that.' Although I think my life would have been totally different if I went with Cus, I did not want to spar without headgear. I also did not realize how great a trainer Cus was at the time."
Despite not having a world-class trainer in his corner, Seamus moved up the ranks. His victory over Cecil Coffee was a watershed moment, and one of the best fights of 1989. Coffee had an impressive cache at the time and benefited from the world-class tutelage of Murphy Griffith. Seamus then won an impressive ten-round decision over Michael Greer in November of 1989, "I had trouble in that fight. But I got the job done," Seamus said about the Greer fight. Not long after, the heavyweight division was spun on its head in a way it had never experienced before.
And Seamus was at the center of the storm. When Buster Douglas upset Mike Tyson, a major showdown between Tyson and Evander Holyfield turned to dust. As a result, Seamus' phone did not stop ringing. But he explains he was not that eager to oblige the boxing world, "First we got an offer to fight Mike Tyson. I said, 'I am not going to fight Mike Tyson'. Then they came back and wanted me to fight George Foreman, and I said, 'I am not going to fight George Foreman, he is three times my size.' Then they offered me a fight with Evander Holyfield, 'And I said I am not going to fight him. He is number one in the world.'" Luckily for Seamus, the conversation did not stop there, "I was then told if I beat Holyfield, I would have a chance to make twenty-five million dollars. It took me about ten seconds to take the offer."
Seamus faced Holyfield on June 1st, 1990. Holyfield was already out of the ring for seven months and was looking to get the rust off while waiting to secure a title shot against Buster Douglas. Since there was so much money at stake, it was a dangerous move for Team Holyfield to fight Seamus. But at that time in boxing, it was very vital to remain active, and a seven-month layoff was like being off two years in boxing today.
Seamus felt he did not have proper time to prepare for the fight, and was very tense going into the battle, "I was too nervous. I tried to knock him out in the first round. Which is silly. And in the first round, I got knocked down twice. I did better in the second and did great in the third round. I caught Holyfield with a right hand that knocked the lunch out of him. There is an excellent picture of it on the internet. Then in the fourth round, we both threw left hooks, he caught me and knocked me down. My first thought was, 'If I stay down, it will all be over.' But I got up at the count of seven going into eight, and Joe Cortez stops the fight. I could not believe it."
The stoppage is a fascinating study. While Cortez did not give Seamus the mandatory eight count, Seamus did appear out of it when he was attempting to get up. At the same time, Seamus protested the stoppage right away with great vigor. Based on that action, one can assume that Seamus would have been able to sufficiently answer any questions Cortez had for him once he got to his feet. But he did look dazed and confused when trying to rise. Not an easy call.
One thing is certain, Seamus never fought in that type of glamor setting again. He lost his next fight to Jesse Shelby and subsequently retired. "I got head-butted in the second round, and I got the shit beat out of me. I do not even remember the last six rounds." Seamus explains that he was not in the best shape going into the fight with Shelby. Not because he cut corners in training camp, but because he felt he was overtrained. Seamus had several scheduled fights fall apart on him. While this was occurring, Joey Fariello kept demanding sweat and tears in the gym. Seamus tried to plead with Joey that he was being overtrained. The old school Fariello informed his young pupil that the idea of being overtrained was a myth. Seamus conceded, "The guy had multiple world champions, so I figured he knew what he was talking about."
After that ordeal, Seamus retired. "I just said fuck it. I started drinking again. It was a horrible ending. In a way, I was glad I got out at twenty-eight years old."
Seamus is now twenty-four years sober. When he fought Evander Holyfield, he had to prepare for twelve rounds. Today, the most significant number in his life is indeed twelve. Along the way, he has taken on an acting career. As Seamus tells it, it was all by accident, "I ran into an Irish guy called Jimmy Smallhorn on thirty-fourth street in Hell's Kitchen. My car was towed the night before because I parked it illegally. I did not have the fifteen hundred dollars to get it out. This guy Jimmy pulls up to me in his car and shouts my name, they all knew me from the boxing. I did not know this guy, but I heard the Irish accent. He asked me if I was going uptown and offered me a ride. While we are in the car, he tells me he was just cast as the lead in the Bobby Sands play at the Irish Arts Center. I played a small part in Guys and Dolls at St. John's. I ask Jimmy if they were finished with auditions." When the director of the play heard Seamus was interested in a part, they immediately found one for him. "They gave me a part right away. But I actually auditioned, and I was told that it was the best audition they have ever seen."
The 'they' that Seamus was referring to was Nye Heron, who served as the assistant director of several Jim Sheridan films. Seamus acted in several plays in both the Bronx and Manhattan. He played the lead in the play, Kid Shamrock, and hopes to be a part of a production at the end of the Summer. Seamus is dedicated to helping others stay sober. And he insists he is in better shape now than he was ten years ago. That includes his memory.
As far as boxing goes, Seamus is not active in any capacity but still watches the sport, "Lomachenko is brilliant. I am a big fan of Mick Conlan. He is going to be great. I love Manny Pacquiao. I am not up to date as much as I could be. We have our lives."
And that life is one of frustrations and celebrations. A movie about Seamus' career is in discussion. "I gave it a shot. I fought my heart out for my buddies, my friends and my family." Boxing is a hard road to hoe. Seamus eloquently paraphrased the "frustrations of a fighter," "In boxing, the brains you need to keep the money, you lose while making the money."
Indeed, Seamus McDonagh has come a long way from Birmingham, England. Both literally and figuratively. When will he see his life play out on the silver screen?
Stay Tuned…
Check out "Zutes Boxing Talk", which airs every Wednesday live from 7PM to 9PM ET. The show is dedicated to discussing the sweet science straight up with no twists. "Zute" has interviewed boxing legends such as Carlos Palomino, Mike McCallum, Pernell Whitaker, Jeff Fenech, Buddy McGirt, Mark "Too Sharp" Johnson, Marvin Camel and Eddie Mustafa Muhammad. As well as today's stars like Danny Garcia, Sergey Kovalev, Regis Prograis, Teofimo Lopez and Gary Russell, JR.
Follow the link to listen live or catch archived shows
Contact the Feature Writers