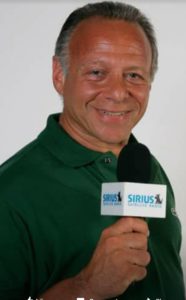 By Randy "The Commish" Gordon
As the second decade of the 2000's came to an end, there were many choices for "Fighter of the Decade." Some chose Floyd "Money" Mayweather. Some chose Canelo Alvarez. Still others chose Manny Pacquiao. All three were terrific choices. In fairness, the names of Vasily Lomachenko, Deontay Wilder and Anthony Joshua should be included into the mix. So should three-division champion Nanoya Inoue, who began the decade as a 16-year-old. No matter who your choice was, a new decade is upon us with a whole new (with the exception of a few) array of fighters. Will one of them go on to have a decade so great that they'll be awarded the "Fighter of the Decade" for the 21st century's version of "The Roaring Twenties?"
THE ELITE
David Benavidez:
As an amateur, Benavidez was 15-0. The reason he had such a few amount of fights is because of his late start. He needed to cut a few pounds…something like 80 of them! Yes, this 250-pounder trained his way down to 168 pounds of fighting machine. Promoted by Sampson Lewkowicz, Benavidez won the WBC Super Middleweight Title on September 28 by stopping Anthony Dirrell in the ninth round. Benavidez, who made his debut in August 2013. is considered by many to be the strongest, hardest-hitting Super Middleweight in the world. Among his 19 knockouts in his 22-0 record are nine stoppages in the first round. The undefeated WBA Super Middleweight Champion is just 25. With his awesome skill set and outgoing personality, he is a good bet to make a run at being the "Fighter of the New Decade." His Hollywood looks will only add to his popularity.
Gervonta Davis:
The former WBA Jr. Lightweight Champion moved up in weight to capture that organization's Lightweight Title in December, with an 11th round stoppage of Yuriorkis Gamboa. The 25-year-old southpaw is blazing fast with power which belies his 5'5½" frame. It doesn't hurt that he fights under the Mayweather Promotions banner. What may be a major deterrent to his career is his penchant for getting into trouble. Most recently, a Philadelphia jeweler has gone after Davis in a lawsuit, saying Davis has stiffed them of a $250,000. The talent is there. Unless he can find a way to harness the many negatives in his personality, he stands as much chance of being the "Fighter of the Upcoming Decade" as he does in becoming the undisputed World
Heavyweight Champion.
Devin Haney:
Born and raised in San Francisco. Currently lives in Las Vegas, Nevada, Devin started boxing at the age of 12. Had a successful amateur career, capturing many local, regional, state and national titles…Decided to turn pro in 2015, at the age of 16. He won the vacant WBC Lightweight Title in September 2019, with a fourth-round stoppage of Zaur Abdullaev. Successfully defended the title two months later with a lopsided decision against Alfredo Santiago. Signed to a promotional contract with Eddie Hearn and Matchroom Boxing.
Naoya Inoue: Nicknamed "The Monster," Inoue is just 26, and already a three-division champion (Lt Flyweight, Super Flyweight and Bantamweight). At 5'5". he has both speed and awesome power. He won the World Boxing Super Series "Muhammad Ali Trophy" in the Bantamweight division with victories over Juan Carlos Payano, Emmanuel Rodriguez and Nonito Donaire. He is trained by his father, Shingo Inoue, and recently signed a promotional contract with Bob Arum's Top Rank, which promises to make Inoue the star he deserves to be in the United States.
Teofimo Lopez:
Born in Brooklyn, N.Y., Lopez is trainer by his father, Teofimo, Sr. He is promoted by Top Rank. Has been boxing since he was a child, picking up many amateur medals, trophies and championships along the way. Turned pro in 2016 at the asge of 19. His progression and development has been rapid. He has two fast hands and carries explosive power in both fists. Had a highlight reel, 44-second knockout of Mason Menard on December 8, 2018 at Madison Square Garden. In his last bout, on December 14, 2018, he won the IBF Lightweight Title from Richard Commey with a devastating second-round stoppage on December 8, 2019. Top Rank is working on putting Lopez in this year in a Superfight against Vasily Lomachenko, who is considered by many to be boxing's #1 PxP fighter.
Emanuel Navarrete:
He is boxing's busiest champion, even telling promoter Bob Arum, "keep lining up my opponents!" Arum loves to hear those words, and has Navarrete lined up to defend his WBO Super Bantamweight Title against Jeo Santasima on February 22. For Navarrete, a native of Mexico City, Mexico, the fight will be his sixth title bout in 14 months. No champion in boxing is close to being that busy. He won the crown by outpointing previously-unbeaten Isaac Dogboe in December 2018, then battering him and knocking him out five months later in their rematch. Since then, he has made three more defenses, winning each inside the fourth round. At 5'7", he is a tall Super Bantamweight and, at 25, he is young enough–and talented enough–to be among the prime candidates for "Fighter of the Upcoming Decade."
Luis Nery:
This brilliant, 25-year-old talent from Mexico just may be "the guy who can beat Naoya Inoue," says his manager, Samson Lewkewicz. However, If he ever does face "The Monster,", it will have to be at a higher weight, because Nery's last bout, scheduled under the Deontay Wilder-Luis Ortiz WBC Heavyweight Title fight, had to be postponed when Nery couldn't make weight. Look for Nery to take his 30-0 record, along with his 24 knockouts, up to the Super Bantamweight Division in 2020. In question is his ability to stay drug free. He has also failed one test. Let's hope it was his one and only failure when it comes to pre-and post-fight testing.
Jaime Munguia:
In May, 2018. the Nevada State Athletic Commission turned down then-21-year-old Jaime Munguia as an opponent for Gennady Golovkin. Munguia should send the NSAC Thank You cards and baskets of fruit and candy at every holiday. When they turned him down, he took a fight as the challenger to WBO Super Welterweight Champion Sadam Ali. Munguia overwhelmed Ali, knocking him down and winning the title by a fourth-round TKO. Since that time. Munguia then made five successful defenses in just 16 months. before vacating the title and moving up to middleweight. In his 160-pound debut on January 11, Munguia TKO'd tough veteran Gary "Spike" O'Sullivan in the 11th round. Just 23, Munguia is already financially comfortable where he can concentrate on training and learning his profession. He is an even six feet tall and has terrific power in both fists. He needs to work on defense and in shortening his punches. The middleweight division has a lot of interesting matchups which can be made. Jaime Munguia is included in many of them.
Shakur Stevenson:
After a brilliant amateur career, capped by sinning a Silver Medal in the Rio Olympics in 2016, Stevenson turned pro in April 2017 after signing a promotional contract with Top Rank. As expected, Stevenson has been moved well by Bob Arum's firm. In his last fight, on October 26, 2019, the 5'8" southpaw won a 12-round unanimous decision against Joet Gonzalez. With the victory came the vacant WBO World Featherweight Title. His next bout is scheduled to take place on March 14 at Madison Square Garden. It will be Stevenson's first title defense. His opponent will be veteran Miguel Marriaga (29-3).
THE SURE SHOTS
Efe Ajagba:
Born in Nigeria, the 6'6", 240lb Ajagba is guided by Hall-of-Famer Shelly Finkel and trained by Ronnie Shields. His 12-0 record includes 10 knockouts, with seven of the bouts ending inside the first round. In his last fight, Ajagba was tested by tough, 26-4-1 Iago Kiladze, who dropped Ajagba in the third round. Ajagba picked himself up and went back to work. His heavy hands put an end to the fight in the fifth round. His next fight is scheduled to take place on March 7 at the Barclays Center, against the ever-popular TBA. If Ajagba continues to improve, the future will be very bright for this 25-year-old. If nothing else, he'll be fun to watch.
Daniel Dubois:
Managed by Martin Bowers and promoted by Frank Warren, Dubois career his 240-pounds on a solid, well-conditioned 6'5" frame. He turned pro in April 2017, after putting together a 69-6 amateur career. Now 22, Team Dubois say they are ready to take on the top names in the heavyweight division. Now 22, he is 14-0 with 13 knockouts. Four of those stoppages have been in the opening round. His last bout was on December 21, when he stopped 21-1 Kyotaro Fujimoto in the second round. He has a command of every punch, with KO power in both fists. He is almost without question, the future of the heavyweight division.
Jaron Ennis:
At 22, Jaron "Boots" Ennis is already 25-0 (23) and among the brightest rising stars in the business. A welterweight, Ennis turned pro in 2016 after an amateur career which saw him win 58 out of 61 fights. Included were gold medals in the 2015 National Golden Gloves and in the 2015 Olympic Trials Qualifiers. Since turning pro, Jaron has been one of boxing's busiest fighters. In his first calendar year as a pro, Ennis fought 10 times. Due to an injury, he only fought twice in 2019. In 2020, he already 1-0, having stopped 14-1 Bakhtiyar Eyubov in the rth round. Ennis is extremely fast, both on his feet and with his punches. To make matters worse for opponents, he can box equally as well as a southpaw as he can as a righthander. He has stopped his last 15 opponents. Ennis has already been calling out the top names in the welterweight division. It will be interesting to see who the first big name will be who steps in against him. Whoever it is, we're certain it will be in 2020.
Ryan Garcia:
Turned pro in November 2017 at the age of 18m after an amateur career which saw him win 215 of 230 bouts. At 5'10", he is taller than most of the world's lightweights. However, at 21, he will probably not remain a lightweight for much longer. Promoted by Golden Boy. Has already won the NABF Jr. Lightweight Title. In his last fight, on November 2, 2019, Garcia stopped 21-1 Romero Duno in the first round. The bout was for both the WBO NABO Lightweight Title as well as for the vacant WBC Silver Lightweight Championship…His next bout is scheduled to take place on February 14. His opponent is scheduled to be 25-2-2 Francisco Fonseca. The bout will be for Garcia's WBC Silver Lightweight Title…Garcia is currently 19-0 (16)…Seven of his stoppages have been in the first round.
Anthony Sims, JR.:
This 24-year-old Super Middleweight from Plainfield, Indiana, is called "The Magician." He is 6'1" and has speed, athleticism, accuracy and power. He can outbox his opponents when he has to and he can punch with the best of them. He is promoted by Eddie Hearn, and was 3-0 in 2019. On January 30, he will face his career-best opponent in Roimer Angulo on a card from Miami, Florida, and to be seen on DAZN. The fight is not only the biggest of each man's career–it could well be among 2020's candidates for "Fight of the Year."
UNKNOWN NOW, BUT NOT FOR LONG
Edgar Berlanga:
The questions are plentiful about this 22-year-old middleweight from the Bronx, N.Y. Can he take a punch? Does he have stamina? Does he have heart. Does he have all the tools? That's because Edgar doesn't give anybody—especially his opponents, a chance to test him. He has had 13 fights. He has won 13 times. He has scored 13 knockouts. Now, get this: Everyone has been in the first-round! 'Nuff said!
Isaac Cruz Gonzalez:
This 22-year-old lightweight out of Mexico City turned pro when he was 17. He lost his only fight—by decision—when he was 18. He stands 5'4½", which is small for a lightweight, but makes up for his lack of size with power and a tremendous pace. He has an 18-1-1 record, which includes 14 knockouts, six inside the opening round. His next bout is scheduled to take place on February 14 in Philadelphia, PA, when he takes on 15-1-1 localite Thomas Mattice.
Eduardo Hernandez:
Out of Mexico City comes a baby-faced slugger named Nino "Artillero Baby" Artillery. He's also called "Rocky." That's because this 22-year-old, 5'6½" powerhouse goes all out–to screaming crowds–in an effort to end each and every fight. So far, in his 29-1 record, he has stopped 26 opponents. Shockingly, he was stopped two fights ago–in July 2019–by 23-3-1 Roger Gutierrez on a Golden Boy Promotions card in just 1:28 of the first round. He returned to his winning ways four months later with another power-packed stoppage victory. He has been asking Golden Boy to get him a rematch against Gutierrez in 2020.
Gustavo Daniel Lemos:
He's just 23, and this lightweight from Buenos Aires has been picking up titles for years. In 2018 he won the vacant IBF Latino Super Lightweight Title and made several successful defenses. In 2019, he won the vacant WBC Latino Silver Welterweight–Yes, Welterweight Title. Then came the IBF Latino Lightweight Crown. Last year, he won the IBF Youth Lightweight Title and followed with a successful defense exactly three months later. He takes a 24-0 (14) record into 2020 and a world full of promise.
Musashi Mori:
This gifted, baby-faced featherweight from Nagoya, Japan, is just 20, and already a 12-round fighter. A southpaw, he made his pro debut when he was 16. He is coming off a unanimous 12-round decision victory over Takuya Mizuno for the WBO Asia Pacific Featherweight Title. The victory upped his record to 11-0 (6).
Junto Nakatani:
From Kanagawa, Japan, Junto is just 22, and already the holder of the Japanese Flyweight Title. At 5'7", he is extremely tall for the division. He can box and he can punch, as attested by the 15 knockouts in his 22-0 record. All three of his bouts in 2019 ended in dramatic knockouts. He is a legitimate talent who can be seen winning titles at Flyweight, Super Flyweight and Bantamweight.
Jeremias Nicolas Ponce:
Out of Buenos Aires, Argentina, comes this fast, tough, gifted Super Lightweight. He turned pro at 18, and within a year was 6-0. He was 3-0 in 2019, winning first the South American Super Lightweight Title, then the vacant WBO World Super Lightweight Title with a Majority Decision over Rico Mueller, who came in with a record of 25-2-1. He's just 23, and already a 25-0 (16) world champion. He promises to be a busy champion in 2020.
Jose Matias Romero:
He's 23 and the holder of the WBC Latino Super Featherweight Title. Romero has won all 22 of his bouts, seven by way of knockout. Known primarily as a boxer, he has won his last eight bouts by decision. From Cordoba, Argentina, he is managed by one of boxing's most-respected businessmen, Sampson Lewkowicz.
Archie Sharp:
This 24-year-old out on London, England, is, at 5'9½", extremely tall for a 130-pounder. He made his pro debut in 2015 at the age of 20. Since then, he has racked up 18 consecutive wins, half of them by knockout. Already a 10-round fighter, he has the skills to box with the best and the power to go with it. His boyish looks and charisma are added checkmarks next to his rising star resume.
Anthony Sims, Jr.:
This 24-year-old from Plainfield, Indiana, has lots of raw talent. An amateur standout, he turned pro in 2014 at the age of 19, under the guidance of James Doolin. At 6'1", he has the height and reach to deal with the world's top Super Middleweights. His record is 20-0 (18), but the jury is out on Sims. Although he shows tremendous promise, 13 of his 20 victories have come against opponents whose records are either .500 or on the losing side. Promoted by Eddie Hearn, Sims has his first big test coming up on January 30 in Miami, when he faces heavy-handed Roamer Alexis Angulo of Colombia, who'll be taking a 25-1 (22) record into the fight, which will be seen on DAZN.
Irving Turrubiartes:
How many fighters are named Irving? Not many! He's from Monterrey, Mexico, and fights as a featherweight. Signed with Zanfer Promotions, he is 20 years old and a huge ticket seller. He's had 22 fights and won them all. Thirteen have ended inside the distance. His promoter k has said he'll try to keep Irv busy in 2020, then make a move with him against world-class opposition in 2021, at the ripe age of 21.
William Zepeda:
Zepeda, from San Mateo Atenco, Mexico, is an unbeaten lightweight powerhouse, who has knocked out all but two of his 20 victims. At 5'9", he is taller than most other 135-pounders, but is nicknamed "Camaron", or "Shrimp," which he was called by his schoolmates growing up, because he was so small. A southpaw, both his right hook and left cross have one-punch, fight ending power. He enjoys staying busy. Over the last three calendar years, he has fought 12 times. His busiest year was in 2016. when he was 7-0.
THEY'VE GOT NAMES…AND SKILL
Evan Holyfield:
With former lightweight contender Maurice "Termite" Watkins as his trainer, Tim Hallmark as his strength and conditioning coach and Hall-of-Famer Evander Holyfield as his dad, it's hard to envision Evan becoming anything but a star. At 22, he made his debut as a Jr. Middleweight on November 2, 2019, with a 16-second knockout victory. He followed that three weeks later with a third-round stoppage. He is scheduled for his third bout on a Christy Martin-promoted card on February 8. When asked about his son's choice of a career, Papa Evander smiled and said, "He can do what he wants to do." He smiled and added, "Let me tell you something—Evan is a helluva fighter!" If he's anything like his dad, he'll go far.
Tim Tszyu:
Tim was born and raised in Australia. The son of former two-division champ Kostya Tszyu, Tim looks strikingly similar to his Hall-of-Fame dad. At 25, he has been boxing and training in boxing "Since I can remember." He turned pro in 2016. winning a shutout six-round decision. Tim, like his dad, is a right hander. He has scored 11 knockouts in his 15-0 record. His opposition has gotten steadily better. In August of last year, he captured a one-sided decision against 21-1 Dwight Ritchie for the IBF Australasian Super Welterweight Title, then successfully retained it with a fourth-round TKO of 16-2- Jack Brubaker four months later.
IN BOXING DIAPERS & LOADED—WITH TALENT
Gabriel Flores:
This 19-year-old lightweight out of Stockton, California, has been boxing since he was around nine years old. Born in 2000, he was not yet 14 when he won the U.S. Silver Gloves Championships at 119 pounds. The following year, competing against boys a year or two older, he won a silver medal at the World Junior Championships. The following year, he took first place in the U.S. Nationals in the Junior Division at 139 pounds. In 2017, shortly after his 17th birthday, he turned pro with a second-round knockout. In his last bout, in November, he won every round of his eight-round bout against a 19-4 opponent. This young lightweight only wants to face quality opposition. Much to his credit, Flores, in building his 16-0 record, has faced only one opponent who has had a losing record.
Vito Mielnicki:
A native of Roseland, New Jersey, Vito was born in 2002. He turned pro in July 2019, shortly after his 17th birthday. Since then, he has fought every other month, racking up victories in September, November and in January. On that January card, at the Liacouris Center in Philadelphia, he won a unanimous four-round decision which upped his record to 4-0 (3). At 5'10," he is a boxer/puncher with fluidity in both his punches and his movement. This charismatic young man looks to be a future star. His all-out, fan-pleasing style caught the eye of Golden Boy Promotions, and he quickly became a part of their growing stable of talent. At press time, Morales was scheduled to face 16-9 Giovanni Delgado on a Golden Boy-promoted card.
Greg Morales:
Greg is a 19-year-old action-packed Super Bantamweight from Zaragoza, Mexico, whose 5-0 record after 2018 became 10-0 (6) after five impressive victories in 2019.
Xander Zayas:
Last Summer, this high school student and boxing phenom out of Puerto Rico became, at 16, the youngest fighter ever signed by promotional powerhouse Top Rank. He has swiftly picked up three victories, including two knockouts, since that time, with his last victory coming on January 11, a shutout four-round decision. He now lives in Florida, where he does his gym work very early in the morning, then heads off for his schoolwork. At 5'10" he is still growing. He won't be a welterweight for very long. He has "superstar" written all over him.
Randy "The Commish" Gordon is the Author of the hit book, "Glove Affair". Order your copy by clicking HERE.
Contact the Feature Writers