Loading ...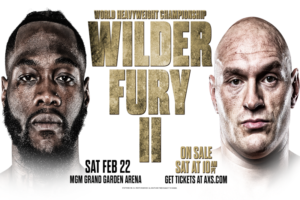 By Vinny "Glory Days" Lucci
They say, where goes the heavyweight division, so goes boxing. The line was meant to immortalize the legendary kings and the eras they paved into the history books. The last few years the division has been a highly entertaining conundrum of Barnum and Bailey fueled by the madness of the very presence of Tyson Fury and the short-lived unappetizing reign of Andy Ruiz, JR. With Anthony Joshua's suspect chin now fully exposed the world waits on baited breath for one single champion to emerge from the catharsis of everything that's wrong with the sport and once again validate the notion that a single dominant heavyweight champion should be a leader among men.
The Event:
On February 22 the MGM Grand Arena in Paradise, Nevada will host the eleventh title defense of WBC heavyweight champion Deontay Wilder taking on Tyson Fury in a sequel of their SD on December 1, 2018. The event to be promoted by Al Haymon, Bob Arum and Frank Warren of Premiere Boxing Champions, Top Rank and Queensberry Promotions respectively with live coverage on FOX and ESPN+ PPV.
The Stats:
The WBC champion stands an imposing 6'7" with a muscular basketball players physique which possesses an 83" wingspan. Fighting from orthodox stance the Tuscaloosa Alabama native boasts a 42-0-1, 41 KO's ledger and ignites stadiums with his tenacious war cry of "Bomb Squad" as he has left 41 boxers counted out in his wake. His "one/two" combo is the most destructive weapon within the confines of the canvas warzone.
The challenger from Manchester England is the Primo Carnera of this era standing 6'9" with an 85" reach who fights out of orthodox stance. His resume of 29-0-1, 20 KO's is quite deceiving after earning accolades for humiliating a washed-up version of Wladimir Klitschko back in 2015. Fury shortly afterwards surrendered the WBA (super), IBF and WBO belts along with recognition from Ring Magazine as lineal champion. Besides his draw with Wilder one year ago his level of opposition has been suspect at best.
Last Fight:
Deontay defended his title for the 10th time at the MGM Grand Garden Arena this past November in a rematch with highly respected top contender Luis Ortiz knocking his old nemesis out with a single blow in the seventh round. The thrilling stoppage was a home run after it appeared Ortiz was pitching a shutout on scorecards for first six rounds. Post-fight press conference Wilder mused to reporters, "They all have to be perfect for 12 full rounds. I only need to be perfect for one second!" Having produced the knockout of year months before leaving Dominic Breazeale for dead in the first round the media did not challenge the validity of boast.
This past September Fury took on one Otto Wallin at the T-Mobile Arena in Paradise Nevada winning a hard-fought UD over 12 rounds. Fury suffered two horrible gashes of his right eye which left referee Tony Weeks looking like a butcher in a slaughterhouse. To his credit Tyson didn't grab and hold his way to the final bell instead electing to dig body shots draining his foes energy and taking the second half of grueling bout which set up the WBC mandated rematch. While Fury may have proved something to his critics and himself fighting through adversity one can't lose sight of the fact that his Swedish opponent was hand picked from a list of boxers nobody ever heard of.
Styles:
The champion is a flat footed come forward stalker who possesses a telephone jab and lighting bolt of a straight right hand. As far as superior technique goes, I could stop right here as he recently has under used that once fearsome jab turning it into a pawing range finder. When utilized correctly the jab is a rapier weapon as he sets to unleash one single well timed BMX missile. His combination punching once he has a man stunned is amateurish where he often leaves himself squared up in pocket and terribly off balance. Wilder has broken his hands several times for landing power punches that he never turned over and has sustained bicep tears for equally bad delivery. The thing to never lose sight of his indomitable champion's heart as well as his ability to expose his opponent's flaws, tweak his arsenal and produce the knockout.
There is a lot to be said of the challenger and his lack of looking like a professional prize fighter instead of his self-effacing illogical antics of playing peek a boo and sticking his tongue out like a bratty child tormenting a younger sibling. If not for his God given attribute of behemoth proportions where he has been able to bully his opposition, he would have had to work 10 x's harder developing a skillset. That being said, his sternest critics like myself must admit the man does possess a unique sense of radar where he shucks and jives his way through bouts making his foes miss and uses his reach to keep them honest outside the pocket.
What to look for fight night:
Even the staunchest Wilder supporters must admit he absolutely needed those two knockdowns which produced a draw as his inability to find Fury's chin frustrated him all night. His last outing, he again allowed himself to fall behind on score cards but was patiently boxing at a calibrated speed beguiling his adversary into a false sense of security before turning out his lights.
Deontay has told the media he will box in same manner and not expend useless energy as he learns from first encounters and believes Fury simply cannot improve on that outing.
Tyson has declared a declaration of a two round knockout which would mean if we are to take him seriously at face value, he is going to engage the front gate at first bell and go to war. Should this occur it could be strategic suicide sending fans home early.
Vinny Factor:
Let's start off with a reality check, and that Tyson Fury does not own any version of linear title as he once was diagnosed with manic depression and bipolar disorder after winning titles and exiled himself from the gym. Cocaine abuse lead to admitted thoughts of suicide after PED'S were discovered in blood tests. Under the pressure from alphabets to surrender the belts or be stripped Fury opted to vacate. Whether lineal or alphabet no one would promote such a train wreck and call him champion. Fury then ballooned to a staggering 400 pounds before reclaiming his life on a single focused mission of reclaiming the title.
He almost got away it, twice coming off the floor to secure a draw which only led to more controversy. Fury fans believe he was robbed having won all but the two rounds he was dropped. Judges saw it otherwise. First time around Fury was not just fighting for a title but literally fighting for his life outside the ring. With contracts signed and already in reasonable shape Tyson is less animated than the spectacle he used to enjoy making of himself. Quite frankly he never deserved his shot against Klitschko and admittedly bullshitted his way to victory. Knowing quite well his last two fights were hand picked tune ups while his adversary destroyed worthy opposition has got to be weighing deeply on his mind.
Which brings us to February 22 and past perceived flaws and into the lion's den with improvements. Deontay has shortened his stance for better balance his last two outings while show casing an innate capability to expose flaws and produce significant knockouts early or late.
In the first encounter Wilder weighed in extremely light for such a tall muscle-bound athlete at 212 pounds. As the fight wore on, he had less than zero to sweat off as rounds progressed and won't repeat that mistake. Wilder spotted Fury 44 pounds of leverage and should enter ring at least 8 pounds heavier.
Final statements on first encounter. For every casual fan who believes the Gypsy King was robbed that night the hard-core kingdom of fans believe that referee Jack Reiss acted egregiously in allowing Fury to recover and clear his head when he should have been counted out at "ten." Fury out landed Wilder by only 13 punches through out the 12 rounds.
Most recently the horrific gash Fury sustained on eyebrow from an overhand right in his September bout with Wallin will be a target for Wilder at opening bell. The assembled media who covered bout ringside thought it should have been stopped on a TKO.
Fight significance:
A+ simply because of the potential clarification of heavyweight division's hierarchy when the smoke clears. This is also a bona fide cross over event where even football fans will gather up at any friend's pad that will order the event.
Odds:
Vegas installed the rare distinction of opening this bout at even money, both fighters at -110. So, for all the fans who talk the talk, the odds make pleasing overtures to rally support around your selection.
RSR Prediction:
Wilder by stoppage.
Aftermath:
A triumphant Deontay will have only one single bullet casing left with a custom engraved name on it, "Anthony Joshua." Gentlemen, now's the time.
Contact the Feature Writers