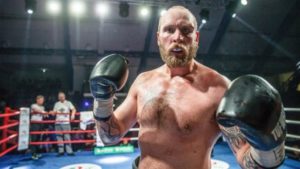 By Anthony "Zute" George
When you think of Robert Helenius, what do you think about? Big heavyweight? Poor chin? Viking? How about myth buster? Indeed, The Nordic Nightmare has helped squelched the myth that one loss in boxing is a death sentence. Robert has lost plenty of times in a prominent fight. Despite this hindrance, he finds himself in a big spot once again as he faces Adam Kownacki on March 7th at The Barclays Center in Brooklyn, New York.
When Helenius was moving up the ranks, he was making noise. Chatter all over social media surfaced about this nearly six-foot-seven heavyweight with a seventy-nine-inch reach. The mere fact that they were talking was impressive because Helenius was not fighting regularly on American television. But boxing fans know how to find fighters overseas if they feel they are worth their time. The peculiar thing about Helenius is that a lot of the conversations about Helenius was negative. Why in the world would American boxing fans seek out a fighter they felt was inept? Now that I think about, that is commonplace among the Old Man Police of boxing.
With that said, the bad press about Helenius did not seem to be off base, and when he was stopped by Johan Duhaupas in 2016, the "I Told You So's" came in droves. Why in the world would so many people brag about calling the same sentiment? I do not know either. What I did know was that was the last time we would see Helenius in a significant fight. Wrong. Robert strung together three wins against below-average competition. This string of mediocrity earned him a fight against Dillian Whyte in a critical spot. Helenius managed to go the full twelve round distance against Whyte, he only managed to win a couple of rounds. He did manage to wobble Whyte during the fight. But not many people expected Helenius to parlay this fight into much in terms of big money fights.
When Helenius was then stopped by Gerald Washington in 2019, the boxing world felt it would be a long time before Helenius would be fighting in the main event on network television. That is precisely where we will see Helenius on March 7th against Kownacki.
Now, there has been plenty of negative press attached to this fight. It is perfectly understandable. But Helenius is a big heavyweight with some ability. At the very least, he will be looking at this as an opportunity of a lifetime. An upset win against Adam Kownacki will put him in the catsbird seat. And it would be a major upset. Is that not what boxing is all about?
Also, Adam Kownacki is an elusive target, said no one ever. Adam can be hit. He was hit plenty in his last fight against Chris Arreola, and such a dynamic could make for troubles against any big heavyweight. Of course, Adam appears to have a great chin, and Robert's chin is highly suspect. But the fact remains that Helenius could be a very motivated, dangerous opponent for a guy who has a porous defense.
Will The Nordic Nightmare take advantage of this golden opportunity?
Stay Tuned…
Check out "Zutes Boxing Talk", which airs every Wednesday live from 7PM to 9PM ET. The show is dedicated to discussing the sweet science straight up with no twists. "Zute" has interviewed boxing legends such as Carlos Palomino, Mike McCallum, Pernell Whitaker, Jeff Fenech, Buddy McGirt, Mark "Too Sharp" Johnson, Marvin Camel and Eddie Mustafa Muhammad. As well as today's stars like Danny Garcia, Sergey Kovalev, Regis Prograis, Teofimo Lopez and Gary Russell, JR.
Follow the link to listen live or catch archived shows
Contact the Feature Writers