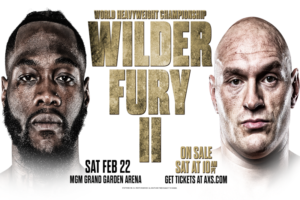 By Randy "The Commish" Gordon
This Saturday night in Las Vegas, Deontay "The Bronze Bomber" Wilder and Tyson "The Gypsy King" Fury will do something no two boxers have ever done. They will face each other for the second time in a heavyweight title fight as undefeated fighters.
On December 1, 2018, they took their undefeated, unblemished records into the Staples Center ring in Los Angeles, California, squaring off for Wilder's WBC belt and Fury's lineal title. When they walked out of the ring a little over an hour later, each still had his undefeated record and each was still in possession of his particular title. Two of the judges didn't agree on who won—or lost—while a third judge ruled the fight even. Like it or not, agree or disagree, all we each have is an opinion and an unofficial scorecard. The three men who had the official scorecards—Alejandro Rochin, Robert Tapper and Phil Edwards—scored the fight a draw.
Your voice of discontent, disappointment and outrage was heard, and both fighters headed into negotiations for an immediate rematch.
During negotiations, something happened to Fury. Something good. Something better than good: He and his promoter, the excellent and knowledgeable Frank Warren, signed a co-promotional deal with Hall-of-Fame promoter Bob Arum and his megaton promotional company, Top Rank.
It didn't take long for Top Rank to hold up its powerful promotional arms and say to Fury, "Slow down, Tyson! Slow down!" A rematch against Wilder, which was discussed as happening in the first half of 2019, had the brakes slammed on.
"Fury is going to do this the right way," Arum told me and Gerry Cooney on our SiriusXM show, "At the Fights" right after becoming Fury's co-promoter.
"Fury needs more time in the gym and a few more fights," Arum said. "He needs some sharpening up. We will help him sharpen up."
So, instead of heading right back into a rematch against Wilder, Fury headed in another direction—back to the gym for some intensive work. When it was announced that Fury would fight at least once—maybe twice—before facing Wilder in a rematch, That gave Wilder no choice but to take a stay-busy fight.
His opponent was Dominic Breazeale, a once-beaten former college quarterback who stood 6'7" and who didn't attempt to hide his dislike dislike for Team Wilder. The two had nearly come to blows a year earlier, and it was something Breazeale could not let go of.
The lone loss Breazeale had on his 20-1 record came on a seventh-round stoppage to Anthony Joshua in June 2016. Wilder put Breazeale to sleep in the first round with a single shot from his "Weapon of Mass Destruction"–his right cross.
Fury went back to work on June 15, 2019. His opponent was Tom Schwarz, a 6'5½" German who brought a 24-0 record into the fight, along with 16 knockouts. Fury walked through him, stopping Schwarz in round two.
Shortly after the fight, Top Rank announced Fury would be back in the ring again in three months, taking on another unbeaten European. This time, his name was Otto Wallin.
From Sweden, Wallin's credentials were impressive: He stood just under 6'6" and weighed 236 pounds. His 20-0 record carried 13 knockouts. Unlike Schwarz, who appeared to be intimidated by Fury, Wallin was genuinely excited about the chance to face Fury. The big Swede showed no sign of being intimidated or nervous about the opportunity he had of facing Fury.
A few weeks before the fight, Wallin sat in our SiriusXM studio and told me and Cooney, "I am going to Las Vegas to face Tyson Fury, and intend to make the best of this opportunity."
When I asked him if he had seen Fury's fight against Schwarz three months earlier, he read between the lines. He knew the lack of confidence Schwarz had. He knew the final result. My asking if he had seen the fight was a nice way of asking, "Will you be another Tom Schwarz? Will you be overwhelmed and stopped early?"
Wallin just smiled and said, "I am stepping into the ring against Tyson Fury not just to fight him and not just for a paycheck. I am stepping in the ring against him to beat him. I intend to make Fury work. In order to beat me, Tyson Fury is going to have to fight harder than he has ever had to fight before."
"Harder than against Deontay Wilder back in December" I asked.
"Harder than that!" Walling replied.
The words sounded real. However, we've heard them countless times before from so many fighters, that you never know what's real and what is trash talk, bluster and hype.
Wallin wasn't pulling punches with me and Cooney, nor did he pull any punches against Fury. From the opening bell, he let Fury know this wasn't Tom Schwarz he was fighting.
In the third round, a slashing left hook by Wallin tore open a cut above Fury's right eyebrow. The cut looked so bad that spectators—including the television announcers—were believed the cut had come from a headbutt. A replay showed that belief to be wrong.
Through the remainder of the fight, Wallin went after Fury, cutting him again, this time on the right eyelid. The "Gypsy King" showed the grit he displayed in his December 1 meeting against Wilder, when he arose from two knockdowns, especially the one in the 12th round, when, for all intent and purposes, he was flat-on-his-back unconscious from a right cross-left hook combination by Wilder, but somehow, someway, not only made it back to his feet, but even had a terrific last half of the round
.
While Fury won a unanimous decision against Wallin, plans for a November or December showdown against Wilder had to be scrapped. Instead of meeting Wilder, Fury met with a plastic surgeon, who repaired his facial cuts.
While Fury did step into the ring a little over one month after the Wallin fight, it wasn't to box. It was to perform. In the WWE, to be exact. On October 31, against the advice of Frank Warren, his father and his trainer, Fury faced big Braun Strowman in a WWE event entitled, Crown Jewel, which took place in Saudi Arabia. It was an event he was paid a reported $12 million to take part in. All on Team Fury—with the exception of Tyson himself—were worried about the repaired cuts reopening. In reality, there was no need to worry. In a well-scripted event, Fury won via countout against Strowman.
Wilder, meanwhile, stayed active. Following Fury's mid-September victory over Wallin, and with no hope of facing Fury in 2019, Wilder signed to face Luis Ortiz on November 23rd. For Wilder and Ortiz, this would be a rematch of their encounter on March 3, 2018. In that one, Wilder, battling a cold and virus, came into the fight an unusually light 215 pounds. Hurt on several occasions in the fight, Wilder reached down to stop Ortiz in the 10th round.
On November 23rd, it was a different Wilder—and a different fight than the first one. In the rematch, Wilder didn't allow Ortiz to get close and refused to engage in slugfests with the much-avoided Cuban. Wilder's plan was to set Ortiz—a southpaw—up for a right hand.
Wilder's patience paid off. With less than 10 seconds remaining, Wilder threw a left-right. The left momentarily distracted Ortiz, then the right—Wilder's "Weapon of Mass Destruction"–crashed into Ortiz' face. He crashed onto his back against the ropes, where he struggled to get up. He failed to beat the count of referee Kenny Bayless.
At the post-fight press conference, Wilder announced his next fight would be—like the Ortiz fight—a rematch. His opponent: Tyson Fury.
At the press conference, a reporter asked Wilder if he planned on taking off the rest of the year to celebrate all the upcoming holidays.
"I will be taking off very little time," said the WBC Heavyweight Champion. I have a big fight coming up in February, and I want to get right back into the gym. Right after New Year's Day, I intend to go into full training camp."
Throughout January, the boxing world got a different sound from Fury. He said he'd train hard for the rematch, but do so without sparring, so as not to risk the cuts reopening. Fury also raised eyebrows by saying he intended to come in at well over 270 pounds, all of it added muscle. For his first fight against Wilder, and for his succeeding fights against Schwarz and Wallin, he weighed 256, 263 and 254 pounds, respectively.
Appearing on our SiriusXM show this past Monday, Bob Arum downplayed Fury's talk of coming into the fight over 270 pounds and of not doing any sparring. When asked if Fury is to be believed with those remarks, Arum simply asked, "What do you think?"
Is it Fury playing mind games?
When Arum said he went to the gym last week to watch Fury train, he was asked, "Did you see him spar?"
In Bob Arum fashion he answered, "What do you think I went to the gym for?"
So, as this column was written just hours before the weigh-in, we are all curious what the weights will be for both fighters.
For his first bout against Fury, Wilder weighed 213 pounds. Against Breazeale he weighed 223. In his last one—against Ortiz—he weighed 220. Expect Wilder to weigh somewhere in the neighborhood of 220 for the rematch against Fury.
Until the weigh-in, Fury's weight is a guess. The fighter himself says he'll be "considerably over 270." Arum says something different. We'll go with Arum and say Fury will weigh close—maybe a bit more—to what he weighed in the first meeting between the two (256). Anything more will be a surprise. Anything over will be a shock.
Also, two weeks ago, Manouk Akopyan, the boxing writer for the Los Angeles Times, was a guest with me & Cooney on our show. Akopyan told us that, earlier in the week, he had a scheduled interview with Fury at his home ion Las Vegas. He told us when he got there, he was told that Fury was out in the backyard, sitting in a jacuzzi. When Akopyan approached Fury, the fighter said the interview was off because he was feeling depressed.
Akopyan stayed and talked about other things with Fury, but didn't get the interview he had hoped for.
Fury has battled depression before, especially in the months after beating Wladimir Klitschko for the titles he held in 2015.
Was Fury really in a funk? Was he really depressed? As Bob Arum asked, "What do you think?"
On top of it all, Fury has been saying he is going for a quick knockout. In his 29-0-1, 20 KO's record, he has 20 knockouts. Nine of them have come inside third round. However, four of those came in his first five bouts against weak opposition. He struggled in his last fight against Otto Wallin, and even gave all he had to stop the Swede, but couldn't. Can you picture Fury stopping Wilder early? It's a difficult vision.
Wilder, on the other hand, has stopped 30 of his victims inside the first three rounds, Twenty have exited before the end of the first round! You only have to go back nine months—to the Breazeale fight—for Wilder's last first-round stoppage.
While both have their strengths and weaknesses, the most glaring for either man is Wilder's right hand—his "Weapon of Mass Destruction." It is already being called by many the hardest right hand in boxing history. Harder than the one thrown by Earnie Shavers? Or by George Foreman? Or by Mike Tyson? It just may be.
Wilder's other strengths are his terrific stamina, conditioning, determination and athleticism. His weakness is his propensity for amateurishly winging his punches from another zip code when he is trying to finish an opponent. Yet, because of the tremendous hand speed he has, he has been able to get away with his amateurish moves throughout his 12-year pro career.
Fury's strengths are his size (almost 6'9"), reach, ability to switch from right-hander to southpaw as well as anybody, and, like Wilder, an enormous will-to-win.
We have to believe his predicting an early-round knockout of Wilder is just Fury promoting the fight. He is a smart boxer with every tool except crushing power. It would be plain lunacy for him to go right out after Wilder, looking to knockout him out. Opponents have talked about trading with Wilder. The ones who tried (like Artur Szpilka, Bermane Stiverne and Dominic Breazeale, to name a few), all wound up on their back.
In order for Fury to win, he's got to turn the fight into a game of "Tag." If he keeps Wilder "it" more than Wilder keeps him "it," Fury can win.
In order for Wilder to win, he must put his hands on Fury soon and often. The belief from the Wilder camp is that the scar tissue above Fury's right eye is still healing. If Wilder can show a new and improved jab, something we've all been waiting a long time for, there may be early blood.
Wilder can afford to make mistakes, get caught, but lose only the round. Fury cannot afford the same luxury. A mistake against Wilder doesn't lose just the round for you. It loses you the fight.
Can Fury play a game of "Tag?" Can Wilder force Fury into frequent exchanges?
You've heard it said that in order to win, you must make your opponent fight your fight. With two tall, extremely athletic and quick heavyweights—one with explosive power—this is so true.
We are hours away from what is truly one of the biggest heavyweight title fights in decades. Will it live up to the hype? Will it be a more enthralling, more exciting fight than their first meeting, a bad-tasting draw?
I think it will be. That's why you're reading this. That's why you will be watching. That's why I am in Las Vegas.
There's NOTHING like a good heavyweight title fight.
Wilder-Fury may be more than good. It may be great!
Wilder by a late-rounds stoppage!
Randy "The Commish" Gordon is the Author of the hit book, "Glove Affair". Order your copy by clicking HERE.
Contact the Feature Writers