[AdSense-A]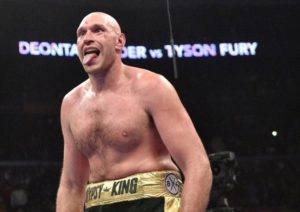 By Anthony "Zute" George
In a much-anticipated heavyweight clash. Tyson Fury went right after Deontay Wilder and battered the champion en route to a TKO victory at 1:39 of the seventh round. Wilder's corner requested that the fight be stopped. Fury made good on his promise to take the fight to Wilder and it paid dividends. A questionable shot to the side of Wilder's head dropped him in the third round. Wilder's eardrum appeared to be busted, and he had no legs throughout the rest of the fight. Wilder went down from a body shot in round five, but that knockdown was more a result of Wilder having no legs, as opposed to the force of the blow. Blood was oozing out of Wilder's right ear, and he was never able to get his balance back. Tyson Fury lost a point for leaning on Wilder throughout the fight.
Head trainer Mark Breland threw in the towel when Fury was landing punches on Wilder in the corner during the seventh round. Wilder was not happy with the stoppage, as he said he would have liked to have gone out on his shield. Fury is now 30-1-1, 21 KO's, while Wilder falls to 42-1-1, 41 KO's. Tyson Fury is now the WBC heavyweight champion.
Charles Martin, 28-2-1, 25 KO's, won the IBF heavyweight eliminator against Gerald Washington, 20-4-1, 13 KO's, with a knockout at 1:57 of the sixth round. The bout had some exciting moments, especially a thrilling exchange at the end of the first round. But the bout was also dull in spots. Martin ended it with a straight left hand from the southpaw stance. Anthony Joshua is the IBF champion, and he already has a stoppage win over Charles Martin. Joshua stopped him in two rounds back in 2016.
Emmanuel Navarrette, 31-1, 27 KO's, once again provided the fans with a solid action fight, as he successfully defended his WBO super bantamweight title against the rugged Jeo Santisima, 19-3, 16 KO's, with an eleventh round TKO. The official time was 2:20 of the round. Santisima had some good moments with power shots throughout the fight, but Navarrette showed he could also be a ring technician, as he made the proper adjustments against his aggressive foe, and he mixed up his punches nicely. Navarrette appeared to have an injured right hand at the end of the fight. Emmanuel is an active champion, therefore it would not be good for the fans if he has to miss significant time with the injury.
The gigantic Sebastian Fundora won a methodical ten-round unanimous decision over Damien Lewis. Scorecards read 99-91, 98-92, and 97-93. This super welterweight contest opened the pay per view telecast and provided a great opportunity for viewers to take care of other business. As it was just not an exciting fight. Fundora is an imposing figure, and the Olympian Lewis was game, but the fight just did not produce the kind of fireworks everyone was hoping for. Fundora improves to 14-01, 9 KO's, while Lewis falls to 6-1, 4 KO's.
Contact the Feature Writers