Last Living Film Star of the Silent Era of Hollywood Peggy Jean Montgomery Is Dead at 101 – Breaking Entertainment News
[AdSense-A]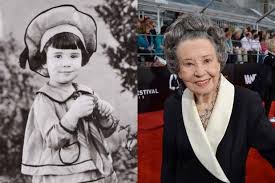 By Geoffrey Huchel
Child star Peggy-Jean Montgomery died at the age of 101 on February 24, 2020, at her home in Gustine, California. At the time of her death she was the last living film star of the Silent Era of Hollywood.
Peggy-Lee was discovered at the age of 19 months when she visited Century Studios on Sunset Boulevard in Hollywood with her mother. Director Fred Fishback noticed Peggy's well-behaved demeanor and willingness to follow directions, prompting him to cast the youngster in a series of short films with canine star Brownie the Wonder Dog.
Her first film, PLAYMATES (1921), was a success and led her to be signed to a long-term contract with Century. While under contract at Century, little Peggy-Lee made 150 short comedy films including ON WITH THE SHOW (1921), PLAYMATES (1921), SEA SHAPE SHORES (1921), THE LITTLE RASCAL (1922), LITTLE RED RIDING HOOD (1922), SWEETIE (1923), and LITTLE MISS HOLLYWOOD (1923). In 1923 Peggy-Lee began working for Universal Studios, appearing in full-length dramatic films. Those features included CAPTAIN JANUARY (1924), APRIL FOOL (1926), PRISONERS OF THE STORM (1926), EIGHT GIRLS IN A BOAT (1934), TRUE CONFESSION (1937), and HAVING A WONDERFUL TIME (1938). From 1925-1929, Peggy had successful career as a vaudeville performer.
In her later years, Peggy-Lee adopted the name Diana Serra Carey when she found a second career as an author and silent film historian. She wrote several books including her historical novel, The Drowning of the Moon and her autobiography, "What Ever Happened to Baby Peggy: The Autobiography of Hollywood's Pioneer Child Star".
[si-contact-form form='2′]