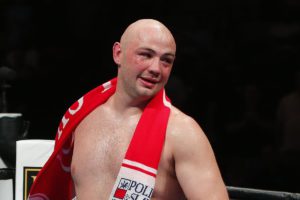 By Anthony "Zute" George
In boxing, the heavyweight division is a hot topic. Some might even say it is convoluted. Tyson Fury is the current top dog, that much is clear. But so much else is up for grabs. Such as who The Gypsy King will fight next.
Whoever gets that call, what does that mean for the rest of the heavyweight crop? Adam Kownacki is from that heavyweight crop, and he is in action this Saturday. He fights Robert Helenius this Saturday at the Barclays Center in Brooklyn, New York.
It is an important fight for 'Babyface' for a couple of reasons. First, if he performs well, he is looking at a big payday in his next fight. This fight is being billed as a WBA eliminator. Anthony Joshua is the WBA champion. If Adam struggles, however, he may not get that chance, even if he wins. Joshua has more than one belt, and Charles Martin just knocked out Gerald Washington in an IBF eliminator. So, there is indeed competition for a fight with Joshua; it should be said that the WBA features more than one champion, but Anthony Joshua is where the money is. If Adam happens to get upset by Helenius…when in Rome.
This fight is also important because it is Adam's first payday of 2020. Boxers fight to eat, and Adam now has a toddler at home to worry about. Many more bills to pay. Sometimes we can overlook that aspect of boxing. If you do not fight, you do not enhance your bank account. Therefore, a fighter might not be in a position to turn a fight down or ask for a tougher opponent. But as fans, we want everything we want.
The fans might not have wanted this fight for Adam, but they know Adam always comes to fight, his fight against Chris Arreola last time out was a fight of the year candidate, where Adam smashed the punch stats record for a heavyweight fight. So, Adam is a draw because people want to see his crowd-pleasing style.
With that said, should Adam work more of defense? When I asked him this question, he replied, "I think with throwing so many punches, it opens you up to counters a lot more. That is my fighting style. I like to bring the action, but I also know it comes with the consequences of getting caught a little more. I am always working on the slip backs, trying to move my head a little more, trying to roll with the punches more. I always work on my defense, but when you throw so much, you forget about defense a little bit. You always think about the attack first."
Adam is also thinking about Robert Helenius, just a little bit. After all, The Nordic Nightmare can take everything he has worked so hard for. Adam looks at Robert as not only a massive threat but an enormous man. He is not buying what everyone is selling about an 'easy fight,' "People said Chris Arreola was passed his prime too," said Adam, who is smart enough to know he is not that lucky because, "When people fight me, they come in the best shape possible because they know if they beat me, they take my spot. It is going to be a tough exam."
Adam wants the fans to understand that "Every opponent is game, especially at this level." Helenius has impressive attributes and has respectable power. "He is going to be a tough test, but I am doing everything I can to pass it." Indeed, Adam is focused on Helenius, but he also thinks about his boxing future, "My goal is to become the first Polish-born heavyweight champion," Adam explained. If he does not have an impressive win Saturday night, his goal becomes much more elusive.
If you cannot get to Brooklyn to see this fight, there is excellent news. It is airing on Fox 5 in primetime. Such a high-profile fight brings more responsibilities with the press and interviews. Adam knows this, but he does not mind the extra work because, "If you want to be a superstar in this sport, you have to do the work," was how Adam explained the extra load of interviews that comes with this territory.
Will "Babyface' climb the next step on the superstar staircase after Saturday night?
Stay tuned…
Contact the Feature Writers