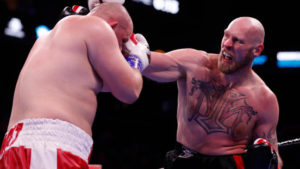 By Anthony "Zute" George (At Ringside)
In a stunning upset, heavyweight Robert Helenius stopped big favorite Adam Kownacki in the fourth round of their heavyweight fight. The crowd was small throughout the night but managed to have a great turnout by the time Adam and Robert were set to square off. The Pro-Kownacki crowd were not ready for what was about to come.
In round one, Helenius tried to work the jab, but Adam was able to land inside and land good right hands and body shots to take the round. Round two was an exciting round, as both men landed good power shots, Adam had an edge with his power right hand. Adam had a more dominant round three. His defense was better, and he was trying to bend low to be more elusive. He attacked Helenius' body as well.
Round four saw Adam trying to attack Helenius' body once again, and he got off to a good start. But he got caught with a hard-right hand behind a jab at 2:27 of round three. It was not a flash knockdown, as Adam was visibly hurt. Helenius did a great job of staying on his hurt opponent and forced the stoppage at 1:08 of round four. Adam was in no position to defend himself and the stoppage was the only choice the referee could make. Although some ringside reporters were questioning the stoppage. Helenius wins a WBA title eliminator. Anthony Joshua is the main champion for the WBA. The Nordic Nightmare improves to 30-3, 19 KO's, while Adam suffers his first loss and is now 20-1, 15 KO's.
Efe Ajagba stopped Razvan Cojanu at 2:46 of the ninth round. Ajagba controlled the action all night, but Cojanu showed grit and tried to make a fight of it as best as he could. Ajagba knocked Cojanu down in round eight, a short right cross started the knockdown sequence. Cojanu got up and was close to being stopped but showed enough ability to intelligently defend himself at the end of the round and continued to round nine. But he was clearly on a short leash. Ajagba continued to press the action and go for the knockout. Cojanu tired to stay up and fight back, but was being battered around, and finally fell from the punishment that he was absorbing throughout the fight. Efe looked good, as he showed patience against an opponent who put up great resistance, but he never wavered from his mission statement of wanting to win by stoppage. Ajagba improves to 13-0, 11 KO's, while Cojanu falls to 17-7, 9 KO's.
Frank Sanchez defeated Joey Dawejko via a ten-round unanimous decision in a heavyweight battle. Scorecards read 98-92, 100-90 two times. As round one began, Joey tried to offer his left glove, but Frank was not interested in touching gloves, and tried to hit Joey with a hook in 'peace mode.' Frank went on to win the round by controlling Joey with his jab and doing a nice job of landing short shots when he did close distance. This pattern continued in round two. Sanchez decided to sit down more on his power punches earlier in round three, but Joey took the shots well, so, Frank decided to bounce a little more on his toes. He frequently scored on Joey, behind his jab, for the remainder of the round.
The rest of the fight saw Joey try to get passed the Sanchez jab, but with very little returns. Toughness can take a fighter a long way, but it is not enough to win rounds at this level, especially against a well-schooled fighter such as Frank Sanchez. The crowd was behind Joey throughout the fight, but Sanchez had just too much skill and technique for Joey to pull off the upset. By round nine, it was apparent that Sanchez would not step up his work rate, in an attempt to stop Dawejko. Before you decide to give Sanchez a hard time for that tactic, we must remember how tough a nut Joey is to crack. At the same time, Joey was just following Frank around, throwing very little punches in round ten, and was cut and red along his left eye. So, it is understandable if you wanted to see Sanchez step on the gas against such a foe. Sanchez clearly took on the mindset of win today, look spectacular on another night. Sanchez improves to 15-0, 11 KO's, while Joey falls to 20-8-4, 11 KO's.
In the first fight of the night to go the distance, super lightweight Zachary Ochoa won a rough eight-round unanimous decision victory over Angel Sarinana. Scorecards read 77-73 twice, and 76-74. It was a rough fight were Sarinana lost two points, one in round seven, and one in round eight. Neither fighter had to look for each other, and they were winging power punches throughout the fight. Sarinana appeared to have the edge in the second half of the fight as the aggressor, but the judges did not see it that way. Ochoa had some good moments catching his aggressive opponent coming in and will be a better fighter from getting such valuable experience in a rugged fight. Indeed, Sarinana, was a much tougher customer than his record suggested. Ochoa improves to 21-1, 7 KO's, while Sarinana falls to 10-10-3, 4 KO's.
In a welterweight contest, Arnold Gonzalez defeated Traye Labby via a third round TKO. Time of the stoppage was 2:07 of round three. Arnold, a Native New Yorker, had solid fan representation amongst the sparse Brooklyn crowd, and showed right away that he was the superior skilled pugilist. His power right hand was the punch that provided him with the most success, a sequence of unanswered power punches that was set up by that right hand forced the referee to stop the bout. It was Gonzalez's first win by stoppage. It is hard to say how good Arnold Gonzalez will be until he his better tested. He did well to ward off the attack of Labby, who was aggressive early. Indeed, Labby was a tough kid, but he is not the type of technically sound fighter that Arnold will have to do well against when he gets to that higher level. When Arnold faces such fighters in his progression, a better picture will be painted of him. Gonzalez improves to 4-0, 1 KO, while Labby falls to 4-5-4, 3 KO's.
In a middleweight fight, Francis The Tank Hogan defeated Brent Oren in his professional debut with a fourth-round stoppage. The time of the stoppage was 2:11 of round four. In a battle of southpaws, neither fighter could establish any dominance because of a lack of a right jab in the opening round. Hogan, a Massachusetts product, won the round with more power shots, including a few nice rights hooks and a solid straight left. A good portion of round two took place at the center of the ring, but Hogan was able to push Oren back in spots with good power shots. Hogan started round three by landing the best jab of the fight and continued to do good work early in the round. He hurt Oren with a straight left in the first minute of the round, but Oren fought back and made the round more competitive, but it was a clear Hogan round. The Tank came out more aggressive in the final round and put punches together well, sprinkling in hard body shots while on the prowl. It was a vicious left to the body that put Oren down for a count of ten. Brent Oren fall to 2-4. It would be a neat stat to see how many southpaw fighters made their professional debuts against a fellow southpaw. Anyone?
There were two walk-off bouts:
Heavyweight the action Carlos Negron, (21-3, 17 KO's) stopped Robert Alfonso, (19-1-1, 9 KO's), it was an entertaining slugfest.
In the last bout of the evening, heavyweight Steven XXL Torres, (3-0, 3 KO's), stopped Alex Ajabor, (2-1, 1 KO), at 2:33 of round two. The action was fast and furious both fighters were hurt, but Torres took over after he had some bad moments early on. He knocked Ajabor out with a straight right hand.
Contact the Feature Writers