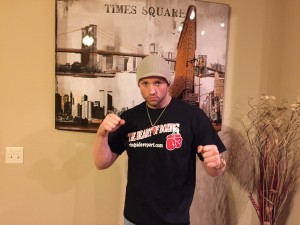 Exclusive interview by Anthony "Zute" George
Fathers and their sons. This has always been an explosive dynamic. More so, in professional sports. The history of sports has a long history of fathers and sons competing. Often, one separates themselves from the other in terms of talent. In baseball, Dale Berra was not even close to the talent that his dad Yogi was, and while Ken Griffey, SR. was a consummate pro, he was never the player his Hall of Fame son was. Today, baseball has a young crop of talent that has come from the loins of some super players. Can Vladimir Guerrero, JR., and Cavan Biaggio follow in the Hall of Fame footsteps of their fathers?
In boxing, William and Buster Douglas were an intriguing father and son duo, as were Leon and Cory Spinks. All solid professionals, but none of these men were considered for the International Boxing Hall of Fame. Then you have some father and son tandems that mirror baseball in the sense that one exceeded the other in terms of talent and accomplishments. Hector Camacho JR. could never reach that Macho Time vibe of his Hall of Fame father. Same with Marvis Frazier and his all-time great dad, Smokin' Joe. And for some fans, Julio Cesar Chavez JR. has been a downright embarrassment to the Chavez legacy. In other examples, it is the son that has overshadowed their maker. Floyd Mayweather JR. has to be the classic example that comes to mind. Then there is the unique example of the Mancini's. Boom Boom's dad, Lenny, never reached the Hall of Fame heights that his son did, but a lot of that had to do with the fact that Lenny was a victim of the pulse of boxing during his time and not because of a considerable talent gap.
Today, Chris Eubank, JR. is always being compared to his borderline Hall of Fame father, and just recently, Evan Holyfield's son, Evan, has laced up the boxing gloves. Indeed, Evan has gigantic shoes to fill.
Then there is Trey Lippe Morrison, son of former world heavyweight champion, Tommy "The Duke" Morrison. Like his dad, Trey is a heavyweight with heavy hands. His 16-0, 16 KO's record suggests as much. But Trey's story is a touch different than the other boxing sons we have mentioned. In a recent conversation, Trey has indicated that his father never knew of his boxing career. As when Tommy was alive, Trey was all in on a career in football, "Football was my sport. But it did not go the way that I wanted it to. I always wanted to be an athlete, and I did not know what other sport I could do. I was like, well, my dad was a father, so I'll give fighting a shot," Trey explained of his boxing origin.
Of course, a declaration connected to an impressive bloodline would not be enough for Trey to become a boxer on a professional level where people would take notice. He would have to prove himself inside the squared circle. The first step Trey took was a shrewd one, as he picked the brain of Tony Holden, the boxing promoter who handled his father's career so majestically, "I went to talk to Tony after my dad passed away. I really wanted to talk to him about my dad, but at the end of the night, I popped the question, I was like, 'man help me fight.' We started from there. I had my first fight in 2014."
The result of that fight was a stoppage victory. Like all of Trey's fights have been thus far. Not bad for a guy who had virtually no amateur experience, a decision made out of necessity, "I did not get the amateur experience jumping right into the professionals. But I was told if I went the amateur route, I would definitely be too old to accomplish anything if I turned pro later."
Trey did, of course, have plenty of experience playing football, a very grueling contact sport. I asked him if football helped him with boxing in any way, "I don't think anything about football helped me with boxing. I think boxing makes football look like a little wussy sport, honestly. I had a rude awakening coming into boxing. My mindset was, football is physical, so is boxing, I am going to like both. Well, football is physical, but it is very different. You are not really getting punched straight in the mouth. The only thing football really helped me with is leverage in the ring. I am pretty good with pushing people around in there, and I think that is because of football."
Punching was something that Trey has been able to do well, and with plenty of pop. Power can take a boxer a long way. It opens up more opportunities for that precious television time for pugilists. It was a prominent spot on ShoBox, against the undefeated Ed Latimore, that Trey took full advantage of. "I knew this was the best guy I have fought so far. I was more prepared. That was the first time I knew who I was going to fight in advance. All of my other fights, I did not find out until a week before the fight. So, it was the first time I actually felt I was preparing for somebody (specific). I liked that," Trey said of the Latimore fight.
Going into that fight, Latimore had the tremendous amateur pedigree, but Trey had the equalizer in terms of power. An attribute he discovered that he had very early on, "The first time I did mitts with my trainer, I could tell that I could punch just by his reaction. I think I inherited it from my dad." Trey explains that when he hits a guy right, there is a peculiar sensation that takes over. But it might not be what you might think, "When I land a sweet punch, you really don't even feel it landing. You don't feel like you hit your opponent at all." Trey stated that this effortless feeling when knocking his opponent out was most apparent in his fights with Marvin Babe and Richard Dawson.
Along with Tony Holden, Trey also has the first-class experience of Freddie Roach as a trainer, "I originally went to California to train with a guy named Jesse Reid. I had one fight with him, but me and him were not really working out. We just did not mesh well. So, Tony had a meeting with Freddie, and he asked him if he would take a look at me. After a private one on one session with Freddie, he said he would train me. Freddie has been great because he focused on the little things in boxing and sharpened things up for me. Also, being in The Wild Card Gym, I had championship-caliber sparring all of the time, which played a big part with the Ed Latimore fight. It put more confidence in my head."
Being around quality people such as Holden and Roach can do wonders for any boxer, however, not even they could cure specific injuries that plague boxers, and Trey has had a rash of unfortunate physical setbacks that have stymied his progress since the Latimore fight, "I have had a lot of hand problems. I think getting in the sport late, my hands weren't used to the damage they take. Especially with me punching hard. But a lot of it did not have to do with broken bones, or stuff like that, I was tearing my tendons in half. That is what took so long to recover. I had to gain flexibility back after my three hand surgeries."
But Trey has said his hands are okay and he is looking to fight again sometime in March. He does not have a set date or opponent, but he is ready to get his career back on track and hopes to do so relatively soon. One of the things Trey hopes to improve on is what we call the sweet science, "I need to improve on what the sport is actually called, I need to get better with the boxing part of it." Only ring experience can truly enhance his chances to improve.
Trey never had the chance to talk with his famous dad about his boxing career because he was all about making the NFL while Tommy was alive. Trey also admits he does not remember much of his dads' career while he was fighting, "I was just too young," he admits. But he says that he watches his father's fights all the time now, and really admires two of his big wins immensely, "I like the Foreman fight, that was the first time he kind of had to change his approach. Everyone knows my dad as a slugger, well you can't really go in there like that against a guy like George Foreman, so he kind of changed his approach. He had to box, and he did well. I also love the Razor Ruddock fight, because honestly, I think my dad was losing the fight, and he came back and won with one of the craziest punches ever."
Trey hopes to get to that level one day, "I want to stay healthy and stay busy. I am boxing to become a champion. I want to stay busy and get a belt. I would like to be done with boxing when I am thirty-five. But if I have not accomplished my goals by then, and I could keep going, I am going to keep going."
A busy and productive 2020 could put Trey on the right path to challenge for a belt. Unfortunately, the state of boxing has changed a bit with all the cancellations due to the Coronavirus. Hopefully, that crisis could be resolved soon, and Trey could take the next step towards his maturation. When will that be?
Stay tuned…
Check out "Zutes Boxing Talk", which airs every Wednesday live from 7PM to 9PM ET. The show is dedicated to discussing the sweet science straight up with no twists. "Zute" has interviewed boxing legends such as Carlos Palomino, Mike McCallum, Pernell Whitaker, Jeff Fenech, Buddy McGirt, Mark "Too Sharp" Johnson, Marvin Camel and Eddie Mustafa Muhammad. As well as today's stars like Danny Garcia, Sergey Kovalev, Regis Prograis, Teofimo Lopez and Gary Russell, JR.
Follow the link to listen live or catch archived shows
Contact the Feature Writers