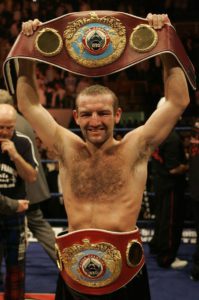 By Donald "Braveheart" Stewart
Five children might seem like enough to keep you busy. But not for one man, who has an artistic temperament that sees you draw for calm therapy along with the endorsement of Tommy "Hitman" Hearns it clearly isn't. Add into that an ongoing dispute with the British Boxing Board of Control, (BBBC) a checkered past, a book telling all and lengthy jail sentences and you can see why the name of former world featherweight champion, Scott Harrison, 27-3-2, 15 KO's draws attention in the way that pandemics draw conspiracy theories.
Being very open and disarmingly honest he said of his autobiography to a Scottish newspaper, "Truth and Redemption" that "It's very honest and truthful, full of ups and downs. My life has been very chaotic but there are tons of funny stories and good laughs in it as well."
Seemingly having given up with the BBBC the fact is and the fact remains that the British and Irish Boxing Association's (BIBA) latest promoter was a massive figure on the Scottish sporting scene. He gave us nights to remember when he won world titles, defended them and then came a fall from grace was one that had the news hounds painting with ill disguised glee.
A boxer who fought – who knew!?
But to the boxing fraternity and to me, who sees him running in Glasgow, training for a return and passes his boxing gym every single day, there is a well deserved pride in that building, his achievements and the life he is trying to create now. His father, and trainer, Peter Harrison, has become a manager with BIBA at the same time as son Scott got his license to promote.
They are a formidable pairing; they have every reason to be.
It was on a tour of the country that Tommy "Hitman" Hearns was asked about Scott and his proposed comeback. Reported in the press, Hearns said, "I'd love to meet Scott Harrison when I'm in Scotland and I'll know if I see the whites of his eyes, whether he can do it or not. Mike Tyson was locked up and he was able to become world champ. Even if he's 41, I wouldn't say he's done. I was fighting professionally in my 40s."
The loss of five years when he was in jail in Spain and in Scotland are well documented elsewhere. He did something wrong, he got caught, he served his time.
He is now out and looking to do what he was born to do – fight legitimately in a ring.
Since his release there have been starts and there have been many stops.
His alleged promise from the BBBC that he would get his licence back turned to dust. His comeback with the alternative licencing authority BIBA who originally licenced him to fight, was halted due to an injury, then it was back on again as part of the return of veteran Nigel Benn. Then it was off because of the people behind Benn upsetting Harrison and then it was on again before the whole show was pulled. Now it is on again but wisely the Harrison's have taken things into their own hands and are now promoting their own show. Scott will come back in a 10 round fight on the card which shall happen in Glasgow soon.
Such disruption and shenanigans are not unknown in boxing but many think this is a shabby way to treat a man who began in 1996 with a stoppage win against Eddie Sica in Lewisham, London. Harrison did not then go on an unbeaten streak. There was a loss and draw in his first few fights but his determination drove hm onwards and upwards.
By 2000 he was in the St Andrew's Sporting Club winning the Commonwealth title on points against Patrick Mullings. A year later he added the British title against Richie Wenton in Sheffield.
In 2002 he had won the WBO title, at home in Glasgow in another stoppage win – 6th round – against Victor Santiago, before in the same year he took the WBO title against Julio Pablo Chacon. What followed was a defence and then a loss to Manuel Medina which was put right straight afterwards. The Glasgow crowds hailing their champ – their man. There were then 6 home defenses with 5 wins and a draw. We forgave the draw.
In between spells inside Scott came to fight three times in 2012 and 2013 with two wins and a loss to the unbeaten at the time Liam Welsh for the WBO European title. Scott was not at his best but he proved he had the hunger, the need and the desire. Now he is a promoter, with his dad there beside him, I can guarantee we shall be looking at more and better headlines to come in the very near future!
Contact the Feature Writers