Loading ...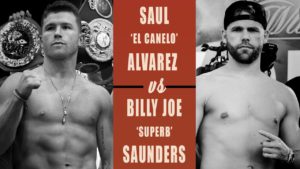 By Vinny "Glory Day" Lucci
Quite often boxing matches with stacked odds are entertaining none the less for a variety of reasons that fans diversify as meaningful footnotes worth the price of admission. Some boxer may be long overdue for his shot at title or maybe was recently robbed in a hometown decision and another big fight is his vindication. There is the lucky boxer who simply has aligned his wagon with right promoter and fans wish to see karma inside the ropes for transgressions of cutting the line. Another scenario is some hero is on the tail end of a farewell tour and could likely be making a retirement appearance. Finally, still, many are eager to witness an execution because one boxer shot his mouth off one time too many like the little boy who cried wolf and now has nowhere to run inside the 16×20' devil's playpen.
The Event:
On May 2 Golden Boy Promotions and Matchroom Sport will present a Super middleweight title unification match between WBA champion Canelo Alvarez and WBO counterpart Billy joe Saunders. Promoters Oscar De La Hoya and Eddie Hearn will honor the Mexican Cinco De Mayo holiday with Alvarez headlining a featured event honoring his heritage. DAZN will televise the showcase by expanding its original target market of 9 countries and going globally with 191 new ones. Headlining the new expansion of live stream sports will be the United Kingdom and Mexico. The card will be hosted at the house that Canelo built, T Mobile Arena in Paradise, Nevada. This will be Canelo's sixth headline event there since in opened in 2016. Even though this is a unification Alvarez is considered the poster boy for boxing and the "A" side of the promotion.
Stats:
Canelo Alvarez is of Mexican heritage and turned pro at the implausible age of 15 in Guadalajara. The boxer stands 5'8" tall with a 70½ "wingspan and fights from the orthodox stance. He owns an outstanding ledger of 56-1-2, 36 KO's and has won titles in four weight classes. Last year he was ordained the WBC "Franchise" champion where he is not obligated to make mandatory defenses and can jump to the head of the line and challenge any champion. The WBO followed suit and established him as the new "Super" champion with same perks and benefits. At 29 years of age he is peaking as you read this and "the" man to beat in boxing to become an instant legend.
Billy Joe Saunders turned pro eleven years ago and hails from Hertfordshire, England. The British champion fights from orthodox stance and owns a modest record of 29-0, 14 KO's. His frequent inactivity and selection of opponents has hampered his fan base from growing outside the United Kingdom. Standing 5'11" with a 70 ½" reach the 30-year-old has finally navigated himself onto the world stage after years of braggadocio without ever having fought an adversary that compares to the helter skelter that Alvarez brings to the ring.
Last Fight:
On November 2nd of 2019 Canelo took a slight gamble even though he was again the betting favorite and challenged Sergey Kovalev to his WBO Light heavyweight title, and removed the belt by brutal KO in the 11th round. Bout was hosted at the MGM Grand Arena in Paradise, Nevada. Kovalev had been a dominant force in division for last seven years but there was clearly a declivity present. The loss left Kovalev with a 34-4-1, 29 KO's record. His fans were so dismayed at the loss and his strategy that they cried fix. Ringside Report responds to those fans with, "if the fix was in why not splash the front row like Liston did in '65 instead of eating the haymakers that could have felled Michelangelo's David?"
One week later Billy Joe defended his title against Marcelo Esteban Coceres at the Staples Center in Los Angeles California in what turned out to be an unexpected difficult affair. For ten rounds Marcelo had his way in the trenches and was cruising to an easy victory when the wheel of fortune turned on him in the 11th. Saunders dropped him three times prompting referee Ray Corona to wave off contest at the two-minute mark. Saunders admitted his poor performance sans excuses and still went on to publicly challenge Alvarez, business as usual.
Styles:
In the past two years Alvarez has become the most improved veteran in the sport with superb counter punching skills and lethal power in either had which has produced 36 picturesque knockouts. His brutal uppercuts are the best in the business and his jaw is donned from Kevlar. After losing every round to Floyd Mayweather, JR. seven years ago in a frustrating frenzy he has learned the finer points of defense establishing a sounder game plan foundation for each adversary as well as adjusting tempo and setting traps.
The British champion uses the entire ring to box behind an educated southpaw jab. When he lets both hands go in combination, he carries respectful power but has built a reputation for being prone to getting winded in middle rounds allowing his competition to pull even on scorecards. He has also shown some championship heart and been able to ride it out until second wind kicks in. His ring savvy against second tier opposition has allowed him to remain undefeated while he carefully avoided the likes of Gennady Golovkin, Jermall Charlo, Daniel Jacobs and Alvarez himself.
What to look for Fight Night:
This is a simple dichotomy of two styles vying for select ownership of real estate inside the ring. Saunders believes he has the legs, jab and skillset to neutralize Alvarez's forward momentum and stalking prowess by not allowing him to enter the pocket. In Juxtaposition, Canelo will have the familiar Joe Louis against Billy Conn mentality of "you can run but you can't hide." He will use a far superior astuteness being beyond the parameters of cagey and lull Billy Joe into a false sense of security having his prey think that the rounds eclipsed are money in the scorecard bank. In reality, much like the Kovalev encounter Alvarez will be measuring the inches and timing the one/two combinations. Somewhere around the 8th or 9th round he will adjust his footwork to redirect Saunders into the power shot combination that highlight reels are made of.
Vinny Factor:
RSR fans know in past columns this reporter has used the forum to report negativity in past bouts and outside the ring of both combatants which has no place in the here and now. All things considered this fight should be contested on equal ground with both champions peaking, no training camp excuses and no media distractions from private lives.
Anyone interested in betting the under dog needs to take heed in two specific aspects in the realm of experience. Let's start with the comparison of ledgers. Not only has Canelo twice as many bouts with twice as many knockouts but the quality of opposition is completely off the charts. The best names that appear on Saunders resume are Chris Eubanks, JR., Andy Lee, David Lemieux and Willie Monroe, JR. who all fall short from A-list competition. Eubanks has quite simply failed to live in his father's shadow and lost the two biggest fights of his career on a meager resume. The same quantum theory can be used when assessing Lee who lost to the only three significant names he fought. Add Lemieux and Monroe, JR. into the mix and you have two knock out victims off of Gennady Golovkin's ledger winning the hearts and minds of no one. All four heard the score cards read against Saunders.
Moreover, the tandem trainers of father and son Chepo and Eddie Reynoso have firmly established themselves as the preeminent innovators of old school training regimes. They have significantly added to Canelo's repertoire of vicious body attack and stellar counter punching techniques by implementing patience, daft defense, angles and getting him up on balls of his feet when necessary. Alvarez has more weapons and power than dreamed of in Saunders philosophies.
Fight Significance:
"A –"
While this is far from the Gennady Golovkin trilogy many fans hoped for it does solve a piece of the equation that has lingered for years with Saunders having called out all the top fighters but never actually accepting terms and getting a contract signed. Another belt for Canelo's collection adds more status when it comes to bargaining the eventual fight with Gennady which undoubtedly will be contested at the super middleweight limit or not at all.
Odds:
Vegas has installed Canelo Alvarez the favorite with opening line at -700, with Billy Joe Saunders at +400
RSR Prediction:
Alvarez by stoppage.
Aftermath:
DAZN will be seriously looking to maneuver Canelo into the third showdown with Gennady to protect their massive investment in both boxers in either September or November. Hopefully Golovkin either squeezes in his mandatory IBF middleweight title defense against unworthy third ranked contender Kamil Szeremta by May or puts it off in order to free up date to meet Alvarez. Currently Golovkin is rehabbing a calf injury from training camp which caused a postponement to proposed March date.
Saunders might rebound with yet another title down the line with right promotional connections but will forever remain a bottom feeder in Canelo's world same as he did when Golovkin was king.
Gentlemen, now's the time.
Contact the Feature Writers