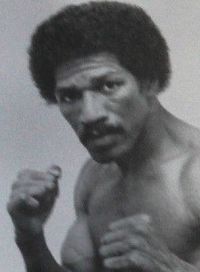 By Donald "Braveheart" Stewart
Forty-three fights from 1978 to 1987 and of those only 4 were lost but you may search in vain for much about the career of one David Braxton, 39-4, 27 KO's. In 2008, the Detroit Free Press even headlined that with his career crashing there appeared to be no one around to hear it…
"Machine Gun" saw his career hit the skids in 1986 when he tested positive for cocaine. It led to him being stripped of the NABF super welterweight title and his admission that he had actually taken the substance may have found a plea in mitigation more likely – he was back in the ring a month later.
Given where we are with people who have previously admitted to the use of cocaine and gone onto WBA world heavyweight title fights, you could be forgiven for thinking it was all just a blip on another wise more unblemished career.
Fortunately, it is not the fight that defined him or his contribution to the sport; he was a world title contender.
By the time he got in the ring to fight for the WBA title he had also, already, chalked up quite a few victories and managed a few notable fights. To be honest though there was little by way of outstanding events in his timeline, this attracted me more to him as the journey he went on must be so similar to those struggles faced and beaten by almost every boxer who has a dream; there were times when his dream came close to turning very nightmarish…
His professional journey began in 1978, in his home city of Detroit, where he won a points win against Gary Coates, who had won as many fights as he had lost.
By November 1979, he was in a fight against Sammy Floyd, noted as a close decision was against a guy who had lost twice as many fights as he had won!
At this point many would have thought, he aint going to make it.
Nowadays the need to protect your record and the way in which boxers seem to be discarded because they have lost one or maybe a couple of fights would simply not stack up in the Golden Years. Losing was a glorious part of the port and now, just witness the heavyweight scene and you shall see how one loss means that many start to doubt your ability, your guts and your future. Back then, it was all just one big part of the process.
The process for Braxton then brought him from the less than salubrious venues of the Fairgrounds Youth Center, Phoenix, Arizona in 1981 when he stopped Chico Salinas in 4 rounds to taking on the wonderfully named, Fighting Jim at Cobo Hall, Detroit and stopping him in the 7th on the 24th October, 1981 before he went to the Aladdin Hotel and Casino, in Las Vegas where he was taken to the end of 10 rounds by Clayton Hires but won on points.
A fair spread of venues, experiences and opponents.
In 1983 he was back in the ring in Phoenix when he took on Larry Martin for the vacant NABF super welterweight title and stopped Martin in the 3rd round; it was his first professional title. His first defense was in Ice World, Totowa, against James Green in September 1983; he retained the title on a split decision.
In 1984, back home, in the Cobo Arena, Detroit, he faced Gonzalo Montes to defend the title again and stopped him in the 3rd before, in 1985 a 4th round stoppage win against Tony Cerda at the Showboat in Las Vegas was to give him his big shot.
In the Tamiami Fairground, on the 28th July 1985 he was in against Mike McCallum but could not make the WBA title his own. Stopped on cuts in the 8th round, it was Braxton's one and only world title attempt. When he was stopped, he was behind on all the score cards and McCallum, already unbeaten in 24 fights, was destined to go to 25.
The end came for Braxton in 1987, back at the Cobo Hall when he was stopped by Ron Daniels in the 4th round. In between was the fight against Kenny Snow that ended with the cocaine bust.
Having managed to get close, Braxton will be most remembered for that fight with McCallum. It was McCallum's second defense of his title, and while, McCallum was to go on and fight more renowned fighters, this was the pinnacle for Braxton. To be fair, it's not a bad memory in amongst more poignant ones which are testimony to a career worthy not just of mention but also celebration.

Contact the Feature Writers