[AdSense-A]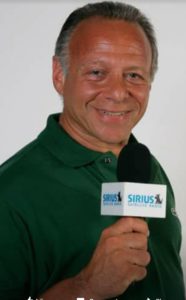 By Randy "The Commish" Gordon
I have been through everything in my lifetime. As a pre-schooler, one of my earliest recollections is a neighborhood boy walking on special crutches because he had something called Polio. I remember going to Dr. Harry King's office to receive a polio shot; In elementary school we had regular air-raid drills; I've lived through presidential assassinations; I saw history's only live-televised murder (Lee Harvey Oswald); Cheered as Neil Armstrong and Buzz Aldrin stepped on the lunar surface; Watched in horror as the Challenger exploded in 1986; helped friends overcome their PTSD from Vietnam, Iraq and Afghanistan; Married my high school sweetheart; Raised five fantastic kids; Reached for the stars and got there; and watched with dozens of people in a large Long Island fitness club as terrorists changed the world in 2001. Yes, I've seen it all. Or, so I thought.Then, in early February, I started hearing about a virus which was sweeping through China.
Aside from hoping the disease would be brought under control, I gave it little thought. After all, China was halfway around the world. Nor did I give the virus any thought when I took to the sky on February 20 to fly to Las Vegas to cover the Heavyweight Championship unification bout between Tyson Fury and Deontay Wilder two days later. I spent most of my time in Las Vegas working on Radio Row, a ballroom-sized room capable of holding a few hundred people for weddings, parties, conventions—and, in this case, radio and television stations from around the world who had come in to cover the fight.
The rest of my two days in Vegas was spent with Gerry Cooney, one of the most popular ex-fighters never to win a championship. His popularity drew crowds in the restaurants we ate in, the lounges we relaxed in, the cafes we snacked in and the hallways we stood in. Going from the front desk at the MGM Grand Hotel/Casino to the elevator is a walk which is approximately takes one-minute. When you're with Cooney, however, that walk can take an hour. Fans push in for autographs and photos. Selfies. Questions. Comments. Hand shakes. Hugs. During that trip to Vegas, there was no Social Distancing, even though the virus, known as COVID-19, had made it's way across Europe, was ravaging Italy and heading to American soil. Only last July, my wife and I, along with two close friends, vacationed for one week on Italy's Amalfi Coast. It was among the most scenic, lovely vacations we have ever been on. The streets of the Amalfi Coast were filled with bicycles and motorbikes. The beaches were crowded with everything from bikini-clad beauties to fat, middle-aged men in Speedos (no, I do NOT wear Speedos!!). Today, those same streets are deserted. The only scene on any beach is sand, rocks and umbrellas casting shade over empty lounge chairs .
As Cooney and I walked through the smoke-filled casino (Vegas' one major drawback!), little did we know that in under three weeks, Italy would be in total isolation and that we would all be locked away in our homes across America, the MGM would be shut down, Vegas would be a ghost town and boxing—along with every other sport—would come to a complete halt. Two words none of us had ever known just a few weeks earlier became part of our everyday vocabulary, no matter what language we spoke: Coronavirus and COVID-19. Our lives, certainly for now and the immediate future, have changed. Maybe it's not just for now and the immediate future. Maybe we'll be changed forever. As COVID-19 ravages our cities, we rarely venture much further than outside our front and back doors . A walk around the block is considered to be a destination trip. Cruise lines have stopped running. The airline industry is virtually bankrupt. In New York City, which is the current epi-center of the incredibly contagious virus, the city that never sleeps now is now in hiding. On New Years' Eve, over a million revelers were packed into the city's famed Times Square. On any day of the week, regardless of time or even weather, thousands of party-goers, visitors and vacationers crush into Times Square . Today, you will not see tens of thousands of people. You probably won't see 10. If you do, all will be Emergency Service Workers. But, you won't see them. That's because you, as will the rest of your neighbors, friends and colleagues, will be locked away in your homes. It's kind of like being housed in a Minimum Security prison with all the amenities. Oh, you can leave whenever you want, but where are you going? To your favorite restaurant? It's closed. To a museum? It's closed, too. Shopping? All the stores are closed. To a park? Closed! To the gym? Closed!
To the Statue of Liberty? It's collecting dust. Closed! Everything is closed. Everything! That includes sports. For now, "Fuggedaboutit," as "Bad" Brad likes to say. Play games on your computer, phone or tablet. As I said, the sports world, as hard as it is to believe, has really shut down! Which brings me to boxing. The Sweet Science is a part of the sports world. It, too, is closed. Big fights were planned. Big fights were cancelled. Know what else is cancelled?: My subscriptions to ESPN+ and DAZN. I signed on with them to get my fill—my buffet—of boxing. Who needs them billing me every month when there's no championship bouts to watch. No WBSS. No contenders going at it. Replays? I don't need to watch replays on those apps. I can watch replays on Youtube. When everything returns to normal, or to a semblance of what we remember as normal, I will re-subscribe to the streaming services. But, will their prices shoot up? Probably. By how much? That's the question, not just about those streaming apps, but about everything else, too. You see, just about everything else—except our paychecks—will be heading North. And this is presuming we still have jobs awaiting our return at the end of the virus. I know people who have already been sent to the unemployment line. If you do have a job waiting for you, your travel to and from work will increase. For example, on Long Island, where I live, I travel into New York City either by car or by train (the Long Island Railroad). Right now, gasoline is at its lowest in years. Around here, it is down to $2.10 per gallon—and dropping.
To drive into New York City, I must pass thru the Midtown Tunnel (one of several connectors from NYC to Long Island and its population of 7.6 million—more than 29 states). Each way is $9.50. When I arrive in the city, finding a spot on the street to park in is next-to-impossible. So, I head to a parking garage. For just a few hours, the garages charge around $40. So, a typical drive into NYC runs a minimum of $49 per day. If I take the Long Island Railroad, the one-way ticket into NYC's Penn Station is $16. I then switch to a subway for two quick stops. That's another $2.75 one way. In total, it's "only" $37.50 for taking the train as opposed to $49 per day for driving in. Sadly, the COVID-19 pandemic has struck more than people. It has struck our economy very badly. Businesses have gone under, while others have gone bankrupt and have had to lay off staff. The Long Island Railroad's ridership has decreased by 76% as compared to the same period last year, while the New York City subway system—the largest in the world by the number of stations—has shown a decrease in ridership by a staggering 87% over the same period. It is widely speculated that, when this health crisis ends, which still may be not be for several weeks—or even months—the fares on both the LIRR and NYC subways will increase quickly, dramatically and drastically. So will the price of gasoline. Money is going to fly out of our pockets, hands and bank accounts—not into them! Are we really going to want to continue to shell out money—huge money—for sporting events? And how about monthly subscriptions to DAZN and ESPN+? Will they increase?
How about the fighters, our beloved warriors? Will this new breed, new age of pugilist still hold out for mega-millions, instead of tens of millions? Back when fighters really wanted to fight, when the fight was the first thing on their minds and their paycheck secondary, I used to verbally and journalistically push for them to get paid much more. When Joe Frazier and Muhammad Ali each were paid $2.5 million to face each other in their 1971 all-time classic, I wished they could be paid more. They were worth it! They were worth every penny—and then some. A few years ago, Deontay Wilder—then the unbeaten WBC Heavyweight Champion, and unbeaten multi-belt holder Anthony Joshua, were posturing over money and over who would get paid more if and when they fought. They postured and talked. Their teams negotiated, while the two fighters slugged it out on social media. They each told us how much they wanted the fight. But, in reality, I don't think either guy really wanted the fight. Neither wanted to risk their then-unbeaten records. They first marinated the fight perfectly. Then, they got greedy and stepped up their war on social media. They over-marinated it, and killed it. Now, Wilder is no longer a champion and Joshua is a once-beaten champion who is no longer thought of as invincible. The landscape of boxing—and perhaps all of sports—may drastically change when we all emerge from our caves and dwellings. I hear it from my friends, family, colleagues and fans. I sense it. The love for each of our personal sports will still be there, so will our passion for certain athletes and events. But, will we want to pay exorbitant prices to see them? Will we still be able to?
Television networks may have to cut back on money they spend on athletic events, as advertisers may no longer be happy with shelling out millions for their creative ads and commercials. Athletes may have to learn to smile at contracts offered to them worth tens of millions instead of hundreds of millions of dollars. I know. Have pity on them! Yes, my friends. This COVID-19 pandemic will end. Eventually, Coronavirus will end its attack on us. It will beat us up. It will batter us. But it won't knock us out, even though the toughest part may still be on its way. Some advice from this old cornerman: Don't fight its fight. That's what it wants. Play defense. It can't hit what it can't see. Our best offense is a tight defense. Now, let's work inside and finish this bug off. It has been a very tough adversary. But we're tougher! Alone, we can't beat it. As a team, we can. As a team, we will! Yes, I really thought I had seen everything in my lifetime. I guess I hadn't. But I know this: We will win.
And we will emerge stronger than ever.
Randy "The Commish" Gordon is the Author of the hit book, "Glove Affair". Order your copy by clicking HERE.
Contact the Feature Writers