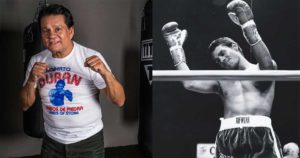 By Vinny "Glory Days" Lucci
Ever bear witness to a member of the big cats that has been pacing his cage too long? The look in a panther's eyes that he is calibrating your every breath with his snarl an open dare to enter his domain or man up and allow him to enter yours. Imaginations conjure caustic visions of such encounters if the carbon steel and galvanized wire were not securely in place. Once in a generation the sporting world of boxing is privileged to document the anomaly when those characteristics are shared by a bipedal entity wearing leather gloves and substituting the cage for a ring. Enter "Manos Di Piedra," Roberto Duran.
The Panamanian wunderkind with "hands of stone" was born into this world in 1951 in the slums of El Chorrillo, in the district of "La Casa di Piedra," (The house of stone) within Panama City. At the tender age of eight years old Duran took to the neighborhood gym and began sparring with older kids not with the expectations of one day achieving Olympic glory but rather to help feed his family and attain the wealth that was denied his parents, Clara Samaniego of Guarace' Panama and his father Margarito Duran Sanchez who hailed from Arizona and was of Mexican descent. Hunger, poverty and mean streets have always been the greatest motivator in making champions form less than humble beginnings.
After a brief stint in the amateurs with an unconfirmed record of 18-3, young Roberto entered the professional ranks at sixteen years of age, when most kids in America are still a year short of their JR. Prom.
Duran exploded on the boxing scene in 1968 fighting eight times becoming the scourge of Panama. Roberto's indoctrination to the professional ranks was a smooth transition as his competition had no clue as what to make of this 5'7" orthodox hybrid. It would be easy to assess his abilities as a brawler in the ring but with every passing encounter inside the turnbuckles Duran was honing his boxing skills and refining the execution of mayhem where the two styles blended seamlessly in adhesion which would electrify the world through five decades of ring appearances.
Over the next three years he began dominating the lightweight division from his home base of Panama with one stop to see the big light marquis of Madison Square Garden where he took out Benny Huertas in one minute of the first round. At 25-0 he served notice on the world stage that he had indeed arrived and was scheduling his date with destiny with a shot at Ismael Laguna, the WBA lightweight champion who by coincidence also hailed from his native Panama. The Huertas fight was the undercard to Laguna defending against Scottish challenger Ken Buchanan who captured the title with a UD. Duran would have to wait another year before his preordained coronation.
It was at this time in his storied history that the incomparable Ray Arcel who was retired took over the tutelage of the budding superstar, with Pepe Correa as second trainer and Cutman Freddie Brown.
The media was not on board with the unassailable prediction of Duran becoming champion and he was handicapped as a 2-1 underdog. When the first bell rang it took the rampaging Panamanian just fifteen seconds to deposit the respected champion on the canvass causing not only the ringside seats to rise to their feet but would have entire stadiums emulating the excitement for the next dozen years. The hands of stone would administer a complete beat down over Buchanan for the next thirteen rounds when the bout would be called on a TKO, which was obviously a questionable errant foul. The bell sounded to end the round but Duran failed to hear it amid a furious combination. As referee Johnny LoBianco tried to pull the combatants apart one of Duran's body shots strayed below the belt line. At the time of stoppage Duran was running away on the scorecards.
After two quick non-title bouts back in Panama in which neither opponent made it out of the first round Roberto was poised to once again transition to America and fight on "the" stage at MSG against Esteban de Jesus in a non-title super lightweight bout scheduled for ten rounds. At 31-0, Duran would see his unblemished record come to pass as he lost a UD. To get his disciple recharged Arcel would constantly remind Duran that his former protégé Benny Leonard was the greatest lightweight who ever lived. Infuriated Duran's eyes become orbs of fire and was hellbent on engraving his name to immortality.
The redemption of Duran would be a fascinating three act play worthy of Dante Alighieri's "The Divine Comedy" about Hell, Purgatory and Paradise.
Roberto Duran would go on legendary run through the expanse of his prime where he was perceived to be inhuman. In a savage inexhaustible reign of supremacy Duran would go undefeated over the next forty-one bouts spanning seven years. In that duration he would successfully defend his title 12 times, 11 by knockout. The win streak would high lite two brutal stoppages over Esteban De Jesus in rematches, and elite competition provided by Vilomar Fernandez, Saul Mamby, Lou Bizzarro, Ray Lampkin, and brothers Edwin and Adolfo Viruet. Truly of note twenty years after first encounter with Esteban, Roberto went to visit his old nemesis on his hospital deathbed, who had succumbed to the ravages of heroin addiction and contracted the aids virus. Roberto couldn't contain his humanity and wept as he held his fellow comrade in a tearful goodbye.
In 1979 Duran would abdicate his title in a quest to move up to welterweight giving a sigh of relief to the Super lightweight belt holders. To make his presence known he took on popular Carlos Palomino who just lost his championship belt to a young matrix named Wilfred Benitez. Once again in foreboding fashion Roberto displayed his animalistic tenacity and smothered Palomino with a constant assault for the duration of ten rounds which would set up his greatest win of his storied career one year later.
After three tune up fights the world witnessed a 1940's throwback bout to the glorious era of welterweights where two legends outside the heavyweight division took center stage. Roberto Duran challenged the enigmatic Sugar Ray Leonard for the WBC belt he lifted off Wilfred Benitez in around robin that would define their careers. The event was held at the Olympic Stadium in Montreal, Quebec and Duran electrified the crowd with a blistering fifteen round competitive beat down winning a UD and handing superstar Leonard his first defeat. The win transmogrified Duran into the stratosphere of ring immortals and he arrived at the pinnacle of his career but it would be short lived.
Having forgot the requiem of all the bodies he had to step over to reach the pantheon, Duran took the win for granted all the while the rematch was set just five months later at the Superdome in New Orleans, Louisiana. Angelo Dundee bore witness from Ray's corner to the carnage that Roberto was still capable of at 147 pounds and elected to train Ray to steer clear of the corners and not allow his tormentor to enter the pocket. Leonard put on a brilliant display in wining a professional game of "tag, your it." While Ray was not inflicting pain, he was beguiling the judges and live crowd with daft moves, speed and defense. Duran was never out of the fight but he was quickly losing rounds and failing to corner Ray in any round. In round eight Ray showboated aloft nimble feet and seemed to own the canvass. After faking a bolo punch, and then landing it anyway a frustrated Duran turned his back in disgust and walked away. The referee Octavio Meyran admonished Duran to continue fighting that the bell hadn't sounded. It was then that hell would be in session as he uttered the infamous words "No mas, no mas." Leonard who received a plethora of wayward knees and elbows in their first encounter wasn't about to let the moment fade without capitalizing on the situation. Before Meyran could disqualify Roberto exposing his humanity and weakness of the moment, Ray attacked Duran one last time with his back turned and delivered a one/two combination. The second blow was an unprotected shot at Duran's sternum where he did not flinch. This is all the proof historians need to put his lame excuse of stomach cramps to bed forever. To this day four decades later Roberto hedges on wanting to cleanse his soul and come clean about his tormented frustration, but even in the mellowing of his years his "machismo" prevents him from doing so. The fall out from such a hasty move proved to preempted his career with an eviction notice. Not a soul on the planet ever thought Duran could redeem himself and Ray needed to bask in the glory refusing a rematch.
Roberto now needed his second resurrection but the peculiar particulars to both his losses to Leonard and de' Jesus is that he was never hurt or shook in either bout. This was a matter of realigning the chassis with engine, getting Duran's body and mind back in sync. 1981 provided a decent if unspectacular sound board in which to build on with back to back ten round decisions over Nino Gonzalez and Luigi Minchillo. The slight build up in momentum gave speculation that Duran versing Wilfred Benitez who was looking to make the second defense of his WBC Super welterweight title would be an exciting contrast of styles, and so the match up was made. With his entire future hanging in the balance Duran looked flat and uninspired in solving the puzzle of a peaking Benitez. Once again, Duran suffered no harm but appeared rusty with his timing off and his fierceness pilot set on low.
Ray Arcel could not allow himself to witness his "masterpiece" be deconstructed one layer at a time and requested Roberto hang up his gloves rather than continue a path of declivity with eroding skills which might one day separate him from a sure as hell hall of fame career. So solemn was his advice he stepped down as his trainer and mentor.
Duran was too proud the warrior and too late in life to learn another profession. Some historians say that "fighters are born not made," must have had Duran in mind when that axiom took flight. Roberto would be embarrassed yet again when he was matched against ordinary Kirkland Laing losing a SD in 10 that even had promoter Don King telling the media, "it's over."
Somehow at a still relatively young 31 years of age and never having sustained a single beating in the ring Roberto refocused on once again reclaiming the glory that now eluded him for two years in the shadow of the Leonard debacle. Duran would get back in the win column with a unanimous decision over Jimmy Batten. While serious fans were no longer paying attention, Roberto was matched against former welterweight king Jose' "Pipino" Cuevas who himself had lost his way two years prior after getting starched by Thomas Hearns. Once signed the event piqued the interest across the board as it was assumed both boxers would meet in center of ring for ownership of real estate inside the pocket. Duran didn't disappoint and rekindled the burning embers inside his soul and fought like the press section was on fire stopping Cuevas in four rounds with an exclamation mark. Duran was back!
As a hot ticket item once again, Roberto was about to embark on a journey that defied logic and captivate the world for years to come. Power punching WBA Super welterweight champion Davey Moore was in need of a superstar's name on his resume for his fourth title defense and Roberto fit the bill. Duran ignited the crowd at MSG with a rebirth of the relentless fury he was known for at 135 pounds. The beating Duran administered from the opening round was brutal, heartless and complete. He stopped Davey in eight rounds and essentially ruined the "prospect" turned champion forever. (For more backstory on event, Archive Vinny's Views: Davey Moore. A friend remembers the late WBA Junior Middleweight champion, September 2, 2016) The bout was the long-awaited redemption Roberto seeked since New Orleans.
The reinvigorated Duran hysteria would actually land him a title shot at arguably the greatest middleweight champion ever, Marvelous Marvin Hagler who had come close to already cleaning out his own division. Totally out of character Roberto fought from safe distance just outside the gates to pocket often frustrating Marvin who refused to be baited into traps. Hagler won by UD but in no way was Duran's reputation harmed having acquitted himself better than several mandatory challengers who Marvin undressed and then executed.
This led up to being on the wrong end of greatest knockout in history of the sport when he tangled with Thomas "Hitman" Hearns on his finest night. The bout was supposed to be a unification as both men held a Super welterweight belt but at the last minute it was for Hearns belt only. So complete was the massacre that Thomas in one round did what it took others 85 fights to accomplish; and drop Duran to canvas twice. In round two after bouncing Roberto from ring post to ring post he unleashed a 23-punch combination in ten seconds that dropped Roberto facedown to the canvas. Duran was unconscious in midair and seemed to lose gravity in slow motion. Had Roberto's corner not picked him up off canvas to save embarrassment, he might still be there. No one could ever imagine that any boxer on the receiving end of such annulation would ever fight again, let alone rise like a phoenix out of the ashes, yet somehow Duran did just that.
Two quick second round tune ups and then Roberto lost to Marvin Hagler's half brother Robbie Sims by SD. Five more comeback fight wins against uninspiring names and Duran would next travel to the Conventional Hall in Atlantic City to face what was perceived to be his final payday as a sacrificial lamb to the WBC middleweight champion Iran Barkley. Iran was fresh off back to back victories of speedster Michael Olajide in 5, then took out Duran's tormentor Tommy Hearns in 3 after sustaining a wicked beating himself. On Barkley's best night, he wasn't able to slow down a rampaging Duran inside the pocket who constantly rode with Barkley's power shots or slipped them all together. He ingeniously had Iran turning into his own power shots with sneaky pivots at the gates. Roberto once again was the prince of the boxing world winning a UD in twelve rounds of fan friendly fistic action worthy of distinction.
The last act of Duran's career was littered with losses scattered among wins as he was fighting on memory alone and in desperate need of cash. He would fight 27 more times going 18-9, 8 KO's before hanging up the laced leather for good. This brought his final ledger to 103-16, 70 KO's. The last leg of his artistic and tormented journey saw him duel on half a tank and hold his own if not the victory against all but WBA Middleweight champion William Joppy who was peaking at the time.
Epilogue:
Duran's Draconian story is the stuff boxing legends are born from; aspire to, but rarely navigate. Roberto is still married to his childhood sweetheart Mia Felicidad and have six grown children. It is speculated his high sense of adventure and grand living along with a gambling addiction cost him in the neighborhood of 20 million dollars of his earnings but has managed to secure and hold onto a 3-million-dollar windfall.
Roberto "Hands of Stone" Duran was elected into the International Boxing Hall of Fame in 2007. If you're keeping score, he won five titles in four weight divisions; Lightweight, Welterweight, Super Welterweight and Middleweight. The Associated press has voted him the greatest Lightweight of all time with Ring Magazine proclaiming him the fifth best boxer who ever lived. He was the only boxer to ever receive two "Comeback of the year" awards from Ring Magazine in 1983 and 1989. Years ago, Roberto confirmed the age-old rumor he once knocked out a horse with a single punch in his youth. "Yes, it is true, it happened at a fiesta at my mother's hometown of Guarare. Someone bet me a bottle of whisky I couldn't do it." His place in boxing lure is secure and irreplaceable. Take a bow Roberto, you kept the world entertained for over forty years with unforgettable memories, summits and redemptions.
Contact the Feature Writers