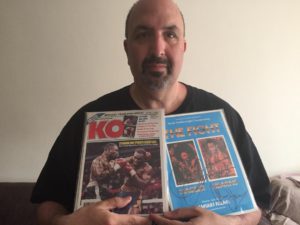 By Anthony "Zute" George
I am tweaking my recurring "Zute" for Thought writing piece a bit. I will be offering more observations and ask you some questions. This will be a mixed bag version, as it will cover many topics. Some of it will be tongue and cheek, but some will be a bit more serious.
The first thing I want to share is an observation I made about myself. I thought I would miss sports more than I have, Of course, since the Covid-19 crisis, sports has been put to a halt. Other than boxing, I cannot say I miss it all that much. Now, I wish this never happened. I feel for all of those who are out of work because of sports being suspended. I am just talking from a personal perspective.
Perhaps I will only continue following boxing when we return back to normal.
After all, I have too many dam leisure pleasures. Springsteen, television of many different genres, movies of many different genres, reading books-both nonfiction and fiction, reading comic books, playing video games, playing chess- although I am terrible at it, writing…even with following a strict stay at home order, I do not have enough time to do it all. Do I really need the aggravation of the Yankees and Knicks in my life? I probably do.
Here is a question, why is New York City Mayor Bill de Blasio so hated? I get why conservatives hate him. But he gets it just as rough from liberals as well. With Covid-19, he got killed when he did not want to close schools right away. Now, he is proactive and is saying schools will be closed for the rest of the year, and he is getting killed for that. The same thing happened all the time when it came to snow days. I think we should rethink how we feel about him. After all, he delivered on his universal pre-K promise, ended the horrific stop and frisk policy, delivered on a robust contract for New York City teachers, where for years under Mike Bloomberg, they worked with no contract. No, he is not perfect, but it seems like he can never win. I said it long before Covid-19, Mayor Billy D can find the cure for cancer, and he will still be hated. I do not get it.
Another thing I do not get is when did the song Verse Chorus Verse become Sappy? I totally missed that one. Only Nirvana fans will understand.
I have a question for all the Old Man Police out there. Do you know when you quip, 'Back in my day,' you are essentially expiring yourself from today? Like your life is over. Now, there is nothing wrong with reminiscing about things of the past, but to think the world of quality ended years ago is just silly. Or are you going to try and tell me that Dynasty and Matt Houston is just as good as This Is Us and The Ozark? Andy Gibb is better than Ed Sheeran? Don't Worry Be Happy is a better message song than Glory? Sizzlean is better than…well anything?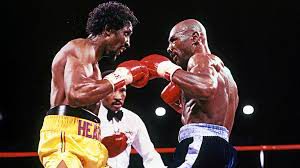 Speaking of the past, the anniversary of the epic battle between Marvelous Marvin Hagler and Thomas "The Hitman" Hearns just occurred. Full disclosure, I do not love this fight as much as everyone else. For two reasons. The first is because my Grandmother died on April 13th, 1985, the fight took place on April 15th. And it was a horrible blow my family and me. We were already experiencing some real strife, and her passing really ended my childhood, as it was never the same after that day. So, that is what I always think of when I think about this fight. Second, the impression of Marvin for most after this fight was not in keeping with his considerable boxing skills. Marvin presented as this fearsome brawler when he indeed climbed the ladder because he was an excellent pugilist. Hagler threw virtually no jabs in that fight, and he had one of the best jabs I ever saw. He beat Leonard because of his jab. Even if you think Ray won, you cannot say Leonard out jabbed Hagler in that fight. Yet, so many people do not recognize Marvin's skillset. Mainly because of The Fight.
Do not get me wrong, it is one of the greatest moments in boxing history…just not for me.
42 years later, and still, nobody can explain to me how Bugenhagen got those daggers back in his possession? I'll wait.
That question proved to be too much of a conundrum for folks. But maybe you can explain to me how eating a pig is not as insane as eating a bat?
It is highly believed that Covid-19 has spread because of China's habits of eating so-called exotic animals. Such as bats. We Americans think that is crazy. But what is normal about eating chickens, cows, lambs, or pigs? A pig is way more intelligent than a bat. A pig has the intelligence equivalent to a three-year-old human. Picture a three-year-old child being tortured and slaughtered for the consumption of others. Dreadful, I know. So, what makes it okay to do it to other species?
As human beings with higher intelligence, we can make a choice to not be carnivores. Choices animals cannot make, so no, sitting down to enjoy your surf and turf is not the same as a lion feasting in the wild.
I ate meat for a long time too. I know how hard it can be to give it up. But now, more than ever, we all need to rethink these choices. I recommend starting by not eating meat every other day. Then go from there. I am here to help you on this quest.
Speaking of rethinking choices, at what point do you think David Caruso regretted leaving NYPD Blue? When he signed the contract for CSI: Miami? When the reviews came in for Jade?
Speaking of NYPD Blue, I wish that show never ended. It had a grand series finale. So much so, that I wanted to keep following those characters. I wonder what Andy Sipowicz is doing now? Would he hate de Blasio too?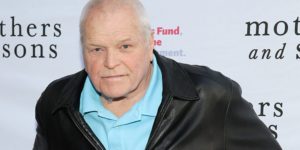 I will end this segment by paying tribute to Brian Dennehy. He recently passed away. I first remember him as Jake Dunham on Dynasty, and on the short-lived TV series Star of the Family. I really liked that show! While I was never a big Rambo fan, I will admit he was the best thing about First Blood. He was also featured in many great films. Gorky Park, Never Cry Wolf. F/X, Best Seller, Presumed Innocent. He also had a solid run recently on the hit show The Blacklist, another show better than Matt Houston. My personal favorite Dennehy performance was in F/X.
A very underrated film.
Brian, you will be missed.
"Zute", out!
Contact the management team