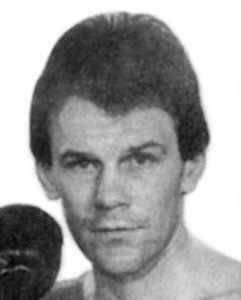 By Donald "Braveheart" Stewart
From one Scot to another would be quite sublime but this is one who hails from the East, I come from the West, he fought, I never and he left to pursue his career, but I never did. There are no likelihood of statues being built for either of us but he certainly made headlines and is far more deserving of one than I.
Murray Sutherland, 47-14-1, 39 KO's, was born in Edinburgh in the dark days of 1954. His career included in 1981, fighting for the WBC light heavyweight title, then a year later for the WBA version at the same weight before capturing the newly created IBF super middleweight title. He didn't hold it long, losing it in his first defense however, being the first to win a super middleweight belt in the ring makes him surely eligible for a statue or two?
If not then 10 rounds against Thomas Hearns in 1983, not one but two fights against Michael Spinks are all in the trajectory as well as those four world title fights before he retired in 1986 with an impressive record behind him.
Oh, and perhaps even more impressive, he was allegedly ranked number 1 in the world at karate before he started his boxing career.
Now a Michigan native rather than an Edinburgher, he has run a gym, taught self-defense and in some of his more recent photos looks one hell of a lot better in his sixties than I do in my fifties!
His story and his odyssey begin in the 1970's when he moved from Scotland and said his goodbyes and moved to Canada to become a machinist. Thanks to help from his brother he was on his way in the same year, most would say the last year, that Scotland managed a decent showing at the Soccer World Cup, this was in Germany; 1974.
That certainly makes sense of his debut and second fight happening in Canada. Unfortunately, they were both defeats.
He made the move in 1978 from Canada to America and surely must have hoped that this would mark a significant change in his boxing career trajectory. He won his third, then his fourth and then lost his fifth…
With another seven fights in a row wins, including a couple of trips into Canada to purge his defeats, this took him all the way through to another loss late in 1979. He then picked himself up and kept going towards a 1980 fight with Michael Spinks. 10 rounds and a points loss.
As I read through his fights, it is increasingly remarkable to me that he kept going. It shows not just what a dedicated man he was but also how those who protect their records today should go and have a conversation with those who have shown just how important it is, as a fighter, to learn and work towards a decent career and not an unblemished record.
Following the Spinks defeat, came 11 fights won, 10 by stoppage or knockout which lead to a world title opportunity. According to Sutherland in a Boxing News interview a couple of years ago, he had watched his first world title opponent early in 1979 and thought, this guy is a monster, and nobody can beat him!
Not long after, 25th April 1981, he was in Atlantic City opposite that man and in round 9, his worry came to haunt him as Sutherland was stopped by Matthew Saad Muhammad for the IBF light heavyweight title. In what could be claimed is a back handed compliment, Muhammad was later quoted as saying that Sutherland was the toughest fight of his career.
The following year, 11th April 1982, he returned to Atlantic City and re-matched the, by now, WBA light heavyweight title holder, Michael Spinks but lost again, this time by stoppage, in the 7th round.
His greatest night was still to come though, and in 1983, Sutherland took a late offer and went in to fight 10 tough rounds with Thomas Hearns. It was ostensibly a middleweight fight, with Sutherland losing a unanimous decision; he earned $65,000 for it, which must have sugar coated the pill.
Spinks twice, now Hearns, alongside not one but two light heavyweight title fights for the WBC and the WBA crowns. So far, it's an impressive career, but it was still far from over.
In what could be described as turning a disadvantage into an advantage by serendipity, Sutherland had an issue that was to end up being to his benefit. Sutherland had a problem with his weight. He was too small to be a light heavyweight contender and too big for middleweight. Boiling down was never going to let him be a middleweight champion at such an iconic time in that weight division.
Then the IBF was formed.
Then they created the super middleweight division at 175lbs.
Then the fight he was already having with the decent journeyman Ernie Singletary was elevated to a world title fight.
His former opponent and now firm friend, Hitman Hearns phoned Sutherland to give him advice based on having fought Singletary before and told him, box patient and don't try to knock him out!
In 1984 the best night came along with the vacant IBF super middleweight title with a decision win over Singletary. He was the very first world title holder at the weight.
Four months later he defended against Chong-Pal Park in Seoul and lost, being stopped in the penultimate round. He made $75,000 and that was all that mattered. It was a money fight and along with a career where there were frequent times to reflect and realize your worth, Sutherland was no fool and knew he was ready to cash in, not cash out by ego.
With that fight in Seoul, he had fought only twice outside North America and NEVER in the United Kingdom.
He retired in 1986 after being KO'd by Lindell Holmes, his final 8 fights having 2 losses and 6 wins, so he was far from falling into a decline though, when it is time, you know it's time.
A quiet and unassuming man – typical Scot – he retired, stayed in the game but in retrospect it is clear that what he gave us was a tremendous rollercoaster ride to a sport that saw him move half way round the world to make a name for himself – that name should be part of or Scottish heritage but we don't mind sharing… much…
Contact the Feature Writers