[AdSense-A]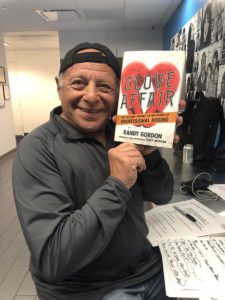 By Randy "The Commish" Gordon
March 12 was the start of my self-imposed lockdown due to the outbreak and rapid spread of COVID-19. I remember the date well. That's because the day before was my birthday. I celebrated with my wife, Roni, and our best friends, Tom & Fran. We did so at a restaurant on Long Island. We knew what was coming, and decided to have one final dinner together before, well, lockdown.
Now, as I am in my seventh week of not seeing my friends and family—other than on Facebook, Instagram, Twitter and ZOOM—I find I can still talk boxing. I talk about it on social media; I talk about it every Monday and Friday on SiriusXM Radio with Gerry Cooney; I talk about it on my Facebook Live show, "RANDY'S RINGSIDE" every weekday evening; and I talk about it here.
I am finding, as the hours of lockdown are turning into days, the days into weeks and the weeks are turning into an unknown amount of months.
Here on Long Island, our rate of infection has been enormous. For awhile, Long Island was considered the epi-center of the most-affected state in the USA. Over 62,000 of my fellow Islanders have tested positive for the incredibly-infectious disease. Because of how infectious the disease is, my wife and I have elected to stay indoors.
However, I need my boxing fix as much as you do. I need it in large doses. It helps. It really helps.
At breakfast this morning, I took a pad and began scribbling thoughts and questions. It turned into the 10 things I look forward to and wonder about for the remainder of this year and into 2021 in our sport. Well, nine of them, anyway, are boxing-related. A 10th is a heavyweight match, but in a different arena, with different rules.
Here goes:
Thought/Question #1: When society returns and when boxing returns from this pandemic, do will things be like they were before? Will we return to normal?
A: As I was writing those questions down, I didn't have to think about the answer. The answer is a flat out "No, life will not be like we remember it. Normal? There will be a "New Normal." Most of us will wear surgical masks, especially in crowded situations. On a normal day before the pandemic, you rode on planes, trains, buses and other forms of public transportation. You thought nothing of going into crowded stores, malls and public gatherings. You'd go to crowded arenas. To fights. There were fans all around you. In the Fall—or whenever we get going again, do we want yelling, screaming fans next to us, with their bodily droplets hovering over us? There's not enough known about COVID-19—which is incredibly transferable and infectious—to make me want to venture out amongst strangers any longer. Normal? The days of "normal," as we remember it, are gone. At least for a long time. Maybe forever.
Thought/Question #2: What do I think will be different for boxing, when it returns?
A: Plenty will change. For one, I believe the pandemic will kayo many of boxing's smaller club show promoters, the minor leagues, if you will, of boxing. The behemoths of the sport—Top Rank, Golden Boy, Matchroom, PBC and a few others—have television deals with the likes of ESPN, ESPN+, DAZN and FOX. They can put on title fights in television studios with the only audience being commission members (inspectors, doctors, referees and judges), television personnel, the fighters, their cornermen and the promoter(s) and a few staff members. No fans. No energy in the room. Just a boxing match. Us media? We'll watch on television. Then, we'll do a post-fight interview on ZOOM.
Unfortunately, the small club show promoters who have no mega-buck television deals rely on ticket sales—the "house" and gate receipts. No fans, no money. You don't have to be a CFO to realize the hopeless situation that puts the little guy in. As for the top-of-the-food-chain promoters, will they still be able to pay their champions the big dollars they ask for, and in most cases, deserve.
Terence Crawford recently said that part of his fight fees come from a percentage of the gate. With the lack of fans expected at upcoming shows, Crawford says he wants to be paid more in other ways (a higher percentage of PPV buys, perhaps).
However, will promoters still be able to charge a Ben Franklin for a PPV event. Many fans are now out of work. Many fans are unemployed. Many fans are bankrupt. Will they still buy a PPV? Even for a Ulysses S. Grant instead of a Ben Franklin? Only time will tell.
Thought/Question #3: Will the fight I have long waited to see, Vasyl Lomachenko Vs Teofimo Lopez, still happen in 2020?
A: I believe it will. Originally scheduled for May 30, which will obviously not happen, Top Rank—which has both fighters under contract—is still promoting what is sure to be one of 2020's biggest fights. The question is, where will the fight take place? Had the fight taken place on May 30, the venue would have most been in—a packed—Madison Square Garden. Now, this intriguing, compelling matchup, which has all the earmarks of becoming a classic, may just be fought in a television studio. The "New Normal." Get ready for it.
Thought/Question #4: Will Adrien Broner really attempt a comeback? Will Showtime dare put him on? Why am I even thinking about Adrien Broner?
A: I guess the reason I am thinking about him is because he is my least favorite fighter. Ever! I was thrilled when Manny Pacquiao trashed him in January 2019. Shortly after, Broner made my day—and the same for many of us—when he announced his retirement. Now, he's talking comeback. If he does come back, I hope it's against a live opponent, someone with a chance of beating him. If Showtime dares showcase him, shame on them. Hopefully, Marcos Maidana has been training since January and will be called on to give Broner a rematch. How about Ryan Garcia Vs Broner at 135lbs. Or Ivan Baranchyk at 140lbs. Or Sergei Lipinets at 147lbs? Any one, I'd like to see.
Thought/Question #5: Will Deontay Wilder take step-aside money and wait until 2021 to face the winner of Tyson Fury Vs Anthony Joshua?
A: My feeling is, Wilder doesn't care about step-aside money. His 6'7" ego was badly bruised back on February 22, and waiting in line for another dance doesn't sit well with him. He wanted the rematch on July 18, but the Coronavirus killed the rematch from happening. Wilder wants Fury, and he wants him ASAP. Wilder may be afraid that if Fury faces Joshua in the Fall, he may lose to AJ—then retire. Wilder has the feeling that so many fighters have after losing their crown or their first fight—or both. He wants Fury back in the ring. He is certain he can beat "The Gypsy King." He should think twice. In 19 previous rounds, it doesn't look as if he can. He should a huge step-aside fee, then use the extra months to learn the thing he has to learn to regain the title. I only wish they would take my advice.
Thought/Question #6: Will no-crowd, studio fights become the new way to promote boxing?
A: For the immediate future, perhaps until the end of the year, the answer just may be yes. The virus is transmitted by humans, and even though you may think many boisterous, loud, obnoxious fans sitting all around you at a fight are not human, they are. Somewhere in a crowd of 20,000 will be a few—maybe several—fans who are infectious but don't know it. The lockdown needs to stay in effect—no matter what the Mayor of Las Vegas says—until this COVID-19 has run out of donors. The "New Normal" just may be Studio Televised Boxing.
Thought/Question #7: The International Boxing Hall of Fame ballots for induction into the Class of 2021 go out October 1. Recently, the IBHOF cut the retirement time for a fighter who is being considered for induction from five years to three years. Will Floyd Mayweather, JR.'s name be on the list, as his last fight—against Conor McGregor—took place in August 2017?
A: When I asked him this question last week, IBHOF Executive Director Ed Brophy tap-danced around it, saying it would be up to the voting board which oversees and reviews all the names included on each year's ballot. We understand Brophy's apprehension. But, as Mayweather, JR. passed the three-year requirement for being inactive, we have to believe his name will be on the ballot. If it is, he will unquestionably be voted in on the first ballot. And that's without a doubt.
Thought/Question #8: Do I think we'll get to see Tyson Fury Vs Anthony Joshua in 2020?
A: As I mentioned in Thought/Question #5, a Tyson Fury Vs Anthony Joshua fight can only happen this year is if Deontay Wilder takes step-aside money to allow Fury-Joshua to happen. As of right now, it doesn't look as if the money is an enticing to Wilder as a third fight against Fury. I applaud Wilder's drive and fighting spirit to want to step right back in the ring against a man who apparently has his number. While I applaud that drive and spirit, I can only shake my head sadly at his decision to do so. We are more likely to see Fury-Wilder III in 2020 than we are to seeing Fury- Joshua this year.
Thought/Question #9: Is Oleksandr Usyk a legitimate heavyweight?
A: Gerry Cooney and I debate this question often. Gerry says he is…calls him a "stone-cold killer." Really? Off what? A stoppage of last-minute sub Chazz Witherspoon? Before COVID-19 shut us all down, Usyk was preparing to face 32-9, 23 KO's Dereck Chisora. The fight was not cancelled, only postponed. It may take place later this Summer or early this Fall, and it may take place in room with no crowd. But it WILL happen. That night, we'll know the answer if Usyk is a legitimate heavyweight.
Thought/Question #10: What's the biggest, most important fight we'll see this year? Is it a heavyweight battle?
A: Yes, is it. While there are some interesting heavyweight battles on the Fall horizon, there is only one which really matters, And that's taking into consideration there's Anthony Joshua against Kubrat Pulev; Deontay Wilder in a trilogy fight. Of course, if Wilder and Pulev take step-aside money, that will clear the way for a Fury-Joshua mega-fight; Then there's Oleksandr Usyk Vs Dereck Chisora; Dillian White Vs Alexander Povetkin and Daniel Dubois v Joe Joyce.
However, the biggest fight in years—decades–will take place on Tuesday, November 3. It will not be on PPV. You'll be able to watch it on network television. In fact, EVERY network—using its own set of announcers and expert analysts—will carry the fight. The fight matches challenger Joe Biden against The President. No, not Ike Ibeabuchi…Donald Trump. This is the most important fight of the year. The outcome will affect, not just the heavyweight division, but every single one of us.
Stay healthy. Stay in. Stay safe.
We'll be back strong. So, will boxing.
Randy "The Commish" Gordon is the Author of the hit book, "Glove Affair". Order your copy by clicking HERE.
Contact the Feature Writers