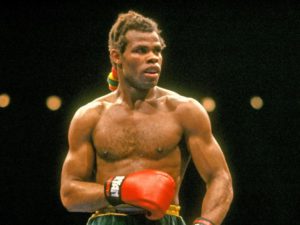 By Donald "Braveheart" Stewart
In boxing, rags to riches stories are done pretty damn well. I am not sure that there are better examples of how one individual out of poverty can rise in such a way to gain prominence, attract fame, get rich and be a hero whilst using the one thing that would see them locked up at any other time. In Scotland it used to be said that the routes out of poverty were with your feet – football, your artistry – singing or acting or with your fists – boxing.
Unfortunately, as they soar, there are too many stories of spectacular descent in boxing being a hard luck story, a lesson for others to learn or just simply a sad tale to tell to counter that narrative. Again, I can think of no other sport who does this bad news item with the same intensity as the boxing fraternity does.
Enter the story of one former British and European Champion who went across to the USA and shocked the world by beating Roberto Duran, when he was never meant to. This was a man who's fame was assured, his legendary status affirmed and his descent therefore set up majestically; and boy did he get that memo.
From that point onwards it is a typical and cliched story but still a very poignant one.
Kirkland Laing, 43-12-1, 24 KO's, "The Gifted One" was a British welterweight who held the 1982 upset of the year title for Ring Magazine, the British title, and the European title but possibly held the biggest title for being the most gifted fighter who failed to reach a potential many saw outside the ring but few of us saw realized in the ring.
Like a mini Mike Tyson, but without the entourage his failure to hold onto any earnings was formed by his unhealthy relationships with drink, drugs and women. By 2003, in a short film by Boxing commentator and British boxing expert, Steve Bunce Laing appeared disheveled, living a destitute existence that showed how far he had fallen. Living on the streets and racked with the pain of his addictions, some people questioned how accurate the piece was however not long after filming Laing was to fall from a balcony in circumstances that have never been fully explained.
The film perhaps gives a clue to that fall, but people still question how authentic the film happened to be.
Now living in a care home in Yorkshire, in the north of England, Laing's career must seem like a long distant memory but the memory of boxing fans remains a little stronger.
It is easy and almost fashionable to believe that any boxer's career hangs on an evening of pugilistic endeavor that dwarfs all the rest but for Laing it is almost an acceptable cliché. He was the sacrificial lamb, being succulently served for Duran to devour and move on. Up until that point Laing had fought 27 times and had won 24 of them.
He had become the British champion in 1979 at the Arden Sporting club by stopping Henry Rhiney – neither a big name nor a man with an impressive record as he entered his 53rd contest, having already lost 14 of the previous 52.
Laing then lost the title on April Fool's Day in 1980 in his first tussle with an undefeated Colin Jones in Wembley. The rematch in 1981, a little over a year later saw Laing again stopped with both the Commonwealth and British titles this time on the line. Jones went on to become a 3 times world titlist so no real shame there.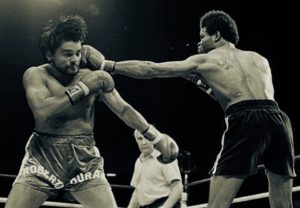 The next big fight for Laing was the Duran one. It was 1982 and the majority of British commentators thought of him, already as being beyond help. There were rumors – highly believable ones – of him being flung out of gyms, his drug use and being uncontrollable. There were
laughable attempts to dent some of the worst of them and Bunce was in an article for the British broadsheet the Independent recalls Laing's attempt to deny he was smoking weed only for what was sitting behind his ear, a massive joint, to be pointed out to him.
Talking to Bunce, Laing was to recall, long after the events his struggles, "I was mixed up and too young to be serious. My head was too easily turned by girls and things and people took kindness for weakness. Too many people did that."
Trained by Joe Ryan, they flew out to Detroit for the Duran fight. The legendary British promoter, Micky Duff was convinced that Laing had the beating of Duran. There were plenty who thought he had been sharing some time with his fighter.
Later on Ryan was to recall, again to Bunce, why Duff might have had the reason from the trainer as to why he was so confident, "Duran was the only man that Kirk ever feared and that fight was the only one where he gave up drugs and concentrated," said Ryan.
Laing won well that night and the future looked rosy. Well it might have done if the people who were there to make things happen could find him. Laing, according to them, went missing. According to Laing he was "close" to the gym waiting. Whether a breakdown in communication or just Laing being distracted he did not fight for a year.
When he did, he lost. 10th September 1983, against Fred Hutchings in Atlantic City, he got knocked out in round 10. Laing was suspended by the British Boxing Board of Control and looked at the inside of a hospital bedroom for four days to recover.
Duran, the man he beat, got his head down, and by June 1983, was world champion again.
Laing got back to winning belts by 1987 when he won the British title in march against Sylvester Mittee, defended it in May against Marvin McDowall and then again in November beat Rocky Kelly to keep hold of it; all three wins were by stoppage. Winning that title was good, but it was hardly a world title…
1989 saw him head to Vasto for the European title and a loss on points to Nino La Rocca saw him head back to defend his British title in November against George Collins in the Rivermead Leisure Centre, reading; once again a good recovery but it was hardly Las Vegas.
1990 saw him win that European title in Wembley against Antione Fernandez by knockout after he disposed of Trevor Smith in Mayfair to again defend the British title. Three defenses mean the Lord Lonsdale belt is yours for keeps. A massive achievement for any British boxer but it is unlikely that such a trinket would have been kept by any addict.
Then came one of the most strange series of fights, one after the other he fought for three belts and lost each fight. In November 1990 the European title went on points to Patrizio Oliva in Italy. Then in January in the Royal Albert Hall, on points Del Bryan, with a significantly inferior record took his British title before in April the fall was complete as the Commonwealth belt was lost to Donovan Boucher in the Victoria Leisure Centre in Nottingham.
He kept fighting until in 1994, another 7 fights, winning 5 until aged 40, he lost by being stopped by Glenn Catley in November of that year.
His legacy as told to younger fighters should serve as a warning but that would be to lose sight of the boxer. He certainly could have been greater, as he knows, but he was still a tremendous fighter of his and our times. As I say, he knew, what he could have been and told Steve Bunce directly when interviewed by him, "I should be the champion, Roberto said that. I should be the champion."
Contact the Feature Writers