Loading ...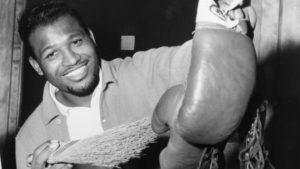 By Vinny "Glory Days" Lucci
"Rhythm is everything in boxing. Every move you make starts with your heart, and that must be in rhythm or you're in trouble." This simple revealing, unpretentious quote is attributed to the preeminent boxer of all time. Like all sports and walks of life, records are made to be broken. The divination to debunk or refute the greatest fist fighter who ever lived simply by numbers is an ignorant sacrilegious attempt to exploit one's own ignorance. To monopolize an over extended era of hall of famers has been duplicated several times, but to display masterful orchestrations of dominating both punchers and skilled tacticians at their own game truly set him apart. The formless entity that could equally adapt to elegance or mayhem like flicking a light switch was coronated as "pound for pound" by both the media and boxing pundits who could recite his ledger as quickly as their home phone numbers. Enter Walker Smith, JR., also known as the immortal Sugar Ray Robinson.
In November of 1965 I was privileged to witness his farewell performance against Joey Archer at the Civic Arena, Pittsburgh on live T.V. where Robinson still reeked of class but dropped a unanimous decision in 10 fast paced rounds. My father had regaled me in stories of his illustrious career and at eight years old I was hooked on boxing forever. After the scorecards were read Ray graced all four sections of ring and proudly held his head high and with a regal nobility bowing each time in a gracious farewell. Hair now neatly combed, wearing his unadorned short white terry cloth ring robe Robinson would take the overhead ring microphone and utter these words with no regrets, "I hate to go on too long campaigning for another chance," and called it a career. In what was to be a final push to reclaiming glory, Ray fought a grueling pace of 43 times in four years since his last title fights against a bull named Gene Fullmer sharing a draw and losing by decision in back to back bouts. The wicked pace set for much younger men brought his final record to 173-19-6-2 NC, 108 KO's. A resume that historically long resembles a social security number rather than a boxing ledger.
Standing 5'11" with a 72" reach the phenomenon would matrix his way through a spotless amateur career of 85-0, 69 KO's sending notice to the professional ranks that a new pugilistic doctrine was about to be written. Forty of those Knockouts came in the first round where his opponents never witnessed such speed or fury. Ray would win the featherweight gloves title in 1939 and the lightweight version in '40.
Robinson was on a fast track to glory yet already led a storied life usually reserved for humble souls who were handicapped by society and burdened in life to simply get by. Born in 1921 in Georgia where his father was a struggling farmer, Walker Smith SR. would move his family to Detroit to pursue several jobs in construction in order to support his family. The long 18 hours days and grueling six-day work week took a toll on his marriage and they separated when Walker JR. was twelve years old. His mother Leila Hurst moved Walker and his two sisters to Harlem. It would appear the neighborhood would quickly swallow up the youth along with his fine aspirations of one day becoming a doctor as he dropped out of DeWitt Clinton High School in the ninth grade.
The following year he decided to make boxing his chosen profession and tried to enter the AAU's Golden Gloves at fifteen but was denied admission for entry due to eighteen-year-old age requirement. Destiny would provide a false I.D. from a friend named Ray Robinson who was not going to compete and the irony of chance was about to make history. His unique blend of skills quickly earned him the moniker of "Sugar," and the emerging fame had him married at sixteen. On a humorous note there was a young blind music sensation named Ray Robinson who a few years later had to change it to Ray Charles to distinguish his own notoriety. In a short-lived marriage that produced one son, Robinson was divorced just three years later. The idea of one day becoming a boxer came from a dormant genesis back in Detroit where Ray idolized Joe Louis who was six years older and lived on the same block.
In 1941 Robinson would bring the totalism of his gifted skillset to the professional ranks and debut on the big stage at Madison Square Garden knocking out one Joe Echevarria in two rounds. Over the next 28 months he would electrify audiences adding 39 more victories to his undefeated record. During this reign of unbridled ascendance, he fought through the gauntlet of Marty Servo, Sammy Angnott and Fritzie Zivic beating each man twice. Also, of note on his dossier were Maxie Berger and Izzy Jannazzo.
On nearly the second anniversary of his turning pro he met an adversary who would arguably instigate the greatest rivalry the sport has ever known. Enter Jake LaMotta the Raging Bull, of iron chinned middleweight folklore. Jake would catch Robinson by surprise with his bull rushing style of leaping into pocket with lead left hooks and dropped the slick boxer. Robinson in typical fashion made the necessary adjustments in gaging the real estate outside the pocket; pivoting circles around his aggressive tormentor while reigning blistering jabs and combinations keeping LaMotta on his back foot and earning a unanimous decision in a ten-round contest.
Fourteen months later the rematch was set at the Olympia Stadium in Detroit Michigan where Jake would even the debate winning a unanimous decision over ten rounds of his own. The pressure fighter from the Bronx was able to step up the pace by getting under Robinson's jab and tie him up in clinches in between the volleys of punches. What made this the standout fight for both contestants is that Jake handed Sugar his first loss albeit with a 16-pound weight advantage.
Just twenty-one days later the boys would meet in a trilogy at Madison Square Garden where Ray once again got the win by unanimous decision in 10. Incredibly Robinson was coming off a tune up win over "California" Jackie Wilson just one week prior.
Over the following two years Sugar would reel off another ten wins including a unanimous decision over his hero Henry Armstrong. Henry was past his expiration date and Ray accepted the bout only because Armstrong was close to destitute. Sugar carried Henry for the duration of fight allowing the boxer who inspired him to nobly hear the scorecards read.
A week later Robinson was inducted into the United States Army where his hero like status among enlisted men had Ray and good buddy Joe Louis preforming exhibition matches before troops to keep up morale. These bouts quickly became an exercise in futility as private Walker Smith JR. refused to participate once he was told that African American soldiers were not allowed to view the sporting events. The outspoken boxer who also championed equality for all men was quickly isolated and at odds with superiors who he claimed were discriminatory against him and his race. This led to disciplinary indictments that forced him to miss shipping out to European front. There was a convoluted story of no merit that had Smith going AWOL over the incident but charges were eventually dropped and he was granted an honorable discharge after serving a fifteen-month tenure.
The United States government pathetically got even in the long run when they stymied his post service ambitions of opening a liquor distribution outlet with best friend Joe Louis with their ring earnings. Both citizens were denied a license due to their race which sent both men back into the ring wars.
Back to using the "Robinson" brand name forever our hero returned to action with a ten round unanimous decision over top contender Tommy Bell. This set the stage for yet another encounter with LaMotta in familiar playpen at MSG with typical results; Robinson UD 10. Robinson kept Jake at the end of a spearheaded jab and jarred his squat adversary with uppercuts throughout.
Three more fights and seven months later the famous combatants would once again sign the contracts as both pugilists were now heavily avoided and denied title shots so they fought each other once again. Jake was now quoted as saying, "I fought "Sugar" so many times I got diabetes!"
When questioned about how Ray could remain on top so long like a fine tuned swiss watch he quipped, "My business is hurting people, but I hate violence. You can't let anything without a heartbeat you." Ray was proud of being both a Christian and a Freemason.
The fifth encounter was the most competitive and brutal of the series taking place in September 1945 at Comiskey Park in Chicago. Robinson won a by split decision in twelve grueling rounds of competitive merciless aggression. He would later remark it was the most difficult bout of his storied career. The notoriety of the event would propel Sugar on a search and destroy mission to force the hands that be and get his long overdue shot at the welterweight championship of the world. Robinson would do so on his terms without making a pact with the "devil at the crossroads," disguised as mafia intervention.
Contact the Feature Writers