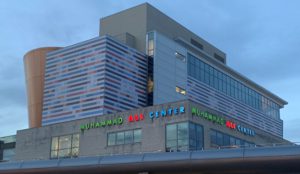 By David "The Journeyman" Vaught
There are many attractions that bring people to Louisville Kentucky. The first Saturday in May brings horse racing fans from all over the country and around the world to Churchill Downs for "The Run For The Roses", the Kentucky Derby. It should be noted that the date has been postponed to Saturday September 5th this year due to Covid-19. Downtown you will find the Evan Williams Experience, where you can tour a bourbon producing facility, and even enjoy some free samples. If you decide to visit Louisville, you should definitely check out "Museum Row", home of the world-famous Louisville Slugger Museum, with its giant baseball bat, The Kentucky Science Center, and many other attractions which are within walking distance of each other.
If you find yourself in Louisville, no matter the reason, you will likely touch down at the recently renamed Muhammad Ali Airport. Muhammad Ali, at the time known as Cassius Clay, was born in Louisville Kentucky on January 17, 1942. His father, Cassius Marcellus Clay, SR. and his mother, Odessa Grady Clay raised Muhammad and his younger brother Rahman Ali, in a small house at 3302 Grand Avenue. A very humble beginning for the man who would become known as the Greatest of All Time. His childhood home has been turned into a museum and I would recommend driving by it because you can no longer go inside. However, the main attraction for Ali fans is The Muhammad Ali Center at 144 North 6th Street. The Muhammad Ali Center is a museum dedicated to Ali's life and the six core principals he lived by, those principals being confidence, conviction, dedication, giving, respect, and spirituality.
When you visit, expect to spend some time there. The museum is six stories and approximately 97,000 square feet. It was opened in 2005 at a cost of $80 million. You can explore every aspect of Muhammad's life and career. There are interactive exhibits, videos, images, artifacts, and much more. You will find permanent exhibits, but if you check their calendar, there are always special events and exhibits coming up. The Center is a great experience for the whole family and even long-time fans are sure to learn some new pieces of information about the man who shook up the world!
Contact the Feature Writers