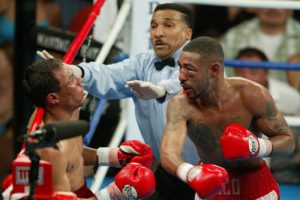 By Marc "Kid Huevos" Livitz
For those of us amongst the married ranks, we know the benefits, both long and short term of finding a common ground between ourselves and our respective spouses. It usually helps and can often go a long way as well. Even when we seem to go against our best judgement, we often do so with the benefit of hindsight assuring us that we made the right choice. Next week will mark 15 years since I made a choice that was right at the time as well as right to this day, yet it took many years to erase the regret.
The wife and I had enjoyed several fun outings in Las Vegas in the early 2000's, much as is the case today. When a big fight's in town, I'll head out to Sin City earlier in the week and then the better half will follow a few days later, perhaps with a sister or a few friends to make a real party out of the weekend. Once the first addition to the family arrived in early 2004, the trips to Vegas took a break for a year or so. Then came Mother's Day weekend in 2005. I knew there'd be some boxing going on in Las Vegas that particular Saturday night, but a promise was made with the wife that we'd spend the entirety of the weekend together as we celebrated the greatness of moms worldwide.
Friday came around and as we rolled down the Strip in a cab, my wife saw ads on buses and billboards for a night of fights at Mandalay Bay. She encouraged me to go and assured me that she'd find something to do. Perhaps a trip to the spa, a pedicure or even a long massage would fill in for my absence for a few hours. I essentially put my foot down and said no. No media, no fan ticket because the weekend would be about her and her only. Saturday morning started with a bit of the same and so I somewhat pursued the possibility of going. Who would I need to call with such short notice and would I dare become that unprofessional media member who didn't have all the cards properly stacked by fight night?
I hesitated and once again shot down the idea. We enjoyed a fabulous lunch that afternoon and dinner was even better as the sun went down. The following morning, I hit the hotel gym and made it back to the room in time to find room service heading down the hallway with a special Mother's Day breakfast. All went well. Less than hour later, we found ourselves in the main lobby of the MGM Grand and I noticed more than a few fans in fight night t-shirts. I got the rundown of the evening from one gentleman who told me that the main event was likely the best fight he'd ever witnessed. Surely, it couldn't have been that incredible, right?
After asking the same of about ten more people in the same shirts, I'd almost come to a flat out consensus. Indeed a good one had been missed. Just how good? That particular Sunday was May 8, 2005, which made the preceding day May 7. What fight took place on May 7, 2005? The Ring Magazine world lightweight championship clash between Jose Luis Castillo and Diego Corrales. This contest won a few awards that year, to say the least.
The moral of the tale? Actually, there may not be just one, or even one at all. Perhaps if you have the chance to see a championship bout live and have the means to do so, then don't hesitate. There have been other nights under the lights, to be sure that have somewhat made up for missing Corrales/Castillo I, but there are still days, even a decade and a half later when I want to kick myself.
Contact the Feature Writers